Updated 05/22/22. The skin around our eyes is thinner than that on other areas of our face. That explains why it's often the very first area to show visible signs of aging. To make matters worse, we blink over 10,000 times a day. We also laugh, cry, and squint, causing the skin around our eyes to be in a near-constant state of movement. Since the breakdown of collagen and elastin fibers in the skin is caused by long-term sun exposure as well as repetitive facial expressions that leave folds and creases in the skin, this can lead to the appearance of stubborn lines and wrinkles.
To address eye-area lines and wrinkles, most people rely exclusively on eye cream, but that alone won't cut it. You must also exfoliate around the eyes to remove dry, crepey skin, bring fresh cells to the surface, and help your eye cream work better. But how can you exfoliate around the eyes without causing irritation and damage to the delicate skin? Keep reading to find out.
Why Is It Important to Exfoliate Around the Eyes?
First and foremost, exfoliating around the eyes can help improve the appearance of lines and wrinkles by smoothing away dry and crepey-looking skin. I always use the example of hitting a piece of wood with a hammer. To smooth out the indentations and make them less noticeable, a little sandpaper would go a long way, right? The same idea applies to the skin. Lines and wrinkles are indentations in the skin, so by "sanding" them down with exfoliants, they will appear less noticeable.
Eye-area exfoliation can even boost the effects of your eye cream (yes, really). That's because it removes expired cells so the eye cream can penetrate deeper and work on fresh, new cells. Trust me—trying to moisturize and plump up already-expired cells won't get you very far.
How Can I Safely Exfoliate Around the Eyes?
You shouldn't use any old exfoliant on your eye area, so avoid harsh exfoliating acids and aggressive scrubs. Both of these things could result in irritation and even damage to the thin skin around the eyes. So, what can you use to safely exfoliate around the eyes? That's easy. Use a gentle exfoliating serum that's formulated specifically for this area (the keyword is GENTLE).
I recommend the Overnight Eye Serum. I formulated it with a blend of glycolic and lactic acids, as well as soothing allantoin and aloe vera, to safely treat this delicate area. Once you apply it, it lowers the pH of the skin, kicking off the exfoliation process, smoothing away dryness, and bringing fresh cells to the surface.
Just be sure you're using it correctly. This serum should be used 2-3 nights per week (just not on consecutive nights). Pat one or two drops onto the outer eye area where lines and wrinkles are visible. You don't want to use this directly on the eyelids, but you can use it under the brow bone.
Next, it's time to follow it up with an eye cream, like the Total Eye Repair Creme. This will seal in the Overnight Eye Serum and remoisturize the thin skin in this area. It will also help plump the skin over time, thanks to a combination of collagen-supporting peptides and antioxidants.
The Bottom Line
Exfoliating around the eye area is so important when it comes to minimizing the appearance of lines, wrinkles, and dry and crepey skin. Of course, I also recommend using a well-formulated retinol serum that was specifically designed for use around the eyes. When used over time, retinol can be highly effective for smoothing textured skin. Just be sure to choose a gentle formula and don't put it on your eyelids or too close to your lash line. Retinol is a powerful ingredient and can be irritating to this thin skin!
There are also professional treatments that can help smooth eye-area lines and wrinkles. Botox, for example, can quickly and dramatically smooth the skin. If you're really concerned with lines and wrinkles, you might want to consider it! The best way to go about it is to consult a doctor to see if it's right for you.
Next, check out five mistakes to avoid when using eye cream.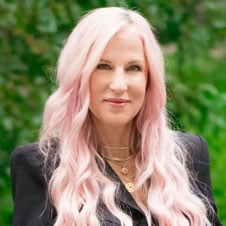 Celebrity Esthetician & Skincare Expert
As an esthetician trained in cosmetic chemistry, Renée Rouleau has spent 30 years researching skin, educating her audience, and building an award-winning line of products. Her hands-on experience as an esthetician and trusted skin care expert has created a real-world solution — products that are formulated for nine different types of skin so your face will get exactly what it needs to look and feel its best. Trusted by celebrities, editors, bloggers, and skincare obsessives around the globe, her vast real-world knowledge and constant research are why Marie Claire calls her "the most passionate skin practitioner we know."