While I'm very active on Instagram and document many aspects of my personal life, I'm consistently asked questions about my skincare company, what I do when I'm at home in Austin, what it's like to travel between New York and Los Angeles to give skin treatments to my celebrities and how I stay educated as an esthetician. My days are quite varied but here is an example of one when I'm in Austin, Texas, where I live and where our headquarters are based.
For starters, one of the most common questions I get asked is, "How do you maintain a work/life balance?" My answer is simple. I have none. I truly love what I do, and making it all happen is just so much more interesting to me than anything else.
6:45 am: My husband and I get into our workout clothes and then we head down to the kitchen. He for his coffee and me for a hardboiled egg. (I don't do coffee. One sip in this lifetime was enough for me to know I didn't like it. He, on the other hand, is French and would bathe in it, if he could.) Sometimes we walk to the gym but it's pretty cold this morning so we'll take my Fiat 500. We discuss details related to the one-night staycation that we have planned next week at a youth hostel. We certainly aren't youths but I have never stayed in a hostel and it's been on my bucket list to try one out.
7:30 am: Arrive at gym and work out (Crossfit style) for an hour and drive back home.
8:45 am: Shower and get ready for the day. Today is a dry shampoo/shower cap day so it doesn't take me too long to get ready. However, I try to make all my waking hours of my day productive. I have a TV in our bathroom and I catch up on recorded shows. I watch an episode of Jimmy Fallon with an appearance by Chance The Rapper. I saw him perform recently here in Austin. He's such a talent and so smart. What I admire about him is that unlike every other successful artist, he never signed with a record label. He has a vision and wants to do it his way. I can relate. It's why I have chosen to keep my company exclusive. I have a relentless drive to build, to grow, to learn, to embrace change and opportunity, but most importantly for me, I want to oversee it all myself.
9:30 am: I'll pop into my home office and quickly get some emails knocked out. Our graphic designer just sent me some images for our next email blast so I'm reviewing this closely and send her back some changes. I'm headed to LA next week so I'm finalizing my arrangements for that trip. I'm always so busy when I'm there so there is a lot to plan. I pack up my bag to head to the office.
10:15 am: I'll pop by my favorite taco joint to get a to-go salad to eat at the office later. I eat here almost daily so I know everyone by name. Once I get to the office, I'll say hello to my team and then hop into a 90-minute leadership meeting with our COO (who happens to be my husband) along with our managers from operations, marketing, and finance. We communicate, problem solve, strategize and make sure we're all on the same page. Today we're talking about some issues related to our inventory system. We also discuss our need to hire another person in our warehouse as well as when we're going to get one of our new filling machines up and running. We're also working on two new products for adult acne to complement our Rapid Response Detox Masque so we discuss some upcoming deadlines.
12:30 pm: Lunch in our community room. Today everyone in the office is buzzing about our new weekly goal. Every Monday, everyone on our team sets a 7-day personal goal that we post up for everyone to see. Throughout the week, we each have to post updates on how we are doing. It's super fun and everyone supports and encourages each other to stick to their goals. Mine for this week is to not eat after 8:00 pm. Some other people have ones like drinking more water and no TV. It's the little things like this that make a team feel connected. We also do outings every few months. In November, we went to a new ax-throwing facility and our holiday party in December was an Austin food truck tour. Super fun!
1:00 pm: I'll roll into our weekly 90-minute marketing meeting. Today, we're discussing the 2018 extreme blog makeover. I've had my popular blog since 2009 and have written over 1000 posts. This year, we're cleaning house and archiving some of the less relevant ones, updating hundreds of them and writing a lot more new ones. It's a major undertaking but slowly but surely, we'll get there. Want to sign up to get my blog posts into your email inbox? Sign up here.
4:00 pm: After having some one-on-one meetings I head back home to work in my office where there are fewer distractions for me. I check a few emails and then hop on my personal Instagram and do a 45-minute Live video to answer skincare questions. It's a great opportunity for me to connect with our loyal fans and customers and help them with their skin. Today I was asked a lot of questions about how to keep the skin hydrated without causing breakouts. It's definitely a balancing act for this type of skin but I give some great solutions that you can read here. I'll save the video so people can watch it for the next 24 hours.
5:15 pm: I have a blog post to write about the skincare rules that I personally live by so I dust on some SPF-infused mineral powder, put in my wireless earbuds, grab my phone and go for a walk. While I'm walking, I record a voice memo with all the details of how I want the post to go, while getting some fresh air and getting in some exercise. I'm all for triple tasking. My dad calls in the middle of my walk so I pause the recording and chat with him for a while. He lives in Seattle so it's always good to catch up with him and hear about all the ways he keeps busy in his retirement. (In my family, we aren't ones to sit still. Always on the go. It's probably how my grandmother lived to be 102. Read this post about her 100th birthday celebration.)
6:00 pm: I head back home and continue working until my husband gets home from the office.
7:30 pm: My husband cooks up a delicious meal for us to enjoy. Tonight it's spaghetti squash with chicken and sun-dried tomatoes. He cooks, I clean. That's our arrangement.
8:30 pm: I head upstairs to the bathroom and change into my PJ's and do my night time skincare routine. I'm a skin type #2 so I use most everything in that routine. I rotate different serums in my evening routine and tonight  I'm using my retinol product Advanced Resurfacing Serum. So good. (Want to find out your skin type? Take this quiz.) I grab my laptop and lay in bed for an hour working and returning emails.
9:45 pm: The workday is done. I put my laptop aside and stretch on my bed for 30 mins while checking Instagram and Facebook. It's Fashion Week in NY so I'm seeing what trends are coming down the runway. I also hang my head upside down for 3 minutes. It's my every night ritual of bringing blood flow and oxygen to my skin to keep lit from within.
10:15 pm: I turn on the white noise and get my beauty sleep. Snuggles with my husband. Life is good.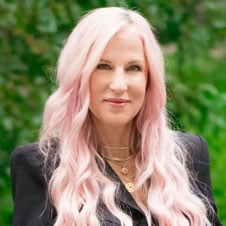 Celebrity Esthetician & Skincare Expert
As an esthetician trained in cosmetic chemistry, Renée Rouleau has spent 30 years researching skin, educating her audience, and building an award-winning line of products. Her hands-on experience as an esthetician and trusted skin care expert has created a real-world solution — products that are formulated for nine different types of skin so your face will get exactly what it needs to look and feel its best. Trusted by celebrities, editors, bloggers, and skincare obsessives around the globe, her vast real-world knowledge and constant research are why Marie Claire calls her "the most passionate skin practitioner we know."