Updated 2/15/18. As the founder and CEO of Renée Rouleau Skin Care, I'm constantly planning for the future of my company. In life and in business, it's so important to have a vision of where you want to go; otherwise, you'll just wander around aimlessly. My company is growing fast and with this growth, the doors open to new opportunities.
Things I'm approached about regularly from business people include:
Being asked to be a paid spokesperson for products that complement my line of skin products
Selling my products at other locations such as spas, beauty retailers, department or drug stores,  doctors offices, and boutiques
Creating a collection of products for celebrities to be sold on channels like QVC
And the list goes on and on
From the users of our skincare line from around the globe, I'm often asked the following:
Can your products be sold in retail stores so that they are more accessible?
Will you collaborate with other professionals for various events?
I once was told that the best business leaders say "no" more than they say "yes" and I understand why this is true. The best companies stay focused and are crystal clear on their vision. Simply put, saying "no" means they are staying the course.
Here's the deal. There is never a shortage of great opportunities, ideas for growth and expansion, and all of the requests that I'm asked are feasible and completely do-able.
That is…IF I was interested. And, honestly, I'm just not interested in taking over the world. 30 years ago I set out to do what I love, which is to help others with their skin and get them to like what they see when they look in the mirror. I do this by giving skin consultations in various cities and offering virtual consultations; creating amazing products; sharing skincare tips; creating a skincare conversation on social media; and writing these blog posts (to date, I have written 1236 posts, and I still have so much more of my expertise I want to share).
If I chose to expand my company and be a household name, sadly, my time would not really be focused exclusively on skin anymore—it would be on business, sales, and numbers. That's the world of big business, and at this point, that just doesn't interest me. I've seen a lot of people sell their soul for the almighty dollar (and many ruined their companies in doing so), and that's not a path for me. I simply love what I'm doing now. I've got a good thing going so I'm just going to stick with it. While I know those outside of Texas would certainly love for me to say "yes" so we can be more accessible to them, for now, I've chosen to remain in control of my company, be the best #girlboss and leader as I can—all while keeping it exclusive. This includes saying "no" to amazing opportunities that come my way on a daily basis, even when people think I'm crazy to do so.
There's only one life, and it sure goes by fast, so I'm going to stay true to what's important to me.
I recently spoke at a beauty event. Here's some of my best business advice that I've learned along the way. Say hi to me on Instagram!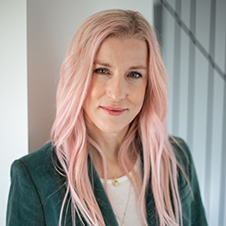 Celebrity Esthetician & Skincare Expert
As an esthetician trained in cosmetic chemistry, Renée Rouleau has spent 30 years researching skin, educating her audience, and building an award-winning line of products. Trusted by celebrities, editors, bloggers, and skincare obsessives around the globe, her vast real-world knowledge and constant research are why Marie Claire calls her "the most passionate skin practitioner we know."