I'm definitely at a point in my career where I have experienced enough to gain wisdom and insight that can be helpful for others. After all, I started my first business at age 21, which was over 25 years ago. I was recently asked to speak on a panel and share my best business advice at the Indie Beauty Expo in Dallas. Being that I'm a giver by nature, of course, I said yes. Here's the list of questions sent to me in advance with my answers. I sincerely hope you learn a thing or two from this that might give you a new perspective on your own career or goals.
Q: You have a very unique brand. Can you share your retail strategy? And how has that strategy changed – if it has – over the years?
A: Despite many requests, I have chosen NOT to have my products sold in retail stores other than selling in my two Dallas skincare spas and my pop up's held in LA and NY. Retail stores generally only attract people from a 10-20 mile radius, so the only way to grow is more and more stores. That's just not for me, as I'm not looking to be a household name in the way that other brands want to.
My retail strategy has been to sell online (I've been doing so since 1998 if you can believe it!) because I knew that would expand our reach much further. There's simply no limit to who can have access to our products. Singapore, Canada, and Australia are the top international countries to which we ship. With all the advancements in technology and the way in which we now can communicate, It's incredible to have a brand that is changing lives across the globe. It's now so much easier to hear how that is happening through shared customer stories.
I also made a decision early on to not rely on paid advertising as a sales strategy. I've been posting skin care articles on our website (which is now my blog) since 1997, so we get a lot of organic search leading to all the content that I've developed over the years. Google knows we are a trusted skincare source, and send lots of traffic our way as a reward.
Q: What is most challenging about managing both a product line and having a spa? How do you balance both businesses? 
A: Having control and lacking control. For the products and the spa business, it's about recognizing what you're working with and adjusting accordingly.
The spas are directly customer facing, so it's all about people—making them happy and managing their expectations. For the most part, you can control the outcome of whether or not they have a good experience.
With the product line, you're relying on your vendors to deliver on their promises; there is less control of the outcome. We perform a vendor audit at the end of each year using a scorecard for ratings of quality, on-time delivery, good communication and other measurements. Any company is at the mercy of their vendors for so many things, and if someone is not cutting it, we have to move on. Our company is growing too fast, and we can't be slowed down by bad vendors who can't get it together. I'm an understanding and forgiving person—up to a point.
Q: Can you give us some scrappy, street smarts business advice?  
A: Use the tools that are out there to learn about the personalities of employees and potential future hires. When you start a business, you'll wear many hats. What you'll quickly discover is that you want a mini-me who thinks like you, acts like you and makes decisions like you. I'm here to tell you, you just won't find anyone that will ever live up to those unreasonable expectations. You'll make your first hire, then your second hire, and ultimately you'll get frustrated because your employees won't be perfect clones of you. What's important to know is that people are simply wired how they are, and they can't be anything but themselves.
To help better understand this, I encourage business owners to look into personality testing. (There are many books out there that can teach you all about this.) This increases the chances of hiring people with the right skill set to succeed at their jobs. In our company, personality testing is a part of our hiring process. It's one of the reasons why our employees are so happy and stay with us for so long.
Q: Your company originally started in Dallas. What are the pros and cons of building a brand in this city?
A: Two things that Texans take pride in are being from Texas and looking good. In Dallas, people make taking care of themselves a priority, so it's easy to build a brand there. I would say the downside is that makeup can be the star of the show more so than skincare. Since so many Dallas women wear makeup, they know they can easily camouflage skin issues. Therefore, they often will ignore them.
This is neither a pro nor a con, but Dallas women love change. This means that as a brand, you must constantly innovate. You can't sit still in this city because people want the latest and greatest. I'm happy to say that our spas just celebrated 20 years in business in Dallas, and our company is the strongest it has ever been. Many companies that don't innovate will experience a slow death. Interestingly, though, my first skincare spa was outside of Boston. My experience there was the opposite; I found that many Bostonians didn't like change at all. They prefer the consistency of what is known, tried and true.
Every city has its own personality, but ultimately you'll need to make decisions based on your target demographic.
Q:  If you had a chance to go back in time, would you do anything differently?
A: I would have made more of an effort to educate myself on how to better understand my finances and what all the numbers mean. A P&L doesn't lie, and a lot of good decision-making can come out of its data. Don't neglect this very important tool. I am still not a "numbers" person to this day (and I won't ever be, I'm just not wired for that), but I now at least know the basics. I have learned to keep my eye on them closely, plus I have a trusted financial advisor that keeps me looped in on what I need to know and do.
Q: What is your ultimate mission or philosophy that fuels everything you do in business?
A: Building trust with our clients and customers. We have a company mindset to truly help our customers above and beyond just selling products. We cater to true skincare enthusiasts. These are the people who want, not only to use our products but to learn as much as they can about their own skin types and how to best care for their skin. (See our nine skin types to find out yours.) They are tired of the sales pitch and taking advice from people who don't truly understand their skin.
We make it our mission, as an esthetician-based company, to educate these enthusiasts with trustworthy advice. Our communication via social media, our blog and email blasts all shares our knowledge with expert advice, tips, and tricks. Our virtual consultations are wildly popular (and were even featured in the NY Times). They offer an easy, accessible way to consult one-on-one with an esthetician, going into detail about your skin's true needs. At the end of the day, people want personalized help to achieve healthy and beautiful skin. They ultimately want to know, "How are you going to help make my skin and my life better?" We feel we do a great job with this.
Q: What is your vision of success?
A: I define success as making a difference in people's lives. That's what I wake up every day and think about. It's no longer about the almighty dollar, the way it was when I first started. It's now about how can I serve others with the information I have.
Our best-selling product for 20 years is a spot treatment for cystic blemishes. We hear every single day from people around the world that they no longer have to hide under makeup. That's pretty darn powerful. This is just one example of how we change lives for the better.
Q: What advice would you give to young women about being an entrepreneur today and in the future?
A: Don't go it alone and don't be afraid to be vulnerable. Running a business and making smart decisions is challenging. You'll never know what the outcomes will be until you just do it and see what happens. However, if you develop a network of friends, confidantes, and colleagues that you can bounce ideas off of, I can assure you, your decision-making and the outcomes will be much better and easier.
We all want to paint a rosy picture of how great things and how smart and confident we are, but it's all BS. No one knows it all or has it all. We all have struggles, so it's time to get real with ourselves and ask for help when needed. Business is survival of the fittest and a fight that many won't win, so surround yourself with amazing people—especially girl bosses!
Q: Who inspires you to be great?
A. All of my entrepreneur and creative friends who are out there putting everything they have on the line. They are my sounding boards, and I am theirs. (I'm a member of the Entrepreneur's Organization as well as The Soho House so I get to meet amazing people.)
Q: What ultimately makes you happy?
A: I carefully chose my path; all of my decisions are based on my need to still enjoy what I do. I always want to stay true to what I set out to do when I first entered the skincare profession at the age of 18. I can't tell you how many well-known beauty entrepreneurs chose the path that made their brand a household name, only to find that it made them miserable. They got too big, lost control along the way and eventually regretted their path.
My path (and happiness) revolves around the need to feel challenged and to continue to learn and grow. I don't want to sit still, and I want things on my terms. I often hear, "You'd be perfect for QVC. Why aren't you on there?" Or I'll get a phone call from a major beauty company executive saying, "I've been watching your company for a long time, and I want to talk to you about investing in your company." The simple response is this. Pursuing either of these will not make me any happier. Richer, yes. Happier, no. (This does come with some frustration for some of the people on my team who see me turning down things when they see so much opportunity for our company. But they understand me and respect my vision.)
Q: Lastly, I have to ask. What are your personal, secret beauty weapons?
A: A time-released retinol (my favorite Advanced Resurfacing Serum) to smooth my skin and make my pores look smaller. Hanging my head upside down for three minutes a day to increase blood flow to get an inner glow. Doing things for myself that give me confidence so I can practice self-acceptance since there will never be perfection.
I hope you enjoyed this post and it got the wheels turning in your head. If you're an esthetician, read my tips for how to open your own skincare business.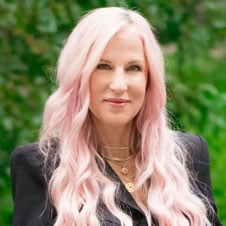 Celebrity Esthetician & Skincare Expert
As an esthetician trained in cosmetic chemistry, Renée Rouleau has spent 30 years researching skin, educating her audience, and building an award-winning line of products. Her hands-on experience as an esthetician and trusted skin care expert has created a real-world solution — products that are formulated for nine different types of skin so your face will get exactly what it needs to look and feel its best. Trusted by celebrities, editors, bloggers, and skincare obsessives around the globe, her vast real-world knowledge and constant research are why Marie Claire calls her "the most passionate skin practitioner we know."