Certainly with the hormones related to being pregnant, for some, the skin can be greatly affected, while for many, it can change very little. The most common changes in the skin during pregnancy can be pregnancy-induced melasma (brown patches on the skin), an increase or decrease in acne or blemishes, and redness and dilated capillaries. Due to certain high-performance ingredients that are often suggested by doctors to avoid while you're pregnant, it can be challenging to manage some of these changes to the skin during pregnancy. Post-pregnancy, however, is when you want to address these conditions that may linger long after the baby has arrived.
Due to increased blood pressure, as well as carrying extra weight from the baby, it is common to get increased redness and visible dilated capillaries on the skin.
Here are three helpful tips to calm down pregnancy-induced redness.
Schedule a professional facial. Put your skin in the hands of a professional – don't try to go it alone. You're a busy mom, focusing on adjusting your new baby into the world, so trying to take time out to figure out for yourself how to handle your skin is not where your time is best spent. A licensed esthetician can perform soothing anti-redness treatments to the skin, as well as recommend tips and tricks and a home care regimen that you can easily follow.
Use skincare products formulated to decrease redness. Ingredients such as white tea, azulene, and chamomile are all very effective for constricting capillaries to reduce pregnancy-induced redness. I recommend using Redness Care Firming Serum underneath moisturizer to give calming relief. (Read: What is a Serum and Do I Really Need One?)
Keep your toner in the refrigerator. Using an alcohol-free toner after cleansing is essential for hydrating and balancing the skin, but by leaving it in the refrigerator, when applying to the skin, the cold can help reduce redness. (Read: Five Reasons to Use an Alcohol-Free Toner)
Read: What Can I Do for Post-Pregnancy Brown Patches on My Skin?
Read: What Can I Do for Post-Pregnancy Acne and Breakouts?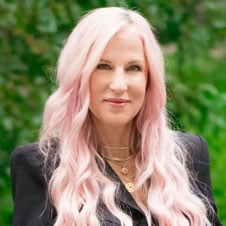 Celebrity Esthetician & Skincare Expert
As an esthetician trained in cosmetic chemistry, Renée Rouleau has spent 30 years researching skin, educating her audience, and building an award-winning line of products. Her hands-on experience as an esthetician and trusted skin care expert has created a real-world solution — products that are formulated for nine different types of skin so your face will get exactly what it needs to look and feel its best. Trusted by celebrities, editors, bloggers, and skincare obsessives around the globe, her vast real-world knowledge and constant research are why Marie Claire calls her "the most passionate skin practitioner we know."