Updated 11/10/15. Now more than ever, people are incredibly aware of the concept of preventative aging. Many of my younger clients tell me they want to put in the work now to avoid wrinkles and brown spots down the road. But what age should someone start using anti-aging products? And what products are best to do this?
Anti-aging products can be used as early as 18. Of course, not all anti-aging products are equal so let me explain what products are best to use at certain ages.
Sunscreen starting at age 6 months. According to the journal of Plastic and Reconstructive Surgery, a study concluded that sunscreen, when compared to the preventative effects of powerhouse OTC ingredients such as wrinkle-fighting antioxidants, skin-plumping hyaluronic acid and skin lightening-hydroquinone, is the most biologically active ingredient in skin care products…
So what does that mean exactly? It means that sunscreen, more so than any other skin care product sold over-the-counter, has the best ability to prevent wrinkles and premature skin aging.
Physical exfoliant (gentle facial scrubs) starting at age 10. Some pre-teens can get whiteheads, blackheads and closed comedones so using a facial cleanser with gentle exfoliating beads daily (like AHA/BHA Deep Pore Cleanser) or a simple scrub (like Mint Buffing Beads) a few times a week is very beneficial to keep the skin clear and bump-free. Exfoliants also help with anti-aging in that they encourage healthy cellular turnover.
Acid exfoliant starting at age 16. Similar to physical exfoliants, products using AHAs (glycolic, malic and lactic acid) and BHAs (salicylic acid) all help to stimulate cell renewal which helps keep the skin healthy-looking. These also help to control breakouts, fade discoloration from sun and acne scarring and keep the skin smooth. (See a list of exfoliants.)
Antioxidant serum starting at age 18. Since the main breakout years are starting to pass, now is a great time to protect the skin cells from environmental damage. A gentle, no-sting vitamin C serum (like Vitamin C&E Treatment) is extremely effective when used underneath daily sunscreen for neutralizing free radicals that breakdown collagen and damage cells. Durham, N.C.-based Duke University Medical Center researchers determined that using a lotion or serum with both vitamins C and E under sunscreen actually provides four times the protection of sunscreen alone. Vitamin C + sunscreen is a powerful anti-aging combination that you really should be using daily!
Retinol or prescription retinoid (used for the purpose of anti-aging) starting at age 28. Without a doubt, using topical vitamin A, with either a prescription retinoid or over-the-counter retinol applied on the skin several nights a week can truly make the skin look smoother and younger. From resurfacing the texture by reducing lines, wrinkles and large pores to fading discoloration, you really need to be using this if you want to improve the look of your skin. Other than sunscreen, I believe it is truly the best biologically active ingredient because it's backed by so many years of scientific proof. After all, every dermatologist on the planet endorses it. For those in their late 20s, I suggest starting with a non-prescription retinol product (like Advanced Resurfacing Serum) since the cells are still active at this young age. Once you get into your late 30s, you can consider switching to a prescription retinoid if your skin needs more. Consulting with a skin care professional can help determine the right plan for your unique skin type. I have also written a great blog post about the difference between retinoids and retinol and which is best for what type of skin. Read it here.
Eye cream starting at age 21. Since the eye area is the first area to age, keeping it hydrated and nourished is very effective. I recommend my younger clients to use a lightweight creamy/gel consistency eye cream (like Vitamin C Eye Brightener) and once they are in their late 20s, start using a more moisturizer and active eye cream (like Total Eye Repair Cream).
It's important to note that you must choose all anti-aging products appropriate for your skin type. Many cosmetic companies (not Renée Rouleau, of course) assume those who want anti-aging care must have dry skin. But our skincare spas are visited every day by young women and men who still have oil and breakouts, but want to preserve their youthful appearance for as long as they can—and this can be done with the right balance of ingredients.
Another thing to know is that many skincare products have active ingredients in them that are designed to be anti-aging by increasing the metabolism of the cells (such as certain vitamin combinations and peptides), which are excellent for those in their 30s and beyond. However, these ingredients may be too active for the face, particularly in younger skins and those prone to breakouts, since this type of skin already has an active metabolism. This type of stimulation may increase breakouts for some people, so always consult with an esthetician or other skincare professional to determine what's best for your type of skin.
Here's a list of anti-aging ingredients that are appropriate for those in their 20's which is the decade when the interest of using anti-aging products begin.
Hyaluronic Acid (found in Skin Drink)
Stabilized Vitamin C (found in Vitamin C&E Treatment)
Elderberry Fruit Extract (found in Elderberry Toner)
Zinc Oxide (found in Daily Protection SPF 30)
Glycolic Acid (found in Glycolic Serums)
Red Marine Algae (You'll love it in our Hydraboost Rescue Creme)
Salicylic Acid (You'll love it in our BHA Clarifying Serum)
Read skin tips for those in their 20's, 30's, 40's, 50's and 60's.
P.S. Consider yourself lucky if you have these three genetic facial features that will guarantee you'll look younger longer.
Read: Here's What I Might Look Like In My 70s
Read: Five Guaranteed Ways To Look OLDER Than Your Age
Read: How Do Hormones Affect The Skin?
Which skin care products are best for you? See our nine skin types or take the Skin Type Quiz and get products recommended.
Need expert advice from a licensed esthetician? Schedule a virtual consultation to get customized advice in person, over the phone or online via Skype or FaceTime.
For more expert advice check out the blog. Also sign up for our skin tip e-newsletter, follow Renée Rouleau on Twitter and Instagram and join the discussion on our Facebook page. You'll be your own skin care expert in no time. Get the #ReneeRouleauGlow!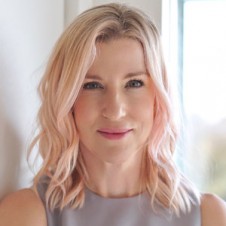 Celebrity Esthetician & Skincare Expert
As an esthetician trained in cosmetic chemistry, Renée Rouleau has spent 30 years researching skin, educating her audience, and building an award-winning line of products. Trusted by celebrities, editors, bloggers, and skincare obsessives around the globe, her vast real-world knowledge and constant research are why Marie Claire calls her "the most passionate skin practitioner we know."