False! You've heard it for years that misting your skin with a hydrating spray while flying will help retain your skin's moisture when you're in the drying cabin of an airplane—but this is absolutely incorrect!
If you mist your skin with a water-based toner, it will attract the moisture and water out of your skin and vanish into the dry air. Moisture acts like a magnet in that it attracts other moisture and will always go to the driest area–in this case, the cabin air. So misting your skin will make the moisture within your skin evaporate out, leaving it tight, dry and dehydrated…
What can you do to prevent airplane dryness?
This experiment reinforces the importance of skin care when traveling to prevent dryness. When you travel by plane, pay special attention to your skin. Skin cells are like fish, they need water to live and without it, you are compromising not only the appearance of the skin (lines and wrinkles are more pronounced when moisture is lacking in the skin), but the overall health of it too.
Protect your skin with a good sunscreen moisturizer (you're closer to the sun so you're getting more harmful UV rays) applied over a hydrating serum like Renée Rouleau Skin Drink to create a protective seal on the skin to help prevent moisture loss.
Drinking plenty of water will also help to keep your system hydrated. While drinking water is not the most efficient way to hydrate the skin, it's still important for the health of your cells.
Avoid misting your skin with a hydrating spray during flight. Why?  Because since the air is so dry, it looks for water wherever it can get it and since water attracts water, when you spray the skin it takes the water from the layers in the skin and gets evaporated into the dry air! The result is even tighter, drier skin. If you want to treat your skin in-flight, it's best to apply another layer of moisturizer on to your face mid flight to help the skin retain its moisture.
Post-flight, use a mild facial scrub or light acid peel (like Triple Berry Smoothing Peel or Mint Buffing Beads) to remove surface dry skin cells accumulated from flying. Then rinse and apply a serum (like Skin Drink) followed by a good moisturizing mask (like Pure Radiance Mask or Bio Calm Repair Masque) with ingredients like Sodium PCA, vitamin C, and Hyaluronic Acid to add back essential hydration. These ingredients will also help to brighten the skin from post-flight dullness.
Note: As I am writing this blog post, I'm on an airplane. I have no lip gloss on and my lips are feeling dry. So I keep licking my lips to get them moist and they are getting drier and drier. By licking my lips, it's attracting the moisture right out of my lips. Solution? Lip balm, stick or gloss to retain the moisture in my lips.
Read: How Dry Is The Air On An Airplane? Renée Rouleau Investigates!
Read: How To Prevent Your Products From Leaking On An Airplane
Read: Can Airplane Travel Increase Breakouts?
Which skin care products are best for you? See our nine skin types or take the Skin Type Quiz and get products recommended.
Need expert advice from a licensed esthetician? Schedule a virtual consultation to get customized advice in person, over the phone or online via Skype or FaceTime.
For more expert advice check out the blog. Also sign up for our skin tip e-newsletter, follow Renée Rouleau on Twitter and Instagram and join the discussion on our Facebook page. You'll be your own skin care expert in no time. Get the #ReneeRouleauGlow!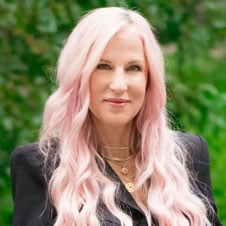 Celebrity Esthetician & Skincare Expert
As an esthetician trained in cosmetic chemistry, Renée Rouleau has spent 30 years researching skin, educating her audience, and building an award-winning line of products. Her hands-on experience as an esthetician and trusted skin care expert has created a real-world solution — products that are formulated for nine different types of skin so your face will get exactly what it needs to look and feel its best. Trusted by celebrities, editors, bloggers, and skincare obsessives around the globe, her vast real-world knowledge and constant research are why Marie Claire calls her "the most passionate skin practitioner we know."