Updated 12/14/14. For those who travel, you have most likely experienced your beauty products exploding inside your luggage, getting all over your clothes and other packed items. It's the last thing that anyone wants to deal with when they arrive at their destination. Since I travel frequently, both domestically and internationally, and of course never leave home without my array of skin and beauty care products, here's what I have found works well for a leak-proof trip.
Tip #1: Assess what you'll need.
There are many things to consider before you travel, including: How long are you traveling for? Where are you headed? What will the hotel provide? What is the climate like?
Tip #2: Determine what will be packed versus carried on…
For carry on, the TSA does not allow bottles with liquid larger than 3.4 ounces. They only allow all that will fit in one quart-size, clear plastic zip-top bag. Of course, if you're carrying on, then you need to think smart about what the essentials are, since you'll be limited as to what you can take. Refer to Tip #1 above.
Tip #3: Let out the air.
Extra air trapped in bottles from products that have been opened previously can cause plastic containers to explode when air pressure changes due to elevation. Open the cap, squeeze out almost all the excess air, and quickly replace the cap.
Tip #4: Cover bottle openings with plastic wrap.
For extra insurance before you replace the cap, place plastic wrap over the opening of each bottle, and then screw the cap back on. This gives an extra layer of protection in the event a cap comes loose during travel.
Tip #5: Put each product in its own zip-top bag.
Even with all these tips, it is still possible that products can leak, so the best tip of all is to put each bottle in its own individual zip-top bag, that way if it does leak, at least you can be sure it won't get all over your belongings.
So there you have it, my tips for ensuring a leak-proof trip, allowing you to arrive at your destination with all your beauty products intact. Note: If there is a lot of pressure on the airplane, such as a particularly bumpy flight or your ears getting plugged, then this certainly may impact your products. Once in a while, I will still have a product leak despite taking all the preventative measures.
Which skin care products are best for you? See our nine skin types or take the Skin Type Quiz and get products recommended.
Need expert advice from a licensed esthetician? Schedule a virtual consultation to get customized advice in person, over the phone or online via Skype or FaceTime.
For more expert advice check out the blog. Also sign up for our skin tip e-newsletter, follow Renée Rouleau on Twitter and Instagram and join the discussion on our Facebook page. You'll be your own skin care expert in no time. Get the #ReneeRouleauGlow!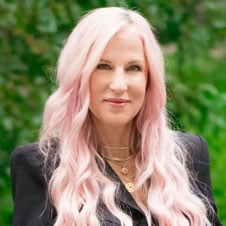 Celebrity Esthetician & Skincare Expert
As an esthetician trained in cosmetic chemistry, Renée Rouleau has spent 30 years researching skin, educating her audience, and building an award-winning line of products. Her hands-on experience as an esthetician and trusted skin care expert has created a real-world solution — products that are formulated for nine different types of skin so your face will get exactly what it needs to look and feel its best. Trusted by celebrities, editors, bloggers, and skincare obsessives around the globe, her vast real-world knowledge and constant research are why Marie Claire calls her "the most passionate skin practitioner we know."