Updated 2/12/18. "I started a new skincare routine and it was working so well, but now I don't see as many results. Is my skin getting used to them?" That's a question I've heard fairly often throughout the years and it's a good one. In this post, I'll clear up any confusion about whether or not your products can become ineffective and stop working, and if it's beneficial to change up your skincare routine from time to time.
Can my skin products lose their effectiveness over time?
The simple answer is, no. Your skin doesn't build up an immunity to skincare products over time. They don't just one day decide they aren't going to work anymore. This is because there is no direct mechanism for your skin to become immune to the effects of products. When you apply a product, your skin's receptors will take it in, and, assuming it's a well-formulated product, it will go to work immediately to perform its function.
However, there is an exception. In the case of using topical prescription retinoids, your skin can build up a tolerance which will result in fewer negative side effects over time. (We'll always welcome less peeling and dryness!) Read my beginner's guide to using retinoids and how to prevent dry, flaky skin.
Why did I see such a big improvement when I first started a new skincare routine?
You very well might be correct in what you are seeing. What can happen with people is their skin can reach a visible plateau where they forget what their skin looked like before they started using new products. For example, let's say your goal is to brighten your skin and you recently started using an exfoliating acid serum and a vitamin C serum, which you have never used before. These types of products will give fast  results, and it's not uncommon for us to hear from our customers"I just started using your products two weeks ago and I can already see a huge difference!" What occurs is that once these type of products have started to fade unwanted pigment from your skin and create a more even-toned look, there are fewer results that you might see over time. It's simply a perception situation in that what you are seeing now is the new normal.
Is it ever a good idea for me to change up my routine?
Yes, it certainly can be helpful to change up your routine as needed. The reason is that your skin is a living organ that evolves over time. This means that age, climate, hormones, stress and any number of reasons that we may never even know, can all greatly contribute to a change in how your skincare products might behave. There are most certainly times when a moisturizer may not be giving your skin enough, and something richer and more emollient may be needed. Or, if you're an adult and you are experiencing adult hormonal breakouts during your monthly cycle, then you'll want to adjust your routine to a bit for this. Read how to prevent adult hormonal breakouts. Think of this as "adjusting" your routine versus giving it a complete overhaul. It's simply minor tweaks to ensure your skin is getting what it needs.
Another reason why someone might feel the desire to change is out of boredom, or what I call the "shiny new skincare toy" syndrome. Trust me, I understand this. As an esthetician, I am in a profession where I'm surrounded by skincare enthusiasts. The main reason why we all got into this field was our own fascination and passion for skincare science and how it translates into product formulas. We then love using our knowledge to help others love the skin they are in. (This certainly includes myself, which is why I regularly attend cosmetic chemistry courses.) When a new product comes onto our radar, and especially if we hear everyone buzzing about it, we love trying it out for ourselves and can find ourselves quickly changing up our routines. (We like to think of ourselves as the guinea pigs so you don't have to be.)
For the consumer, many can fall into this too. The best advice I can give is, don't be too quick to change, especially if something has been working and keeping your skin in a good, happy place. If you want to try something new, just swap out one or two products but don't turn your routine completely upside down.
If I wanted to change up my routine, what type of products would be good to swap out?
If you're feeling bored and adventurous, here are a few adjustments that can safely be made to introduce some new ingredients, without completely giving your routine an overhaul.
Treatment Masks
I think masks are a great way to play around and give your skincare routine some variety. Since they are meant to stay on the skin 10-20 minutes before being rinsed off, they will give an immediate boost of results but won't disrupt the results of your regular daily routine.
Gel Masks
These are a great way to give water-based hydration to sensitive, thirsty skin.
Clay Masks
Clays, as long as they are non-drying, can be an effective way to tighten up the pores and absorb oil. Especially during the summer when more oil is produced, these can feel great.
Cream Masks
If you have a dry skin type like skin types 7, 8 and 9 where your skin is in desperate need of oil, a cream-based mask is wonderful for delivering rich, lubricating oils deep within the skin's moisture barrier.
Sheet Masks
A sheet mask is made out of various fabrics and materials like non-woven fibers, bio-cellulose, and rayon. The material is soaked in a solution of water, gelling agents and other beneficial additives that are meant to deliver hydration to the skin. There are pros and cons to using sheet masks and I share them here.
Exfoliants
For the face
There are times when you want to bump up the smoothing, large-pore shrinking, brown-spot fading results that your regular exfoliating acid is giving, and a great way to do this is by using an at-home peel.
For the eyes
Feeling like no matter how much eye cream you use, you're still looking dry and crepy under the eyes? You can easily give a boost of smoothing results when you use a gentle undereye exfoliator.
What if my products aren't giving me the results I'm looking for?
It could be from two things.
1. You might be unrealistic about what skincare products can do. I see this happen a lot where I have to get real with my clients and let them know that often times, the improvement they are seeking just can't be found in a bottle. Mother Nature has dealt us a hand of cards, and it's important to have a healthy dose of self-acceptance.
2. Maybe your routine really isn't working the best it could be and it very well may be time for a change. The key here is, you must always be using products exclusively for your skin type. I believe there are nine different skin types. You can take this Skin Type Quiz and get suggestions for the very best routine. You might also want to get more personalized advice, so I suggest you consider getting a virtual consultation with an esthetician. We are trusted skincare experts, and are ready to show you the way to healthy and beautiful skin for a lifetime.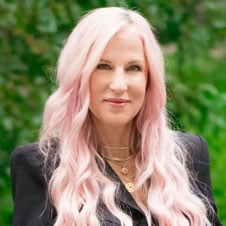 Celebrity Esthetician & Skincare Expert
As an esthetician trained in cosmetic chemistry, Renée Rouleau has spent 30 years researching skin, educating her audience, and building an award-winning line of products. Her hands-on experience as an esthetician and trusted skin care expert has created a real-world solution — products that are formulated for nine different types of skin so your face will get exactly what it needs to look and feel its best. Trusted by celebrities, editors, bloggers, and skincare obsessives around the globe, her vast real-world knowledge and constant research are why Marie Claire calls her "the most passionate skin practitioner we know."