Updated 04/11/23. Being pregnant can cause a lot of changes in your skin—and not just the skin on your face. Stretch marks occur when the body grows faster than the skin can keep up with, resulting in tears and injury. Stretch marks are scars that have formed within the skin and are reddish or purple in color, but after the pregnancy, they can fade to white or light gray. In pregnant women, they most often start to appear on the belly after month six or seven. They can also occur on the breasts and buttocks.
Another side effect of rapidly expanding skin is dryness and itchiness. The skin has a moisture barrier made of natural lipids, which helps retain moisture. When the skin stretches, it creates invisible cracks that allow moisture to escape easily, causing dryness and discomfort (also known as a compromised moisture barrier).
The most effective way to prevent stretch marks and keep your moisture barrier intact as your baby bump grows is to keep the skin constantly hydrated. When the skin is consistently moist and its lipid barrier is intact, it can better protect itself from injury and deal with trauma. If you're interested in taking things up a notch (while simultaneously indulging in some self-care), a great addition to regular moisturizing is the pregnant belly facial. I used to offer this treatment at my spa in Plano, TX, which is now closed. But if you're pregnant and looking for a similar treatment, an at-home belly facial is achievable with three simple products: a pregnancy-friendly acid peel, a gentle physical scrub, and a nourishing oil. Keep reading to learn how to pamper your belly and keep your skin healthy!
What Is a Pregnant Belly Facial, and How Can You Perform One At Home?
This treatment uses a combination of chemical and physical exfoliation and nourishing oils to encourage strong, healthy skin. This combination improves elasticity, which can help minimize stretch marks, relieve dryness and discomfort, and soothe itchiness. (With over 30 years of experience as an esthetician, I've learned just how transformative a two-step exfoliation method can be when it comes to fading discoloration, and stretch marks are no exception.) 
STEP 1
Start by making sure the skin on your belly is clean and dry. Once done, apply a thin layer of Triple Berry Smoothing Peel to the entire belly. Leave this on for 10 minutes and then rinse it off with cool water. 
Fun fact, I recently reformulated Triple Berry Smoothing Peel to make it pregnancy-safe! This chemical peel uses an effective blend of six skin-smoothing AHAs, one hydrating PHA, and an azelaic acid derivative to fight discoloration. This combo also helps loosen dry cells on the skin's surface while stimulating collagen and elastin. 
STEP 2
The next step in our two-step exfoliation method is the physical exfoliant. Apply Triple Berry Smoothing Scrub (the companion to the peel) onto slightly damp skin. Massage over the entire belly in a clockwise motion for 60 seconds. This will ensure you're properly lifting the dead cells that were loosened by the peel, which allows healthy, hydrated cells to thrive. 
The key with this scrub (and any scrub) is that it uses smooth, perfectly rounded jojoba beads that never scratch or irritate the skin.
STEP 3
Finally, pat skin dry before massaging Pro Remedy Oil over the entire belly. This oil contains a perfect ratio of omega-3 to omega-6 fatty acids, along with potent antioxidants. Once massaged into the belly, you'll be left with incredibly moist, supple, and smooth skin.
Is the Pregnant Belly Facial Recommended For All Skin Tones?
Yes, this treatment for the belly is safe for any skin tone. It delivers immediate results and leaves the skin on the belly clean, smooth, refreshed, and hydrated.
How Often Should I Perform This Treatment?
For optimal results, perform an at-home pregnant belly facial once a week after the first trimester.
How Do I Maintain the Results of Pregnant Belly Facials?
Moisturizing with topical creams, masks, and oils that use lipid-rich ingredients, can help keep the moisture barrier of the skin strong, which will protect your belly from tears. If the moisture barrier is intact, the skin is better prepared to deal with the trauma of the skin stretching.
In small studies, there is data that shows that pregnant people who use cream to moisturize on a regular basis get fewer stretch marks than those who don't moisturize consistently. There were no particular ingredients associated with this study. The findings were that it didn't really matter which cream was used as long as it was applied often.  
I recommend Hydraboost Rescue Creme for a lightweight creme that delivers soothing ingredients and exceptional moisture deep within cells. If you're dealing with a lot of itching, a thicker option I recommend is Phytolipid Comfort Creme. This luxurious age-defying formula uses moisturizing lipids and calming plants to repair the skin's natural defense barrier. The Pro Remedy Oil can also be used in place of or mixed with a cream. Among its many benefits, it is excellent for use on a pregnant belly to prevent stretch marks.
All products used in the pregnancy belly facial are safe for pregnancy. Learn more about which skincare ingredients to avoid while pregnant.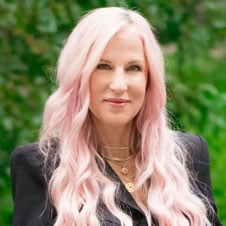 Celebrity Esthetician & Skincare Expert
As an esthetician trained in cosmetic chemistry, Renée Rouleau has spent 30 years researching skin, educating her audience, and building an award-winning line of products. Her hands-on experience as an esthetician and trusted skin care expert has created a real-world solution — products that are formulated for nine different types of skin so your face will get exactly what it needs to look and feel its best. Trusted by celebrities, editors, bloggers, and skincare obsessives around the globe, her vast real-world knowledge and constant research are why Marie Claire calls her "the most passionate skin practitioner we know."