Being pregnant can cause a lot of changes in your skin—and not just the skin on your face. Stretch marks occur when the body grows faster than the skin can keep up with, which results in tears and injury to the skin. These marks are scars that have formed within the skin and are reddish or purple in color, but after the pregnancy, they gradually fade to white or a light gray. In pregnant women, they most often start to appear on the belly after month six or seven. They can also occur on the breasts and buttocks as well. Another side effect of rapidly expanding skin is dryness and itchiness. The skin has a moisture barrier made of natural lipids that retain moisture, but when it stretches, it creates invisible cracks, which allows moisture to escape easily, causing dryness and discomfort. However, when the skin is consistently moist and the lipid barrier is intact, it can protect itself from injury and is, therefore, more able to deal with trauma.
An effective way to prevent stretch marks and keep the skin on your baby bump smooth and supple is with a Pregnant Belly Facial.
*We used to offer this treatment at our spa in Plano, TX, which is now closed. But if you're pregnant and looking for a similar treatment, it will be helpful to familiarize yourself with the steps so you know what to ask your skin care provider for.


What is a Pregnant Belly Facial and how does it work?
This treatment is for the belly of expectant mothers. It uses gentle exfoliation and a high concentration of barrier repair oils to maximize skin strength, moisturize and increase elasticity to prevent stretch marks, and relieves dryness, discomfort and itchiness. Our luxurious facial beds completely contour to the shape of the body to relieve back pressure and pregnant women will find it's the most comfortable laying position that they have had all throughout their pregnancy. At the conclusion of the service, an at-home skin maintenance plan is recommended to ensure the belly skin stays soft, moist and supple.
STEP 1: The treatment starts with a gentle skin brushing to loosen surface dry cells. This is the first step in improving the lipid barrier of the skin.
STEP 2: An application of a cranberry enzyme peel with exfoliating lactic and glycolic acids will remove surface dryness and prepare the skin to better absorb the ingredients to follow.
STEP 3: A warm cream-based mask (Pure Radiance Cream Mask with Spirulina added to it) is applied in a clockwise motion. Spirulina is a blue-green algae that is full of vitamins, minerals, proteins and carotenoids (a type of antioxidant). It contains vitamin E, beta-carotene, vitamin B complex, zinc, copper, iron, manganese and gamma linoleic (a type of essential fatty acid). Pure Radiance Cream Mask contains Cherry Pit Oil, an antioxidant hydrator, Shea Butter  (which offers intensive moisturizer and nourishment), Grape Seed Oil, Borage Seed Oil and Rose Hips Seed Oil, which repairs dryness and leaves the skin silky and smooth. The mask is applied warm and left on the skin for 15 minutes to allow all the action ingredients to properly absorb.
STEP 4: The mask is removed with a warm towel and followed with an application of Pro Remedy Oil, which contains a perfect ratio of omega-3 to omega-6 fatty acids, along with potent antioxidants. This is massaged into the belly to leave skin incredibly moist, supple and smooth.
NOTE: All the products used in this facial contain ingredients that are safe to use while pregnant.
Is the Pregnant Belly Facial recommended for any skin tone?
Yes, this treatment for the belly is safe for any skin tone. It delivers immediate results and leaves the skin on the belly clean, smooth, refreshed and hydrated.
How often should I come in for this treatment?
The Pregnant Belly Facial is recommended every 2 weeks after the first trimester.

How do I maintain the results of the Pregnant Belly Facial at home?
Moisturizing with topical creams, masks and oils that use lipid-rich ingredients, can help keep the moisture barrier of the skin strong, which will protect it from tears from belly expansion. If the moisture barrier is intact, the skin is better prepared to deal with the trauma of the skin stretching.
In small studies, there is data that shows that those who use cream to moisturize, not with a particular ingredient, but rather anyone who applies cream on a regular basis compared to those who did not use cream, get fewer stretch marks.
The Pro Remedy Oil can also be used in place of or mixed with a cream. Among its many benefits, it is excellent for use on a pregnant belly to prevent stretch marks.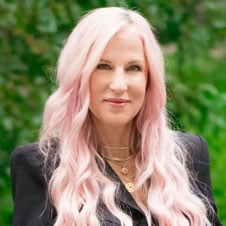 Celebrity Esthetician & Skincare Expert
As an esthetician trained in cosmetic chemistry, Renée Rouleau has spent 30 years researching skin, educating her audience, and building an award-winning line of products. Her hands-on experience as an esthetician and trusted skin care expert has created a real-world solution — products that are formulated for nine different types of skin so your face will get exactly what it needs to look and feel its best. Trusted by celebrities, editors, bloggers, and skincare obsessives around the globe, her vast real-world knowledge and constant research are why Marie Claire calls her "the most passionate skin practitioner we know."