Updated 11/22/17. If you're pregnant, some doctors suggest avoiding the following ingredients in your skin care products. Of course, it's best to consult with your doctor.
-Prescription retinoids. Examples of brand names include Renova (tretinoin), Retin-A, Differin (adapelene), Tazorac and avage (Tazorotene). While there are not confirmed studies showing birth abnormalities, doctors are being cautious when suggesting to avoid topical use of prescription retinoids.  However, oral retinoids, such as isotretinoin (found in the prescription formally known as Accutane, an acne treatment), are known to cause birth defects so they must be avoided.
Note: As for over the counter retinol, a derivative of the vitamin A molecule found in products like Advanced Resurfacing Serum, it is a much weaker form of vitamin A and there is no data showing that this ingredient leads to any systemic absorption.
If you've been using a topical skin cream that contains a prescription retinoid or retinol vitamin A derivative, there's no need to panic. There is NO data showing skin care products with vitamin A have caused problems with an unborn baby in their topical form in pregnant women. Doctors are just being extra cautious.
–Salicylic acid (commonly found in products formulated for acne and clogged pores)
The following Renée Rouleau products have ingredients that your doctor might suggest avoiding during pregnancy:
AHA/BHA Blemish Control Cleanser
Pore + Wrinkle Perfecting Serum
BHA Clarifying Serum (I suggest switching to our Ultra Gentle Smoothing Serum while pregnant)
Other than these products, all of the Renée Rouleau products can be used safely while pregnant.
When in doubt, consult your doctor.
The following products are considered to be SAFE for preventing and clearing blemishes:
Daily Mattifying Solution (Use as moisturizer or as a serum underneath a moisturizer to control oil which lessens bacteria on the skin.)
Read: Pregnant? Start Using a Natural Skin Lightener ASAP!
Read: How Can I Prevent Stretch Marks While Pregnant?
After pregnancy, you'll find these tips helpful.
Read: What Can I Do for Post-Pregnancy Brown Patches on My Skin?
Read: What Can I Do for Post-Pregnancy Acne and Breakouts?
Read: What Can I Do for Post-Pregnancy Redness in My Skin?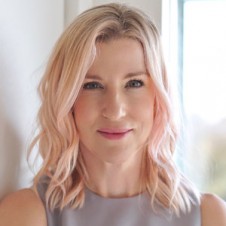 Celebrity Esthetician & Skincare Expert
As an esthetician trained in cosmetic chemistry, Renée Rouleau has spent 30 years researching skin, educating her audience, and building an award-winning line of products. Trusted by celebrities, editors, bloggers, and skincare obsessives around the globe, her vast real-world knowledge and constant research are why Marie Claire calls her "the most passionate skin practitioner we know."