Updated 1/6/21 Something that's brought me a lot of joy these past few years is being on the podcast circuit. It's no secret that podcasts as a medium have really taken off, and I think it's such a great way for people to connect with like-minded communities and learn more about subjects they have a passion for.
I've had the pleasure of being invited to discuss a variety of topics. I've talked about everything from skincare tips (no shocker there!) and business advice for those in the beauty industry to my experiences with love, grief, and loss. There's definitely something for everyone, and I hope you gain some new wisdom from things I have learned along the way in my career and life.
On My Best Skincare and Beauty Advice
First up, I talk all things skin and share the wealth of knowledge I've accumulated over the past thirty years as an esthetician. No matter your skin type or how advanced you are when it comes to skincare, I guarantee you'll learn something new!
Full Coverage Podcast
Listen to the Full Coverage Podcast to learn:
How access to information, not just products, is transforming the skincare industry
The upsides and downsides of the abundance of skincare information out there
How to navigate this as a consumer
How I feel about "clean" beauty
Glowing Up With Esther and Caroline
Listen to Glowing Up to learn:
Gloss Angeles (Co-Host)
I had a great time co-hosting an episode of Gloss Angeles with my friend, Kirbie Johnson! It was an AMA format, and I was able to answer a lot of listener skincare questions.
Listen to Gloss Angeles to learn:
The life cycle of a pimple
The two key factors to avoiding acne scars
The best way to combat maskne
How you can heal keratosis pilaris
What having "textured" skin really means
The difference between dry and dehydrated skin
The most effective way to give yourself an at-home facial
Gloss Angeles (Guest Episode)
This was the first episode of Gloss Angeles I was on back in September 2019, as a guest!
Listen to Gloss Angeles to learn:
My advice for how to figure out your real skin type
What to do about adult acne and blemishes (my specialty!)

Why skin mists might be a huge no-no during your daytime routine
Breaking Beauty (Ep. 99)
Listen to Breaking Beauty to learn:
How to build your perfect skincare routine (after all, even the most experienced among us need to take it back to basics sometimes!) Also, Jill and Carlene, the hosts of Breaking Beauty, told me this is one of their top five most popular podcasts of all time!
Fat Mascara (Ep. 178)
Listen to Fat Mascara to learn:
How to find a great facialist (and what questions to ask)

How much treatments should cost

Which at-home skincare devices are actually worth it (which you can learn more about in this blog post!)
And much more!
The Dream Bigger Podcast
Listen to The Dream Bigger Podcast to learn:
So This is Thirty
Listen to So This is Thirty to learn:
How to take care of the skin around your eyes (ever wondered whether eye creams are worth it?)
My daily skincare routine, both morning and evening
Strategy for treating brown spots and discoloration
My philosophy behind starting my skincare line
Drinkin Broettes (Ep. 17)
Listen to Drinkin Broettes to learn:
Common skincare misconceptions many people still have

Do's and don'ts for skin over thirty (and what we can all do to help keep our skin looking youthful!)

The different skin types as I've observed them in my thirty years as an esthetician (hint: it's not normal, oily, and dry)

The lowdown on the causes of adult acne and how to address it 
Caroline Hirons (YouTube)
Okay, so not technically a podcast, but I just had to include this one! I was lucky enough to join Caroline for a chat on her YouTube channel when I was in London last year.
Watch my video with Caroline Hirons to learn:
The famous dermatologist who influenced my skincare philosophy
How to correctly identify your skin type (I believe there are nine)
Why I'm not sure how my top-selling product works
My number one skincare myth that will probably surprise you
How I keep my focus as a CEO (people over profits!)
On Career Advice for Estheticians
Starting a career as an esthetician is hard, and starting a business is even harder. I've been a business owner since the age of twenty-one and have certainly learned from both my victories and my mistakes. On these podcasts, I talk business and get down to the nitty-gritty.
Beaute Industrie Podcast
Listen to the Beaute Industrie Podcast to learn:
How I built an e-commerce business early on
How to carve out a unique space for yourself in business
Why you need to speak to people in a way they haven't been spoken to before
How my experience as an esthetician led me to create my own product line
EO 360 Podcast
Listen to the EO 360 Podcast to learn:
More about my entrepreneurial journey (which started when I was just 21 years old!)
Why I believe in finding comfort outside your comfort zone (this is part of why I started riding motorcycles)
Why I think it's important to reinvent your life (I was inspired to move to Austin after reading an article about how everyone should move at least five times in their life)
The Emma Guns Show
Listen to The Emma Guns Show to learn:
Where I believe business and beauty meet
How I came to really "understand" skin
The importance of mentors for guiding you toward your goals
Why knowing who you are and what you stand for are key
What it was like being an early adopter of e-commerce
Why big decisions and taking risks have always worked in my favor
The Treatment Room With Tess & Lauren (Ep. 50)
Listen to The Treatment Room to learn:
My journey into the skincare world 

How I became a celebrity esthetician

How I went from a treatment room in Boston to a being  traveling esthetician for my celebrity clients (all while running a company)

How I went about curating and developing a product line
The Beauty Biz Show with Lori Crete
Listen to The Beauty Biz Show to learn:
Why everyone needs a mentor

What social media can do for your business

The personality traits of a hirable esthetician

How blogging attracts clients and press

Why you shouldn't be scared to sell to clients

Why you have to ask questions when you interview for jobs

How to stay busy and build clientele

When you can offer a free service
Beauty Bizz BFFs
Listen to Beauty Bizz BFFs to learn:
Tips to attract and keep clients
Biggest no-nos when starting a business
Tips for aspiring entrepreneurs
On Life, Love, Loss, Grief, and Resiliency
Of course, life isn't all skincare and business. I've learned some really important lessons (some harder than others) and was honored to be able to share them with a wider audience.
The Emma Guns Show (part 2)
Listen to the Emma Guns Show to learn:
Why I believe getting out of your comfort zone can be a fast-track to feeling good
About the calm I feel while riding a motorcycle
Why I'm not afraid to embrace a little danger every day
Why trying new things and exploring the unknown is so important to me
How firing a gun (safely) makes me feel
Why she created a joy list that I check in with daily
The Answer is Yes
Listen to The Answer is Yes to learn:
Why I decided to work for myself instead of someone else
How I started a business at age twenty-six
How I carved out my own space in an already saturated industry
How the principals I developed years ago guide me to this day
How I make every decision with purpose when it comes to my business
Grief is a Sneaky Bitch
Of all the podcasts I've been on, this is the one I was most nervous to record. I was apprehensive about discussing the loss of my husband, Florian, in such a public way. But in the end, it was such a cathartic experience and I'm so glad I did it.
Listen to Grief is a Sneaky Bitch to learn:
The lessons I learned from my business partner and husband, Florian, over our twenty-two-year relationship

The myths and the realities of accompanying someone through a cancer diagnosis 

How I'm doing my best to blaze a shining trail as I adventure on, carrying his memory into the future (follow my tributes at #thisisflorian)
Twenty-Something Trials (Ep. 22)
Listen to Twenty-Something Trials to learn:
How I identify my "core values"
How I use those core values to stay on track, both in life and in business
How I started my career
What inspired me to move and uproot my whole life and why you should, too (hint, this Elite Daily post was life-changing for me.)
Which Podcasts Do I Personally Listen To?
I love all of the above podcasts so those are listened to regularly and here are some others:
A huge thanks to each and every one of the lovely hosts who have invited me onto their podcasts or channels! I hope you enjoy learning from these as much as I enjoyed recording them. To see more, check out the podcast appearances page on the website.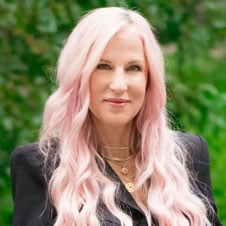 Celebrity Esthetician & Skincare Expert
As an esthetician trained in cosmetic chemistry, Renée Rouleau has spent 30 years researching skin, educating her audience, and building an award-winning line of products. Her hands-on experience as an esthetician and trusted skin care expert has created a real-world solution — products that are formulated for nine different types of skin so your face will get exactly what it needs to look and feel its best. Trusted by celebrities, editors, bloggers, and skincare obsessives around the globe, her vast real-world knowledge and constant research are why Marie Claire calls her "the most passionate skin practitioner we know."