Recently I consulted with a client who is in her mid 50's (read skin tips for those in their 50's) about what her options were for tackling anti-aging. This was someone who has only been taking care of her skin at home and had never had any professional treatments performed. She is tired of looking at her wrinkles, sagging skin and brown spots and is ready to take the plunge into the world of professional skin treatments.
She told me she had already spoken with:
·    A Cosmetic surgeon for a possible face lift or fat injections
·    A Cosmetic dermatologist for fillers and laser treatments
·    And now she was consulting with me (Esthetician) for the less invasive approach with our facials, peels and Bio Visage lifting treatments…
I really think she was taking the smart approach by getting information on all of her options—because there are so many options available to improve the appearance of your skin. She needs to decide what is right for her, and knowledge is power.
Here is my belief system that I shared with her:
-We all want to like what we see when we look in the mirror. When we don't like what we see, it wears and tears on our self-esteem and spirit. That's why my industry was created—to improve the appearance and health of the skin.
-For someone who has never done any sort of professional treatment, I think it's best to start with a gentler and slower approach.  Work with an esthetician to see what kind of results they can give. I'm not a believer that one should go from zero to sixty. To me, a slow and steady course that works gently with the skin is the best way to start.
-In the case of facials, they are certainly not going to deliver the results of a facelift, but they feel wonderful, and will definitely make your skin appear smoother, softer and glowing—with less risk. Add in chemical peels, oxygen, and Bio Visage Lifting treatments, and these will most definitely deliver results with an improved texture, fading of brown spots, boosting the energy of the skin, stimulating collagen production and firming the skin. Sounds pretty good, huh?
For the woman who has never done anything with her skin, these treatments alone will allow her to look in the mirror and feel better with what she sees—without having gone through any down-time associated with more invasive treatments.
I advised my client that whether or not she decides to opt for more aggressive treatments such as those offered by a cosmetic dermatologist or plastic surgeon, treatments performed by estheticians benefit the health of skin tremendously and should be performed as ongoing maintenance. I told her to give us six months to see what we can do for her skin. She may very well find that she loves the results and it may be enough for her. If after six months she is happy with the results, but is looking for something more, that would be the time to consider more aggressive options.
Estheticians, cosmetic dermatologists or plastic surgeons can all offer great results. There is no right or wrong, it's just a personal choice as to what approach is most comfortable to you.
Read:  Are laser treatments and chemical peels damaging your skin?
Read: Is the Clarisonic brush harmful or helpful to the skin?
Read: French skin care investigation—who does skin better? Americans or the French?
Renée Rouleau now offers Botox® Cosmetic
Which products are right for your skin? See our nine skin types and get products recommended.
Need expert advice from a licensed esthetician? Schedule My Skin Prescription to get personalized advice in person, over the phone or via Skype or Facetime.
For more expert skin advice, check out Skin Source–the A-Z guide on all things skin. Also sign up for our skin tip e-newsletter, follow Renée Rouleau on Twitter and join the discussion on our Facebook page. You'll be your own skin care expert in no time.
!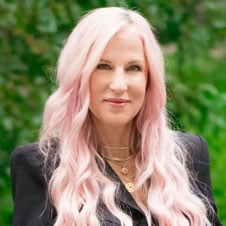 Celebrity Esthetician & Skincare Expert
As an esthetician trained in cosmetic chemistry, Renée Rouleau has spent 30 years researching skin, educating her audience, and building an award-winning line of products. Her hands-on experience as an esthetician and trusted skin care expert has created a real-world solution — products that are formulated for nine different types of skin so your face will get exactly what it needs to look and feel its best. Trusted by celebrities, editors, bloggers, and skincare obsessives around the globe, her vast real-world knowledge and constant research are why Marie Claire calls her "the most passionate skin practitioner we know."