What's the deal with chemical peels?
A chemical peel involves applying a chemical solution (acid) to skin of the face to remove and exfoliate the outer layers of skin so that a clearer, more evenly pigmented, glowing layer of skin can appear. The new, regenerated skin is usually smoother and less wrinkled than the old skin. It is also instrumental in the stimulation of fibroblasts and creating new collagen. The new skin also is temporarily more sensitive to the sun, so daily use of sunscreen is a must. Depending on the type of peel, they are often repeated every 1-6 weeks to achieve the desired results.
They are beneficial for:
Acne
Acne scars and post-breakout marks
Sun damage
Fine lines
Wrinkles
Large pores
Freckles
Age spots
Skin in need of smoothing
Anti-aging
What are the different types of peels?
LIGHT PEELS:
Often called "lunch-time peels", Alpha-hydroxy acids (AHA's such as glycolic), betahydroxy acids (BHA's such as salicylic acid) in 10%-30% formulas, enzymes (using ingredients such as cranberry), and Vitamin C peels provide smoother, brighter-looking skin for people who can't spare the time to recover from deeper peels. The skin may turn pink, and usually only minimal peeling and flaking occurs. You can use makeup to hide any redness until it fades. These peels do not require down-time from life/work, since they are on the milder side and offer milder side effects. You can have light peels performed as often as every two weeks. They are also commonly used in conjunction with a facial.
MEDIUM PEELS:
Often called "weekend peels", TCA (trichloroacetic acid), 30%-70% glycolic peels and Vitamin A peels provide a deeper and more aggressive peeling. The skin can turn reddish brown in 2 to 3 days, become crusty, and then flake and peel over the next 7 days. There may be some swelling, especially around the eye area. Some people will take a few days off from life/work to let the skin heal.
DEEP PEELS:
Phenol peels are the strongest of the chemical solutions and can cause a second-degree burn of the skin giving the skin long-lasting and a dramatic result in the reduction of facial wrinkles and acne scarring. Phenol peels are increasingly becoming an outdated procedure due to lengthy down-time and unpredictable results associated with uneven and loss of pigment changes. Recovery may be slow and complete healing of the skin may take 1-2 months.
Can chemical peels replace a face lift?
No. Although peels can create a firming effect, sagging of the skin (loss of elasticity) does require a surgical procedure to get a true "lift".
*Note:
CHRONIC IRRITATION CAN CAUSE YOUR SKIN TO AGE FASTER.
There have been a lot of studies indicating that inflammation, caused from sunburns, too many chemical peels, strong detergent based products and "glycolic overload" all break down the skins lipid barrier leaving it exposed and vulnerable to irritation and the production of free radicals. If the skin is irritated all of the time, it is an indication of free radical damage which can change the DNA of the cells and age your skin even faster. Chemical peels are high in demand now, but you don't want to be exfoliating and peeling all the time. Exfoliation is important to stimulate fibroblasts and create new collagen, as well as stimulate cellular turnover to fool your skin into behaving young.
THE GOAL WITH YOUR SKIN IS TO EXFOLIATE AS MUCH AS POSSIBLE, WITH MINIMAL IRRITATION. The skin likes little boosts of exfoliation but not all the time. Read my beginner's guide to exfoliation.
Which skin care products are best for you? See our nine skin types or take the Skin Type Quiz and see recommended products.
Need expert advice from a licensed esthetician? Schedule a virtual consultation to get customized advice in person, over the phone or online via Skype or FaceTime.
For more expert advice check out the blog. Also, sign up for our skin tip e-newsletter, follow Renée Rouleau on Twitter and Instagram and join the discussion on our Facebook page. You'll be your own skin care expert in no time. Get the #ReneeRouleauGlow!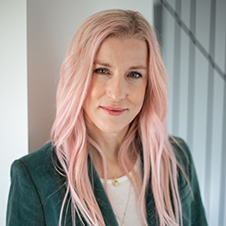 Celebrity Esthetician & Skincare Expert
As an esthetician trained in cosmetic chemistry, Renée Rouleau has spent 30 years researching skin, educating her audience, and building an award-winning line of products. Her hands-on experience as an esthetician and trusted skin care expert has created a real-world solution — products that are formulated for nine different types of skin so your face will get exactly what it needs to look and feel its best. Trusted by celebrities, editors, bloggers, and skincare obsessives around the globe, her vast real-world knowledge and constant research are why Marie Claire calls her "the most passionate skin practitioner we know."