Exfoliation both at home and in-spa, is essential for clearing clogged pores, fading acne scars, stimulating cell turnover and revealing a youthful, fresh glow. Exfoliation also aids in product penetration, in addition to smoothing your skin texture. However, with more and more research showing that inflammation is the underlying cause of aging, it is now more important than ever to ensure that you're not going too aggressively with any of your exfoliating treatments–both in-spa and at-home.
Read: Exfoliation Will Give You Beautiful Skin
When it comes to in-spa exfoliation, you have many different options. Two of the more popular professional treatments (and the two that I will be highlighting here) are microdermabrasion and ultrasonic exfoliation. I've had a lot of experience with both and will briefly compare the two…
Microdermabrasion removes dead skin cells to even out the skin tone while stimulating circulation and giving the skin a smooth, youthful appearance. First introduced in the 1990s, this treatment is best for thicker skin, and is not ideal for sensitive skin (certainly not for anyone with rosacea). The problem with the treatment itself is that the suction/vacuum method used can pull and tug on the skin, causing redness, dilating and sometimes even breaking capillaries. I have seen many people with thin, sensitive skin who had been getting regular microdermabrasion treatments and now have significant damage with capillaries and have to undergo laser treatments to repair the skin. We offered microdermabrasion for many years in our skin care spas and for the right skin type (particularly darker, thicker skin types) it did give great results.
For a treatment suitable for all skin types, even sensitive skin, I believe ultrasonic exfoliation is a fabulous treatment. How it works is a water solution is applied to the skin to loosen surface dead skin cells and a guided spatula activated by ultrasonic soundwaves (28,000 vibrations per second) lifts the dry skin cells off the skin. While doing this, the water solution is also being infused deep into the skin allow the "new" skin cells to get hydrated. The end results are better, safer for the skin and longer lasting.
Personally, I like to do a light acid and enzyme peel beforehand to start the exfoliation process  so when I use the ultrasonic tool it exfoliates deeper into the skin to give better results. It also can be used for clearing out clogged pores. When the blade is angled and used in crevices such as in the chin or sides of the nose, you can remove dirt, old oil, and even blackheads. Your skin is left soft, fresh, clean and glowing.
So of the two, I prefer using ultrasonic exfoliation not only because it can be used for all skin types, but also because it won't potentially damage your skin (and is pain-free!). For a quick way to plump up your skin and revive that youthful glow without causing irritation, ultrasonic exfoliation is truly the way to go.
Which skin care products are best for you? See our nine skin types or take the Skin Type Quiz and get products recommended.
Need expert advice from a licensed esthetician? Schedule a virtual consultation to get customized advice in person, over the phone or online via Skype or FaceTime.
For more expert advice check out the blog. Also sign up for our skin tip e-newsletter, follow Renée Rouleau on Twitter and Instagram and join the discussion on our Facebook page. You'll be your own skin care expert in no time. Get the #ReneeRouleauGlow!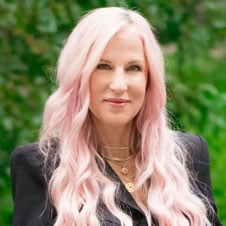 Celebrity Esthetician & Skincare Expert
As an esthetician trained in cosmetic chemistry, Renée Rouleau has spent 30 years researching skin, educating her audience, and building an award-winning line of products. Her hands-on experience as an esthetician and trusted skin care expert has created a real-world solution — products that are formulated for nine different types of skin so your face will get exactly what it needs to look and feel its best. Trusted by celebrities, editors, bloggers, and skincare obsessives around the globe, her vast real-world knowledge and constant research are why Marie Claire calls her "the most passionate skin practitioner we know."