Updated 10/24/2023. When a blemish appears, most people immediately reach for a spot treatment. They hope it will get rid of the blemish as quickly as possible without causing excess irritation or discoloration. However, in my experience, most people use spot treatments incorrectly, which causes their blemishes to last even longer than they would otherwise (yes, really!).
In this post, I'll share the three most common mistakes I see people make when they spot-treat their blemishes. Then, I'll share how to use a spot treatment the right way.
The Science Behind Breakouts
To understand why the most common spot treatment mistakes are, well, mistakes, you first need to understand the science behind breakouts.
All blemishes start out as clogged pores. When a pore is clogged, and there's oil trapped beneath the surface of the skin without access to oxygen, blemish-causing bacteria can thrive. From there, they often become red, inflamed, and painful to the touch, due to the infection within the pore. Over time, this infection (AKA pus from white blood cells) will come up and out through the surface of the skin. In this way, your skin acts as an excretory system.
Without acknowledgment of this process, you won't be able to work in sync with your blemishes, which is critical to making them go away sooner rather than later.
The Most Common Spot Treatment Mistakes
You're Applying Spot Treatments Too Early in the Blemish Life Cycle
Believe it or not, applying a spot treatment the second a blemish appears is doing more harm than good. I understand you want to dry it out and get it to go away quickly, but trust me, this is backfiring in a big way. After all, the infection wants to come out. If you apply a drying spot treatment too early, it will only dry out the surface of the skin and cause a layer of dead, flaky cells that will prevent the infection from coming out. The result? The infection stays stuck in your skin and your blemish lasts longer. The worst part is that the longer the infection stays in your skin, the greater the chance is that you'll get post-breakout marks.
The best solution is to leave it alone the moment it appears (don't apply a drying spot treatment). Instead, use a non-drying spot treatment to facilitate the healing process without drying out the surface of the skin.
You should only reach for a drying spot treatment once the infection has come out (but more on that in a minute).
You're Not Applying Spot Treatments at the Right Point in Your Routine
When people are confused about how to use a spot treatment correctly, it usually has to do with the order in which they apply products. Assuming you're using the right spot treatment at the right time (a non-drying spot treatment in the early stages and a drying spot treatment once the infection has come out), it should go on last. This means you should be applying your spot treatment as the final step in your skincare routine.
First, perform your nighttime skincare routine as normal. This might mean using a cleanser, toner, serum, moisturizer, and eye cream (just be sure to use products formulated exclusively for your skin type. If you don't know your skin type, take the Skin Type Quiz to find out). From there, dampen a cotton swab or tissue with water, and wipe it over the blemish to remove the skincare products you just applied. Finally, apply the spot treatment. Once it's dry, you're done! The goal is for the spot treatment to work directly on the blemish and not have other products interfere with its performance.
How to Use a Spot Treatment at Every Stage of a Blemish
Follow these steps, and you'll avoid making the most common spot treatment mistakes. You'll also get your blemishes to go away sooner rather than later!
1. Apply a Non-Drying Spot Treatment
As I said before, you should only apply a non-drying spot treatment during the early stages of the blemish life cycle. This is to prevent dry skin build-up which could keep an infection stuck in the pore. I recommend using the Anti Bump Solution (it's not just for cystic blemishes!) or the Daytime Blemish Gel.
2. When a Whitehead Comes to the Surface, Gently Squeeze It Out
You should only squeeze at a blemish if there's a visible whitehead that's ready to come out. Otherwise, you could cause more inflammation and make it stick around for a longer period of time. Once the whitehead is visible, wrap your fingers in tissue and gently squeeze the infection out.
3. Apply a Drying Spot Treatment
Once you've squeezed the whitehead and the infection has come out, you can reach for a drying spot treatment like the Night Time Spot Lotion. It will work its way into the follicle to help eradicate any infection that might still be remaining.
4. Once The Blemish Is Healed, Apply a Fading Gel
When the blemish has been resolved, and any scabbing is gone, it's possible you'll be left with some discoloration. If that's the case, use the Post-Breakout Fading Gel. It's a fast-acting spot treatment that can visibly lighten and fade red marks and discoloration left behind from blemishes.
Note: Cystic blemishes are different, and they must be treated differently. They never come to a head; instead, they're reabsorbed by the body. Learn about cystic breakouts and how to get rid of them.
The Bottom Line
There you have it—how to use a spot treatment the right way! I hope you learned something from this post and that it helps you avoid the most common spot treatment mistakes that could be making your blemishes last longer.
There's one more thing I want to mention, though. Spot treatments aren't one-size-fits-all. Sometimes, you might have to accept that spot treatments won't work like you want them to. Take my best-selling product, Anti Bump Solution, for instance. I've been selling this product for 30 years now, which means I have sold thousands of them. Our customers swear by its effectiveness. Does this mean it works for 100% of people? No. If it doesn't work, it just means that the type of inflammation that this product is targeting is not in sync with the type of bacteria you have.
In summary, you can't always prevent blemishes from appearing, but you can control what you do after they show up. I encourage you to be patient and let the healing process run its course without too much interference. Your skin will be clearer and less discolored because of it.
Next, find out whether pimple patches work on all types of breakouts.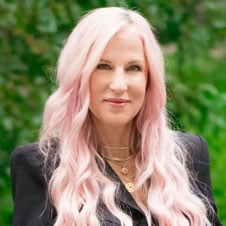 Celebrity Esthetician & Skincare Expert
As an esthetician trained in cosmetic chemistry, Renée Rouleau has spent 30 years researching skin, educating her audience, and building an award-winning line of products. Her hands-on experience as an esthetician and trusted skin care expert has created a real-world solution — products that are formulated for nine different types of skin so your face will get exactly what it needs to look and feel its best. Trusted by celebrities, editors, bloggers, and skincare obsessives around the globe, her vast real-world knowledge and constant research are why Marie Claire calls her "the most passionate skin practitioner we know."