Updated 3/27/15. Without a doubt, it is imperative your skin care routine be different in the morning than at night – or at least for a few products. The reason why you have to use a different routine in the morning than at night is because your skin has different needs during the day than when you are asleep.
Let me first share what's going on during the day. Your skin is in a high level of stress and it's exposed to makeup, excessive oil production, dirt, bacteria (from touching your skin all day with or without realizing it), UV exposure, pollutants, and other environmental elements. Because of this stress, harmful free radicals are damaging your skin cells and causing wear and tear to your skin's collagen and the cells' DNA. It is very important to use products that will provide proper defense to control the stress and help prevent damage to your skin. What's beneficial is to use topical antioxidant vitamins to not only suppress free radicals, but also to boost skin protection. You also need to use a well-formulated moisturizer to protect your skin from damaging UV rays. I personally love and use Daily Protection SPF 30 (and so does actress, Sofia Vergara!)
The truth of the matter is the majority of skin aging occurs during the daytime…
Did you know? According to the medical journal of Plastic and Reconstructive Surgery, a study concluded that sunscreen is the most biologically active anti-aging ingredient in skin care products.
WHAT YOUR SKIN NEEDS DURING THE DAY:

Step 1: In the morning, wash your skin with a mild, sulfate-free cleansing gel to rid the skin of your previous nighttime skin care products, as well as any sebum residue that was released on the skin while you slept.
Step 2: Apply an alcohol-free toner to the skin to remove cleanser residue and provide hydration and nourishment to the skin cells.
Step 3: Apply an antioxidant serum to the face, neck, and any exposed chest area.
Step 4: Apply a sunscreen (minimum of SPF 30) to the entire face, neck, chest, ears, and any other exposed areas.
Step 5: Apply mineral-based powder makeup to provide added sun-protecting benefits to the skin. If your eyes get dark and puffy in the morning, use a cooling eye gel.
At night, your skin is in its reparative state. While you sleep, your skin is at rest and is not being exposed to the environmental stressors that greatly contribute to visibly aging the skin. I truly believe that by washing your skin at night and performing a nighttime specific routine, you can really help repair your skin and control how quickly your skin ages.
Since your skin is not exposed to the environment, the focus should be on providing hydration and nourishment to the skin cells to help keep your skin's moisture barrier intact to retain proper moisture levels in the skin. Your skin cells are like fish, they need water to live, and when they do not have the hydration they so desperately need to maintain health, your skin will not look its best—and won't act its best either. In addition, the skin also needs a serious boost to its metabolism and this can be achieved with skin serums that contain effective performance ingredients. Retinol is one such ingredient because it penetrates deep within the dermis and evokes stimulation right where collagen fibers are created. It is considered to be one of the most miraculous ingredients for smoothing the texture of the skin, softening lines and wrinkles and reducing pore size. Advanced Resurfacing Serum with pure retinol is the most effective anti-aging product I use in my routine. If you're not using this type of product, you really need to be. Read this story about the doctor I met who was instrumental in getting prescription retinoids FDA approved.
WHAT YOUR SKIN NEEDS AT NIGHT:
Step 1: Wash with a mild cleansing lotion to remove the day's dirt, oil, bacteria, and makeup. Rinse well.
Step 2: Apply an alcohol-free toner to remove cleanser residue and provide hydration and nourishment to the skin cells.
Step 3: Use a nighttime specific anti-aging serum to the face, neck, and chest area to help nourish and repair the skin and its cells.
Step 4: Apply a nighttime moisturizer suited for your skin type to help hydrate your skin cells. Apply to the face and neck.
Step 5: Apply a nourishing eye cream to provide essential hydration to the delicate skin around the eye.
By treating your skin with what it needs both morning and night, you are sure to get both healthy and glowing skin.
Read: Five Tips to Get Rid of Adult Acne For Those in Their 30s, 40s and 50s
Read: Should You Get Dermal Fillers To Your Face To Look Younger?
Read: How Celebrities Get Their Skin Red-Carpet Ready
Which skin care products are best for you? See our nine skin types or take the Skin Type Quiz and get products recommended.
Need expert advice from a licensed esthetician? Schedule a virtual consultation to get customized advice in person, over the phone or online via Skype or Face Time.
For more expert advice check out the blog. Also sign up for our skin tip e-newsletter, follow Renée Rouleau on Twitter and Instagram and join the discussion on our Facebook page. You'll be your own skin care expert in no time. Get the #ReneeRouleauGlow!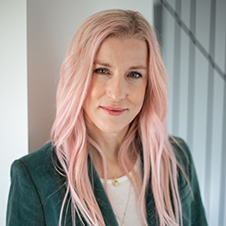 Celebrity Esthetician & Skincare Expert
As an esthetician trained in cosmetic chemistry, Renée Rouleau has spent 30 years researching skin, educating her audience, and building an award-winning line of products. Trusted by celebrities, editors, bloggers, and skincare obsessives around the globe, her vast real-world knowledge and constant research are why Marie Claire calls her "the most passionate skin practitioner we know."