Updated 11/5/20. We all know to apply sunscreen when outdoors, but what about wearing sunscreen if you work inside all day? If your skin never is exposed to the sun, is sunscreen really necessary? The answer is yes. Let me explain why.
You Need to Wear Sunscreen Inside if Your Skin is Exposed to Daylight
At any point from sunrise to sunset, the sun gives off daylight. Even if it's pouring rain, snowing or cloudy, daylight can still be found. If you work inside and can see through any windows to the outside world, then daylight is absolutely coming in and seeing you—and your precious skin.
Damaging Rays Can Penetrate Through Windows and Damage Your Skin
UVA rays
These rays are responsible for changing the DNA in the skin causing premature skin aging and skin cancer. UVA rays are approximately the same strength from summer to winter and can penetrate through clouds, windows in your home, office, or car. These are the true damaging rays because you can't feel them yet they are affecting your skin in a BIG way without you even realizing it. It is because of these rays that you should wear sunscreen if you work inside. Why get UV damage when you're not even getting a tan for it? This is why sunscreen should truly be called daylight screen. Every time daylight shines on your skin, it absolutely accelerates the aging process of your skin.
UVB Rays
These rays are responsible for giving the skin a suntan or sunburn, strongest from 10:00 am – 4:00 pm (and less strong in the winter) but they don't penetrate through glass. These are the ones that damage your skin when outdoors.
Find a Sunscreen That is Compatible With Your Skin Type and Wear it During All Daylight Hours
From the moment I wake up in the morning (even if I haven't even showered yet), I'll apply sunscreen to my face and neck. Sometimes I'll apply a cream or sometimes I'll just dust on an SPF mineral powder. This small, easy habit can make a big difference throughout a lifetime.
Because my skin is prone to clogged pores (and breakouts in my earlier years), I developed a really lightweight sunscreen called Weightless Protection SPF 30 that doesn't feel greasy and won't cause problems. I have been using this sunscreen FAITHFULLY since I developed it back in 2000. Pick up a sunscreen that uses both physical and chemical protectants and feels really good using on the skin every single day of the year. I'm a skin type #2. Find your skin type.
To Reapply Sunscreen Throughout the Day, Dust on an SPF Powder
Throughout the day, the natural oils in your skin can degrade sunscreen which can allow the UVA rays to get into your skin. An easy way to ensure that your skin is protected is to brush on powder. Many of the mineral powders do contain sunscreen. Jane Iredale and ColoreScience have ones but their shades are limited. Another option is to find a regular pressed or loose powder that contains the ingredient titanium dioxide. This can give sun protection properties to the skin, even if it doesn't list an SPF number.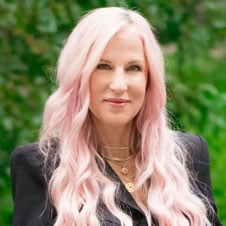 Celebrity Esthetician & Skincare Expert
As an esthetician trained in cosmetic chemistry, Renée Rouleau has spent 30 years researching skin, educating her audience, and building an award-winning line of products. Her hands-on experience as an esthetician and trusted skin care expert has created a real-world solution — products that are formulated for nine different types of skin so your face will get exactly what it needs to look and feel its best. Trusted by celebrities, editors, bloggers, and skincare obsessives around the globe, her vast real-world knowledge and constant research are why Marie Claire calls her "the most passionate skin practitioner we know."