Updated 06/20/23. I have over 30 years of experience using retinol and seeing its effects on my skin and that of my clients, so it's safe to say that I'm a big proponent of it. Whether it's non-prescription retinol or a prescription retinoid, the active ingredient, which is a derivative of vitamin A, can offer multiple benefits. It can do everything from reducing the appearance of enlarged pores to fading discoloration and smoothing wrinkles.
One thing you should know is that retinol products can make the skin more sensitive to the sun, due to the potential peeling effect they have on the skin. When the skin is being peeled (even through what is known as "micro peeling," which is not always visible to the naked eye), fresh, vulnerable cells are being exposed to the harsh effects of the environment. This is especially true if you're using a prescription-strength retinoid that increases cellular turnover. That begs the question: can you use retinol in the summer? Or should you stop using it and pick it back up again after the sunnier months are over? Keep reading to find out.
Can I Use Retinol in the Summer?
The simple answer is yes, you can use retinol in the summer as long as you're diligent about sun protection. Because retinol and retinoids are only effective when used consistently (such as two to five nights per week), stopping and starting will slow results. It's important to use it consistently to get the full benefits, and that means using it throughout the summer months, too.
Just make sure you're only using retinol at night. That's when you're skin is in repair mode, so that's when it will be most effective. Plus, since it makes your skin so sensitive to the sun, applying it in the morning is never a good idea. In the morning, stick to a well-formulated antioxidant serum instead, like the Vitamin C&E Treatment.
What If I Spend a Lot of Time Outside in the Summer?
As I already mentioned, proper sun protection is critical. If you're not someone who will be diligent about applying broad-spectrum sunscreen every single day, then you may want to lay off retinol during the summer. While using retinol consistently is important, it's counterproductive if you end up incurring sun damage.
Similarly, if you're someone who enjoys getting a little tan in the summer, I suggest discontinuing retinol for at least a week before you head out to the beach, lake, or pool. Then, wait at least two days before starting up again. If your skin still seems out of whack from sun exposure (here's how to tell), wait up to five days. Basically, it's important to listen to your skin. While pausing retinol will slow results, it's more important that you avoid inflaming your skin with sun and heat. Even though you discontinue retinol use for a few days, continue to wear sunscreen and sun-protective clothing, because your skin could still be vulnerable.
Note: if you use a prescription retinoid, and you spend enough time outdoors to the point where the sun sneaks onto your skin no matter how good you are about applying sunscreen, then you might want to make a change for summer. This would mean switching from a prescription retinoid to a gentler retinol product. Consult your dermatologist.
I'm New to Retinol. What's a Good Product to Use?
I always suggest my clients use a non-prescription retinol product when they're first starting out. Take it slow and get your skin accustomed to this ingredient before upgrading to a stronger formula. If you're under 35, and you don't have a lot of visible sun damage, you can probably use a single retinol product, such as the Advanced Resurfacing Serum. If you're 35 or older, with signs of excessive sun damage, you might consider upgrading to a prescription retinoid after six months. Either way, the sooner you start using it, the sooner you can see visible results. Make sure you read my beginner's guide to retinol for the best experience.
What Should I Look for in a Retinol Product?
As an esthetician and product formulator, trust me when I say a well-formulated product is everything. Retinol is pretty tricky to work with because it's notorious for being unstable. Look for a product in which the retinol is kept stable (you can read more about that, here). It can degrade due to heat, light, and air, so it's also important to look for a retinol product that comes contained in opaque, airless packaging. And as always, I always recommend buying from a brand you trust.
Remember, as long as you stay smart about your sun protection, you can stick to your retinol routine in the summer.  That means applying sunscreen diligently and generously, seeking shade when possible, and wearing sun-protective clothing. Doing these things can help you avoid sun damage while reaping the benefits of retinol.
Next, learn whether retinol and prescription retinoids can really thin the skin.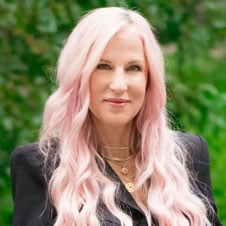 Celebrity Esthetician & Skincare Expert
As an esthetician trained in cosmetic chemistry, Renée Rouleau has spent 30 years researching skin, educating her audience, and building an award-winning line of products. Her hands-on experience as an esthetician and trusted skin care expert has created a real-world solution — products that are formulated for nine different types of skin so your face will get exactly what it needs to look and feel its best. Trusted by celebrities, editors, bloggers, and skincare obsessives around the globe, her vast real-world knowledge and constant research are why Marie Claire calls her "the most passionate skin practitioner we know."