No. Eye creams should not be used on the face for two reasons.
Reason #1: Eye creams are formulated with intensive moisturizing ingredients (such as lipid-rich oils) which are appropriate for the eye area since there are no oil glands around the eyes, but may potentially clog the pores on the face for those who produce oil and are prone to blocked pores or breakouts.
Reason #2: Many eye creams have active ingredients in them that are designed to be anti-aging by increasing the metabolism of the cells (such as certain vitamin combinations and peptides), which are excellent for the eye area since it's the first area of the face to show aging. However, these ingredients may be too active for the face, particularly in younger skins and those prone to breakouts, since this type of skin already has an active metabolism. The stimulation may increase breakouts.
Bottom line: Save eye creams for the area of the face for which they were intended and use face creams on the face.
Read: Help! I'm So Dry Under My Eyes…
Read: Where Exactly Should I Apply Eye Cream?
Which skin care products are right for you? See our nine skin types and get products recommended.
For expert skin advice, check out Skin Source–the A-Z guide on all things skin. Also sign up here for our skin tip e-newsletter, follow Renée Rouleau on Twitter and like our Facebook page. You'll be your own skin care expert in no time!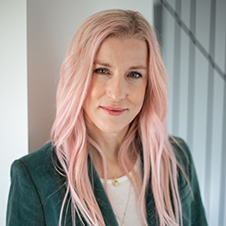 Celebrity Esthetician & Skincare Expert
As an esthetician trained in cosmetic chemistry, Renée Rouleau has spent 30 years researching skin, educating her audience, and building an award-winning line of products. Trusted by celebrities, editors, bloggers, and skincare obsessives around the globe, her vast real-world knowledge and constant research are why Marie Claire calls her "the most passionate skin practitioner we know."