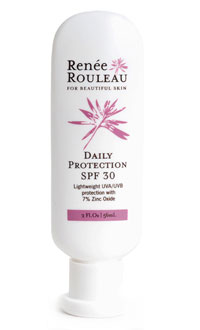 Skin Care Tip: When it comes to caring for the skin, we're all so focused on the caring for our face, but we often forget an area that shows a significant amount of aging—the neck!
–Apply SPF Moisturizer to the entire face, neck and sides of the neck 365 days a year, rain or shine, inside or out. Especially when you're driving in the car, the UV rays penetrate through the front windshield causing sun damage on both the face and neck. Using UVA/UVB broad-spectrum sunscreen is the best anti-aging product available.
-Exfoliate the neck 2-3 times a week with a mild facial scrub using upward strokes in the shower.  Tip: Look upward when massaging a facial scrub on the neck as it will tighten the skin and make exfoliating easier.
–Avoid directing your blow dryer on the sides of your neck as long-term heat will dilate the blood vessels resulting in a reddish-toned neck in your later years.
-Moisturize your neck to keep it moist and smooth. We love our Nutrient Neck Cream exclusively formulated for the neck area…
–Do you read in bed at night? The position of your body may be causing unnecessary wrinkles on your neck. The deep lines that go horizontally across the front of your neck is caused from creasing the skin while looking down, and as well as sleeping on your back at night. It's hard to prevent wrinkles while you sleep, but there is one way to lessen the wrinkles while you are awake—prop yourself up as straight as possible!  Read another tip for preventing wrinkles while in bed.
–Firm the skin. In addition to using a moisturizer on the neck, we also suggest using our Intensive Firming Serum which uses the latest peptide technology (a fabulous skin-firming ingredient) to tighten the skin tissue on the neck.
–Consult a professional. We offer our amazing French Bio Visage Lifting Treatment that tightens the muscles of the face and neck and reduces the appearance of wrinkles…after just one treatment.
-Make sure you use skin care products formulated exclusively for your skin type.
Which products are right for your skin? See our nine skin types and get products recommended.
Need expert advice from a licensed esthetician? Schedule My Skin Prescription to get personalized advice in person, over the phone or via Skype or Facetime.
For more expert skin advice, check out Skin Source–the A-Z guide on all things skin. Also sign up for our skin tip e-newsletter, follow Renée Rouleau on Twitter and join the discussion on our Facebook page. You'll be your own skin care expert in no time!