Updated 07/25/22. When it comes to caring for our skin, we're all so focused on our faces, that we often forget about an area that shows a significant amount of aging—the neck! Even though it's often overlooked, the skin on our neck and décolleté area needs just as much TLC as the skin on our faces. And it's not just the front of the neck, either. It's the sides and the back, too (many people forget about this). Keep reading to see all of my expert tips for keeping this area looking fresh, firm, and youthful.
My 8 Expert Neck Skincare Tips
1. Apply SPF Every Single Day
The skin on the neck is just as susceptible to UV damage as the skin on your face. That's why you should apply SPF to your entire face and neck 365 days a year—rain or shine, inside or outside. Especially when you're driving in the car, UV rays penetrate the front windshield and can cause damage. Over time, sun damage will result in lines and wrinkles, sagging skin, and an uneven skin tone. It's way easier to prevent these things from happening than it is to address them once they've appeared. Trust me when I say that broad-spectrum sunscreen is the best anti-aging product out there.
I personally use Weightless Protection SPF 30 every day, applying it to my face and neck (including the sides and back of my neck). It's lightweight, moisturizing, and unscented, which makes it perfect for daily use. On that note, make sure you're applying sunscreen the right way. Instead of using whatever is leftover on your fingers and bringing it down to your neck, you should squeeze out an additional nickel or quarter-sized amount to ensure your skin is adequately protected in this area, too.
2. Moisturize Every Single Day
This may sound simple, but it's a critical component of any neck skincare routine. Moisturizing the skin on the neck will keep it smooth and hydrated, helping to avoid crepey skin over time. I recommend using the Intensive Firming Neck Creme. It's formulated with a potent mix of moisturizers, antioxidants, and peptides to help keep the skin firm and moisturized.
3. Exfoliate 2-3 Times Per Week
Just like with your face, regularly exfoliating the skin on your neck is an easy way to minimize the appearance of texture and pigmentation. I suggest exfoliating the neck two to three times per week with a gentle facial scrub like the Renée Rouleau Mint Buffing Beads. This product is formulated with perfectly round jojoba beads that glide across the skin, lifting off dead, dry, and expired skin cells and revealing smoother, brighter skin underneath. Plus, the fresh mint scent is a nice pick-me-up.
Just make sure you're not using a scrub that's too abrasive or an exfoliating acid serum that's too harsh for the skin on your neck. This is a delicate area, and you don't want to do more harm than good by using the wrong product. I recommend patch testing each product before you use it, and looking upward when massaging the scrub onto the neck. The latter will help tighten the skin and ensure you're exfoliating thoroughly and evenly.
4. Firm the Skin With a Targeted Serum
In addition to using a moisturizer on the neck, I also suggest using a targeted serum at night, such as the Renée Rouleau Firm + Repair Overnight Serum. It contains ingredients that can target collagen synthesis to keep wrinkles at bay. Neck wrinkles are a concern for so many people. Even though it's often referred to as "tech neck" now, horizontal lines and wrinkles have always been prevalent. Using the right active ingredients, such as retinol, antioxidants, and peptides (the latter two are found in the aforementioned Firm + Repair Overnight Serum) can majorly help.
5. Use Retinol
Speaking of retinol, one of my skincare regrets is that I didn't start using retinol on my neck sooner. There's no other ingredient like it for firming and smoothing the skin, and if there's one area that could use firming and smoothing, it's the neck. You can use a non-prescription retinol serum, like the Advanced Resurfacing Serum, or you can opt for a prescription from your dermatologist.
However, it's important to remember that the skin on the neck is fairly thin and delicate. So, you shouldn't go overboard or use retinol too often from the get-go. Start off slow and build up the frequency as time goes on. For more tips on how to safely and properly use retinol and retinoids, read my beginner's guide.  It will help you avoid negative side effects like dryness, flakiness, and irritation.
6. Maintain Good Posture
Speaking of tech neck, did you know your posture and positioning have a lot to do with it? No matter if you're looking down at your phone or computer screen, the downward position of your face can contribute to horizontal lines and wrinkles. The best thing you can do is be mindful of your posture and switch up your seating. Instead of looking down at your screen, keep your screen at eye level. Instead of looking down at a book while reading in bed, hold it up at eye level.
7. Sleep on Only One Pillow
The same goes for your sleeping position. Instead of sleeping on multiple pillows, which can bend your neck at an angle, sleep on one pillow. It will keep your neck in a more neutral position and help avoid lines and wrinkles from forming. It may not sound like much, but given that we spend nearly a third of our lives asleep, the effects really add up.
8. Keep Your Neck Cool
Heat can stimulate melanin activity, which can lead to pigmentation. It can also dilate blood vessels, and over time, result in a reddish tone to your skin. That's why it's important to avoid exposing the skin on your neck to heat. This is especially important for anyone who regularly uses a hair dryer. Avoid directing it at your neck as you dry your hair. Trust me—it will make a big difference in the long run!
The Bottom Line
There you have it—my eight expert tips for creating an effective neck skincare routine! I hope this post reminds you to care for your neck and décolleté in the same way you care for your face.
Finally, if you're concerned about the skin on your neck, whether it's a rough texture, pigmentation, or signs of aging such as lines and wrinkles, I suggest consulting a professional. They can personalize a routine for you and your specific concerns. These days, there are a lot of amazing in-office treatments that can help even, tighten, and smooth the skin on the neck!
Next, learn how to address sun damage on your neck and chest.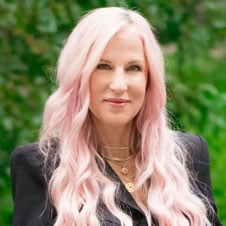 Celebrity Esthetician & Skincare Expert
As an esthetician trained in cosmetic chemistry, Renée Rouleau has spent 30 years researching skin, educating her audience, and building an award-winning line of products. Her hands-on experience as an esthetician and trusted skin care expert has created a real-world solution — products that are formulated for nine different types of skin so your face will get exactly what it needs to look and feel its best. Trusted by celebrities, editors, bloggers, and skincare obsessives around the globe, her vast real-world knowledge and constant research are why Marie Claire calls her "the most passionate skin practitioner we know."