At Renée Rouleau, we strive to be as transparent as possible. One of our core values as a company is education; we want to do more than just sell you a product. We want to empower you to be a smarter, savvier beauty consumer.
In the spirit of this, our customer care specialists Hansi and Polina put together our top FAQs as requested by you—our customers. So, without further ado, here are your 18 most-asked questions:
1. Do you offer travel-sized products? When will you?
With the exception of our cleansers and toners, all of our products are TSA-friendly at 3 oz or less.
Our Rapid Response Detox Kit includes "mini" versions of four products: Rapid Response Detox Masque, Triple Berry Smoothing Peel, Rapid Response Detox Cleanser and Rapid Response Detox Toner. At 2.5 oz, this cleanser and toner are the only two in our collection that are travel-sized. The Rapid Response Detox Kit makes a great travel companion because it helps keep your skin calm and clear as your environment changes.
As for creating more mini or travel-sized products in the future, we know that our customers do ask about this, and it's on our radar as something to pursue. We are still exploring the best way to go about this. While we are always looking to incorporate customer feedback into product development, travel sizes are tricky from an operations standpoint. This is because they cost almost the same amount as full sizes to produce, but yield much less product. Currently, there simply isn't a lot of demand for our cleansers and toners in smaller sizes since customers get more bang for their buck when they buy full sizes. One option is decanting your cleanser and toner into smaller bottles for travel—this seems to work well for a lot of our customers! You can also try this easy trick for packing your toner.
2. Do you offer free samples?
We do not offer samples, here's why: a sample that gives you three or four uses won't last long enough for you to gauge a product's efficacy or whether it's right for your skin. The bottom line is that samples are very expensive to produce, and we don't believe they give customers enough of a benefit to make this cost worthwhile.
That being said, we understand that skin care is an investment, and we are fully committed to providing you with all the tools you'll need to determine which products are best for your skin. Our Skin Type Quiz is a quick and easy way to learn which of our signature nine skin types you fit into, and it will give you specific product recommendations at the end. If you're still unsure, we offer virtual consultations with our experienced estheticians. Your esthetician will spend 30 minutes talking to you about your skin and answering your questions. By the end, you'll have a personalized routine including guidance on how to use each and every product. Consultations are also FREE when you buy $100 worth of product at the end of your appointment.
Bad reactions are unfortunately always a possibility when you try a new skincare product, regardless of the quality of the formula. We recommend patch testing new products before use and introducing them into your routine one at a time. If at any time you are unsatisfied with a product or its results, we will exchange it until we've helped you find the perfect fit.
3. Where are your spa locations?
We no longer have a spa, our only physical location is our corporate headquarters in Austin, TX. You can read more about my decision to close our spa after twenty-three years. If you're looking for skincare guidance or have product questions, you can still schedule a virtual consultation with one of our estheticians.
4. Can I book a service with Renée?
Renée makes occasional visits to New York and LA to take a limited number of appointments, but her busy schedule unfortunately does not allow her to take on new clients for services or consultations at this time.
That being said, Renée does sometimes host pop-ups or events where customers have the opportunity to talk to her one-on-one. Be sure to follow us on social media and sign up for our emails to be the first to hear about these events!
5. Do you sell your products overseas or have international distributors?
While we do ship our products internationally, we do not have any third-party distributors, international or otherwise. We are a direct-to-consumer brand, which means we ship our products directly from our warehouse in Austin, TX to customers all around the globe. This is important to us, because cutting out the middle-man allows us to maintain a high standard of quality control and keep prices down. Fun fact, we've been a direct-to-consumer brand ever since we launched our first e-commerce site in 1999!
We are the only authorized retailer of our products, which are sold exclusively through our website. Please note that if you buy Renée Rouleau products second-hand or through any unauthorized retailers, we cannot guarantee the quality or safety of these products. We do not currently have any plans to expand into retail.
While we do ship to most countries, there are a few we can't ship to due to government regulations and customs restrictions. We do not ship to Spain, Sri Lanka, Guam, Turkey, or any countries in Africa except South Africa.
Pssst. We offer free international shipping to Canada and the U.K. on orders of $150+ USD!
6. Can I recycle your packaging?
You can recycle the following packaging:
We know that sustainability is extremely important to our customers, and from an operations standpoint, transitioning to sustainable packaging is currently our number one priority as a company. This is a huge project, and we are still in the research phase because we want to make sure we get it right.
This project is twofold: making all of our packaging recyclable and finding a more sustainable alternative to plastic. Our goal is to find a way to achieve this without risking the integrity of our skincare formulas. There's a lot that goes into changing the packaging of a product. For example, certain materials can react poorly with the product itself, reducing the shelf life or even causing contamination. A material must also protect products from environmental aggressors like heat, light and oxygen to maintain formulas at the highest quality. Good packaging ultimately means we are able to include fewer additives and preservatives in our products. Our goal is to re-package in a way that doesn't require changing any of the formulas our customers have come to know and love. Two sustainable packaging options we are currently pursuing are sugarcane and bamboo.
It's really important to us to transition ALL of our packaging to more sustainable options, not just packaging for select products. This is going to take more time, but we want to be able to mean it when we call ourselves a sustainable company.
In the meantime, we package our products in 100% recyclable paper boxes and use craft paper instead of plastic when sending out orders.
7. My serum bottle doesn't contain a tube, is this normal?
Yes, this is normal. For our serums, we use airless pumps that don't include tubes. With each pump, the piston/shelf rises and pushes the product upward, creating a vacuum as the product is dispensed. This vacuum eliminates waste in two ways: the airless environment preserves the product's efficacy and freshness longer than traditional packaging, and it also allows for every last bit of product to be easily extracted. Pretty cool, right? Once all of the product is fully dispensed, the shelf will be raised to the top of the bottle in efforts to dispense every last drop.
Along with heat and light, oxygen is a major enemy of sensitive ingredients. By packaging products in an airless container, we are able to maintain them at the highest quality and use fewer preservatives. This packaging keeps the product potent until the very last drop. The downside of an opaque airless container is that you can't see how much product you have left. For a product like our serums, though, this inconvenience is worthwhile. By contrast, dropper bottles and traditional tube pump bottles will easily allow air in every time you open the bottle. This definitely breaks down the formula more quickly, and it may completely lose its efficacy halfway through the bottle.

8. How long should my products last me?
It's hard to be exact because everyone uses products a little differently, but our products should generally last anywhere between two and three months with average use. We are currently working on a blog post about long each of our products will last based on how you're using them. Stay tuned!
9. Can men use your products?
Yes. Our products are formulated for all skin types and skin tones. Take the Skin Type Quiz to find out which products are right for you.
10. Can people of color use your products?
Yes, absolutely. In fact, a lot of customers with deeper skin tones have found our products effective because we have an extensive line of exfoliating serums. This selection means we'll have an exfoliating serum for you regardless of your skin type. All of them do an excellent job fading discoloration from breakouts and keeping skin even-toned.
11. How old do I have to be to start using your products?
Our products are generally safe for all ages, but we typically suggest 12 as the youngest age to start a routine. This is around the time clogged pores can start to appear, and some may need more advanced products that give professional results.
12. Can I use your products if I'm breastfeeding?
Most of our products are considered safe to use while breastfeeding, with one exception: Advanced Resurfacing Serum contains retinol, which should NOT be used if you're breastfeeding.
While salicylic acid is not recommended during pregnancy, it is generally considered safe for topical use while breastfeeding. It is always best to talk to your doctor if you have any questions.
Read: Which of our products are safe during pregnancy
13. Will your products cause my skin to purge?
Products that contain exfoliating ingredients like AHA or BHA may cause your skin to temporarily purge. For those who are new to exfoliating products, it is considered normal to experience some initial breakouts, especially if you have a lot of clogged pores to begin with. 
Exfoliating skin care products work to remove dead skin cells on the surface, making way for blockages inside the pores to come out. This can possibly result in a purging effect. Typically, the breakouts are minor and should subside within two to four weeks, making way for clearer, smoother skin. If you're experiencing a significant amount of blemishes, you may want to cut back a little and introduce exfoliation into your routine more slowly. 
If your skin continues to have more breakouts than normal for over four to six weeks, then it may just be your skin (breakouts that were coincidentally going to occur anyway), or the exfoliating products are not agreeing with you. Unfortunately, it can be challenging to determine which it is. If you suspect that it's the exfoliating products, keep in mind that not all formulas are equal. Don't rule out exfoliation completely as its benefits to the skin are so huge. You may just need a different formula.
14. Are your products comedogenic?
No. Because a large percentage of our customer base is people with clogged pores, blemishes and adult acne, we are very careful about using ingredients that will not exacerbate clogged pores. That being said, make sure you're using the right products for your skin type since using products that are too heavy for you always has the potential to cause clogged pores.
Read: Here's how to clean your pores (hint, it's not pore strips)
15. Why do you formulate with essential oils?
In order to provide you with a sensory experience, we use a very small percentage of essential oils in some of our products. In small amounts, certain essential oils also provide some skin benefits. Unlike a lot of brands that use essential oils, we use them at a very low percentage so as not to irritate sensitive skin.
16. I want to try your line, but you have so many products. What's the best thing to start with?
Start by taking our Skin Type Quiz. We believe there are nine unique skin types, and this quiz is a quick and easy way to identify which one you are. We offer three types of kits for each skin type: Basic, Essential and Complete. The Basic Kit for your skin type is a great place to start if you're new to our line or skincare in general. If at the end of the quiz you still have questions about your skin type, you can book a virtual consultation with one of our awesome estheticians to receive personalized advice.
17. Are your products tested on animals?
Never! We love our furry friends and are proud to be certified cruelty-free by Leaping Bunny.
18. Are your products vegan?
Some of them are. You can find a full list of which products are vegan (as well as the best alternatives to our non-vegan products) on the blog.
We hope you found this helpful! If you have any questions or feedback for us, we'd love to hear from you.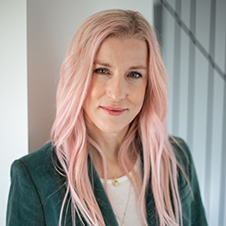 Celebrity Esthetician & Skincare Expert
As an esthetician trained in cosmetic chemistry, Renée Rouleau has spent 30 years researching skin, educating her audience, and building an award-winning line of products. Trusted by celebrities, editors, bloggers, and skincare obsessives around the globe, her vast real-world knowledge and constant research are why Marie Claire calls her "the most passionate skin practitioner we know."