For those who have red, sensitive and oily skin prone to clogged pores and blemishes, you know firsthand how challenging it can be to find the best oil-free moisturizer for your skin. Because it can be difficult, many will skip using moisturizer entirely compromising the health of their skin.
Look no further than Skin Recovery Lotion.
What it is: 
This lightweight, oil-free and fragrance-free lotion is formulated to give sensitive, acne-prone skin the perfect amount of hydration leaving no greasy residue or clogged pores. Glycosaminoglycans corrects the skin's natural moisture balance while Calendula Flower Extract promotes the healing of your skin to soothe redness and irritation. You'll quickly see clearer and calmer skin along with an improved toned complexion after every use. The product absorbs easily and leaves a silky feel on the skin. This is also fragrance-free, dye-free, and paraben-free. No animal testing was used with this product.
Shop for Skin Recovery Lotion here.
Who it's for: 
Skin Type #4, those who are oily / combination / sensitive / occasional breakouts–skin that gets irritated easily.
What's your skin type? Choose it here.
Key Ingredients: 
Glycosaminoglycans – This active protein inhibits the matrix metalloproteinase (MMP) enzymes that destroy the collagen network in the skin. Environmental stress and sun exposure increase the activity of the enzymes, affecting the extracellular matrix. This ingredient promotes the prevention of irritation and reduces the appearance of redness and irritation.
Sucrose Polysoyate – Monosaccharide with water-binding properties to keep skin cells hydrated deep within the skin.
Calendula Flower Extract – The beautiful, edible orange petals of the Calendula Herb contain properties that are a proven, time-honored remedy for sensitive skin. This also has antibacterial, anti-inflammatory, and antioxidant properties to calm and soothe and reduce inflammation and heal breakouts and scarring.
Willowherb (Epiobium Angustifolium Flower/Leaf/Stem) Extract – Contains a bioactive molecule called Oenothein-B, which is patented for its wide ranging anti-inflammatory, anti-microbial activity. Its free radical scavenging abilities soothe inflamed or irritated skin while allowing the skin to heal.
How to use it: 
After washing with a gentle, sulfate-free cleanser like Purifying Face Wash, apply an alcohol-free toner and apply a thin coat of Skin Recovery Lotion. Use nightly.
Why you need it: 
If you're prone to breakouts, have sensitive, easily irritated skin, and have a difficult time finding a non-greasy moisturizer that prevents breakouts and hydrates your skin–then this lotion is for you. The lotion addresses all redness issues including excessive circulation to blood vessels, inflammation, breakouts, free radicals and sensitive skin. Your skin will be hydrated with a radiant glow every time you use this product.
Price: $39.50 for 2 fl oz
Directions: After cleansing and toning, apply to face and neck. Use nightly.
Shop for Skin Recovery Lotion here.
Read: How To Get Rid Of A Blemish Fast
Read: How Can I Fade My Acne Scars?
Which products are right for your skin? See our nine skin types and get products recommended.
Need expert skin advice? Schedule My Skin Prescription to get personalized advice from our estheticians in person, over the phone or via Skype.
Read: How Do Renée Rouleau Products Compare To Other Skin Care Lines?
Which skin care products are best for you? See our nine skin types or take the Skin Type Quiz and get products recommended.
Need expert advice from a licensed esthetician? Schedule a virtual consultation to get customized advice in person, over the phone or online via Skype or Face Time.
For more expert advice check out the blog. Also sign up for our skin tip e-newsletter, follow Renée Rouleau on Twitter and Instagram and join the discussion on our Facebook page. You'll be your own skin care expert in no time. Get the #ReneeRouleauGlow!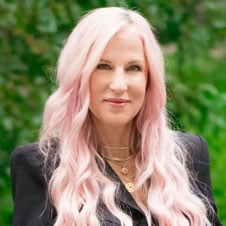 Celebrity Esthetician & Skincare Expert
As an esthetician trained in cosmetic chemistry, Renée Rouleau has spent 30 years researching skin, educating her audience, and building an award-winning line of products. Her hands-on experience as an esthetician and trusted skin care expert has created a real-world solution — products that are formulated for nine different types of skin so your face will get exactly what it needs to look and feel its best. Trusted by celebrities, editors, bloggers, and skincare obsessives around the globe, her vast real-world knowledge and constant research are why Marie Claire calls her "the most passionate skin practitioner we know."