What kind of facial mask should you use for skin type?
Updated 3/4/18. While not considered an essential in a basic skin care routine, I do consider masks to be an important part of achieving healthy, clear and beautiful skin. Since everyone's skin type is unique, masks are not one-size-fits-all. You really need to make sure you're using the best mask for your skin type.
In this post, I'll go over all the various kinds of masks available, their benefits and how to determine the ones that will give you the best results.
First, some facts about facial masks
Masks aren't giving an exfoliating benefit
Often times when I ask a client, "How often are you exfoliating?" Their reply is, "Oh, I'll use a mask once or twice a month." I'm unclear as to how masks ever were thought to be exfoliants but they aren't unless they have been specifically formulated with acids. Facial scrubs, sonic cleansing brushes, washcloths and acid serums provide this benefit. Read the beginner's guide to exfoliating your skin.
It's best to change up your masks as needed
Since your skin changes often based on seasonal changes, hormonal cycles, travel and other factors, one size doesn't always fit all. Each type of mask provides a specific benefit so ideally, you would have 2-3 in your stash so you can guarantee your skin gets what it needs when it's behaving in a certain way.
Most skin types should avoid the traditional clay-based masks
When masks were first introduced decades ago, they were made with drying clays. While many clay-based formulas have since been updated to be less drying (however, not all), a lot of people are stuck in the habit of using this kind of mask. Most skin types require hydration rather than drying it out so they are not for everyone. If you're going to take out the extra time to treat your skin to a mask, you want to match sure it's actually improving your skin.
The different types of facial masks available
Gel masks
Most formulas are oil-free
Have a clear, see-through look
Main benefit is to provide water-based hydration to thirsty skin cells (skin cells are like fish and need water to live)
Gels have a natural cooling effect for soothing redness and sensitivity
Can be stored in a refrigerator for an extra cooling, redness-reducing effect
Great to use when the skin is overheated like post-workout, post-sun
Great to use post-flight when water evaporation has occurred in the skin (read how to save your skin from airplane dehydration)
Every skin type (see these nine skin types) can benefit from a gel mask (If you're just going to purchase one mask, a gel is the best way to go)
Recommended gel masks:
Bio Calm Repair Masque to deliver soothing hydration
Rapid Response Detox Masque to deliver soothing hydration along with blemish clearing and prevention
Clay masks
Formulations can vary greatly as to how drying the clay can be
Opaque in color and can be fairly thick in texture
Look for formulas that promote having hydrating benefits
A good rule is to avoid clay masks that dry really tight and crack into a million pieces
Using an oil-free hydrating skin serum like Skin Drink Concentrate underneath can offset any drying effect
Main benefit is to draw out oil and provide a clearing and tightening effect for the pores
Great to use during oilier times like summer when the skin can get greasy
Great to use when you just want that "clean" feel
Can be beneficial to use just in oilier areas (like the t-zone) and use a gel mask in dehydrated areas
Oily, combination, clogged-prone prone skin types will get the most benefit from a clay mask (Take the Skin Type Quiz to get the best mask recommended)
Recommended clay mask:
Energizing Cleansing Masque to deep clean the skin without over-drying
Cream masks
A creamy texture, similar to a moisturizer
Formulated with emollients and oils
Main benefit is to provide oil-based hydration to dry skin types
Many cream masks can be left on overnight for deeper absorption (best to put a towel on your pillow to prevent oil transfer)
Not suggested for oily, combination and dehydrated skin (Read this post to learn the difference between dry and dehydrated skin)
Great to use in the winter when dry skin is at its worst
Great to use when you want to give a moist, bouncy look to the skin
Great to use post-flight to restore moisture loss (read how to save your skin from airplane dryness)
Dry skin types will get the most benefit from this type of mask
Recommended cream mask:
Pure Radiance Creme Masque to deliver oil-based nourishment to condition and soften the skin
Sheet masks
Most formulas are oil-free
Made out of various fabrics and materials like non-woven fibers, bio-cellulose, and rayon
Main benefit is to provide water-based hydration to thirsty skin cells
Can have a natural cooling effect for soothing redness and sensitivity
Can be stored in a refrigerator for an extra cooling, redness-reducing effect
Many contain synthetic fragrance and perfumes which may cause irritation (look for masks that avoid the the words 'perfume', 'parfum', 'fragrance' or 'natural fragrance' on the ingredient list)
Great to use post-flight when water evaporation has occurred in the skin
Every skin type can benefit from a sheet mask
There are some downsides to using a sheet mask and I share them all here
How do I use a face mask for my skin type?
For the most part, you won't get the maximum benefit from a mask if you just cleanse your skin and apply it. More than likely, you'll have surface dry skin cell build up that will make it harder for the mask to push through. The best results will be given when you exfoliate the skin first as this allows for the mask to work most effectively. A gentle facial scrub like Mint Buffing Beads or an enzyme peel like Dual Enzyme Softening Peel or an acid-based exfoliant like Triple Berry Smoothing Peel will greatly enhance the effects.
Of course, you'll want to follow the instructions listed on the jar or tube but here's a step-by-step tutorial on how to give your skin an at-home facial.
When's the best time to use a mask?
Post-flight
Post-workout
Post-beach/sun
Before a special event
Whenever your skin feels and looks dull and could use a pick-me-up
While you're soaking in the bathtub
To wind down the weekend with a #sundaynightfacial to put your best face forward for the busy week ahead
How often should I use a mask?
Once a week as part of an at-home facial
Rapid Response Detox Masque can be used nightly after cleansing as a way to reset the skin after washing off makeup to prevent clogged pores and breakouts
Any gel or sheet mask can be used nightly for a deep hydration post-cleanse
The mask category is expanding rapidly and I'm seeing more and more new kinds like rubber masks (mainly these are oil-free and are good for hydration similar to the effects of a gel mask), peel-off masks and even masks that contain glitter. (Ridiculous!) In the visual world of social media, many companies are starting first by determining what would be most worthy of a selfie. This means that a lot of companies are now starting to add irritating synthetic dyes into their formulas again (not Renée Rouleau, I can assure you!) to give that wow effect.
A lot of people will post pics of them wearing our Triple Berry Smoothing Peel like this one of singer, Demi Lovato and while it stands out (and even looks kind of scary!), it was not formulated with the selfie in mind. I'm always going to look at the true benefit to the skin, first and foremost.
In summary, while a mask treatment isn't quite like getting a professional facial, it certainly offers additional skin benefits above and beyond your basic skin care routine and for this reason, I highly recommend you use one on a weekly basis. Your skin will thank you for it. #ReneeRouleauGLOW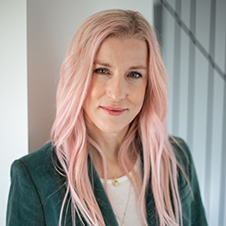 Celebrity Esthetician & Skincare Expert
As an esthetician trained in cosmetic chemistry, Renée Rouleau has spent 30 years researching skin, educating her audience, and building an award-winning line of products. Trusted by celebrities, editors, bloggers, and skincare obsessives around the globe, her vast real-world knowledge and constant research are why Marie Claire calls her "the most passionate skin practitioner we know."