Updated 02/24/22. While they're not an essential part of a daily skincare routine, I do consider face masks to be helpful in achieving clear, bright, and healthy-looking skin. Just like with any other skincare product, though, face masks are not one-size-fits-all. Everyone's skin is unique, and we all have individual concerns and goals, so it's important to use the best face mask for your skin type.
I realize that's easier said than done. With so many out there, it can be hard to know which ones will deliver the best results. That's why, in this post, I thought I'd go over the various kinds of face masks and the benefits they provide. I'll also share my expert advice on how to determine which type will work the best for you!
First, 3 Important Face Mask Facts
Fact #1: Most Face Masks Won't Give Your Skin Any Exfoliating Benefits
Oftentimes, I ask a client how often they're exfoliating, and they reply, "Oh, I'll use a mask once or twice a month." I'm unclear as to how face masks ever came to be linked to exfoliation, but it's simply not accurate. Face masks provide zero exfoliation benefit unless they're specifically formulated with exfoliating acids (like glycolic, lactic, or mandelic acids).
Physical exfoliants include facial scrubs, sonic cleansing brushes, and washcloths. Chemical exfoliants include acid serums and peels. Generally speaking, though, I wouldn't classify face masks as something that exfoliates your skin.
Fact #2: It's Best to Switch Your Face Masks Up as Needed
Since your skin changes based on the seasons, hormones, travel, and other factors, you may need to switch up the type of face mask you use to give your skin exactly what it needs. Each type of mask provides a specific benefit so ideally, you would have two or three in your stash to rotate in and out as needed.
Fact #3: Most Skin Types Should Avoid Using Traditional Clay Masks
When masks were first introduced decades ago, they were made with drying clay. While many clay-based formulas have since been updated to be less drying (not all, though), a lot of people are stuck in the habit of using this type of mask. Most skin requires consistent hydration, so these masks are definitely not for everyone. If you're going to take the time to treat your skin to a face mask, you want to match sure it's actually benefitting it.
The 4 Types of Face Masks (and Their Benefits)
1. Gel Masks
Gel masks tend to be water-based and oil-free. They're often transparent or semi-transparent.
Gel masks provide water-based hydration to thirsty skin cells without potentially heavy, pore-clogging ingredients. They also have a natural cooling effect that's great for helping to soothe redness and sensitivity. You can even store them in the refrigerator for an extra cooling effect.
This type of face mask is especially beneficial when the skin is overheated, such as after a workout or after sun exposure. They can also benefit the skin post-flight when water evaporation has occurred (learn how to save your skin from airplane dehydration). Everyone can benefit from a gel mask, as they are compatible with all skin types. If you're only going to purchase one type of mask, I say gel masks are the way to go!
2. Clay Masks
Clay masks can vary greatly based on the ingredients that are added to the base (this can change how drying they are). They tend to be opaque and fairly thick in texture. My advice is to look for a formula that includes hydrating ingredients. A good rule of thumb is to avoid anything that makes your skin feel tight or cracks when you move your face. As I said before, this can cause dehydration, which is the opposite of what you want!
The main benefit of clay masks is that they draw out oil and other impurities. They can help clear pores and create a tightening effect. They're good to use during the warmer months when the skin can get oily and you want a "clean" feeling. Consider applying an oil-free hydrating serum underneath the mask to offset potential dryness. You can also "multi-mask," meaning you can apply a clay mask in oily areas (like the t-zone) and a gel mask in dehydrated areas (like on the cheeks). Generally speaking, clay masks are best for oily, combination skin types that are prone to clogged pores.
3. Cream Masks
Cream masks, as the name suggests, have a creamy texture kind of like moisturizer. They're formulated with emollients and oils.
The main benefit of cream masks is to provide oil-based hydration to dry skin types. Many of them can be left on overnight for deeper absorption (be sure to put a towel over your pillow to prevent oil transfer). They're especially great for restoring moisture loss post-flight or in cold climates when the skin is at its dryest. They help give dry skin a moist, bouncy, glowy look.
Cream masks are best for dry skin types, meaning those who naturally produce very little oil. They shouldn't be used by oily, combination, or dehydrated skin types since they could clog pores. Learn the difference between dry and dehydrated skin.
4. Sheet Masks
Sheet masks are usually oil-free and made out of various fabrics such as non-woven fibers, bio-cellulose, or rayon. One reason I'm not a huge fan of sheet masks is that many of them include synthetic fragrance and perfumes, which may cause irritation. Look for masks that don't include the words 'perfume,' 'parfum,' or 'fragrance,' in the ingredient list.
The main benefit of sheet masks is to provide water-based hydration to thirsty skin cells. Like gel masks, they can have a natural cooling effect and can also be stored in the fridge before application. Sheet masks are great to use after water evaporation has occurred in the skin, such as post-flight. They can give a quick hit of hydration to make the skin look bright and bouncy.
One thing to note is that a sheet mask is essentially a mask substrate soaked in serum. That's why a hydrating serum is a good alternative to a sheet mask if you don't have one on hand.
If you're still unsure of which type of face mask is best for you, take the Skin Type Quiz. At the end of it, you'll get personalized product recommendations. I also highly recommend checking out the Mini Mask Discovery Kit. It includes four different formulas you can switch in and out of your routine as needed.
How Should I Use a Face Mask?
You probably won't get the maximum benefit from a face mask if you don't exfoliate your skin before using it. More than likely, you have dry skin cell build-up on the surface of your skin, which will make it harder for the mask's ingredients to penetrate. If you exfoliate first, the mask will work more effectively. Try a gentle facial scrub, an enzyme peel, or an acid-based exfoliant beforehand to greatly enhance the effects of your face mask.
When Is the Best Time to Use a Face Mask?
You can use a face mask whenever you'd like, although there are a few situations they can be especially helpful.
After a flight
After a workout
Post-beach or sun exposure
Before a special event
On a Sunday night to wind down the weekend and put your best face forward for the busy week ahead
How Often Should I Use a Face Mask?
It depends on the mask but, in general, I suggest using a face mask once a week as part of an at-home facial. Gel and sheet masks can be used nightly or as often as needed for deep hydration after cleansing.
The mask category is expanding rapidly and I'm seeing more and more masks hit the market. For example, there are rubber masks, which are mainly oil-free and good for hydration, similar to a gel mask. There are also peel-off masks and even masks that contain glitter. In the visual world of social media, many companies are starting by determining what would be most worthy of a selfie. This means that a lot of companies are now adding irritating synthetic dyes into their formulas (not here at Renée Rouleau, I can assure you!) to give that wow effect.
In summary, while a face mask won't give you the same results as a professional facial, they certainly offer additional skin benefits above and beyond your basic skincare routine. For this reason, I highly recommend you use one on a weekly basis. Your skin will thank you for it and you'll start to see the #ReneeRouleauGLOW.
Next, find out how often you should really get a professional facial, based on your skin type.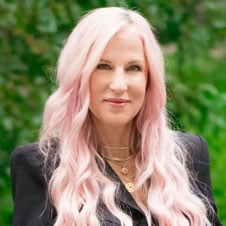 Celebrity Esthetician & Skincare Expert
As an esthetician trained in cosmetic chemistry, Renée Rouleau has spent 30 years researching skin, educating her audience, and building an award-winning line of products. Her hands-on experience as an esthetician and trusted skin care expert has created a real-world solution — products that are formulated for nine different types of skin so your face will get exactly what it needs to look and feel its best. Trusted by celebrities, editors, bloggers, and skincare obsessives around the globe, her vast real-world knowledge and constant research are why Marie Claire calls her "the most passionate skin practitioner we know."