Updated 9/18/17. If you're someone who is currently experiencing a lot of acne or you used to get blemishes pretty badly in your younger years, you might want to consider yourself lucky. What??? Yes, I believe in a lot of cases it can be true. There's even a scientific study proving it.
Let me explain.
Having been an esthetician for almost 30 years and having worked hands-on with thousands of faces, one thing I have found to be true is this. Those who make their skin a priority and take care of it day in and day out are the ones who often have the best-looking skin in their adult years. And…the ones who excel at this often have a history of acne in their younger years. Why is this? Because when you're someone who has trouble with your skin, you HAVE to take care of it because ignoring it will only make blemishes worse.
Sleep with makeup on? Nope. That surely doesn't happen for someone who is acne-prone. How about using just any old cheap, low-quality skin care product? Nope. That certainly doesn't work either. Never seeing a dermatologist or esthetician for help with your skin? Nope again. Most likely, you put your skin in their expert hands and got their expert advice (and followed it to a T!) on a regular basis.
In the process of dealing with your skin troubles, you surely picked up some really good habits like paying attention to skin care ingredients, using only high-quality products for your unique skin type, faithfully washing your face every morning and night and possibly getting facials regularly to keep your pores clear, prevent new blemishes and even out discoloration from acne scars.
Many people who suffer from acne in their youth often become estheticians themselves because they develop a passion for skin care and want to help others prevent the problems that they personally encountered. (I have known so many estheticians like this.) On the flip side, I can't tell you how many people I meet in my travels who have never had any problems with their skin and therefore barely take care of it. And you know what? In a lot of cases, it shows once they get into their 40s with premature wrinkles and a dullness due to neglect.
Breakouts will come and go, as will the discolored marks left behind. But adopting good skin care habits will last a lifetime—and the rewards will pay off in the long run. (If you're someone who is in the midst of dealing with acne, I completely understand. The struggle is real. Of course, we have effective products to help control acne and I have tons of free skincare advice on my blog. Here's 17 acne tips for you.)
As for what this study has shown, people who have previously suffered from acne have longer telomeres in their white blood cells compared to those with perfect skin. These telomeres―sometimes referred to as protective caps―help keep chromosomes from deteriorating. As a result, cells are better insulated against aging.
So there you have it, two solid reasons why acne just may work in your favor!
However, if you still get breakouts well into your adult years, no worries. I have the perfect Zit Care Kit, complete with everything you need to tackle blemishes at every stage. You can also read my expert tips on how to prevent adult hormonal breakouts.
One final thought: of course, not all types of acne are equal. Those who experienced severe acne can also have scarring and indents as a result. Thus, they must work extra hard in their adult years to smooth out their skin's texture. Usually, long-term use of a good retinol or prescription retinoid product like Advanced Resurfacing Serum or Retin-A will help this dramatically. If this sounds like you, start using one ASAP. With continued use, it can make a huge improvement in the appearance of your skin.
Want to make sure you're caring for your skin the right way? Then make sure you're not falling for one of these 35 skincare myths.
Which skin care products are best for you? See our nine skin types or take the Skin Type Quiz and get products recommended.
Need expert advice from a licensed esthetician? Schedule a virtual consultation to get customized advice in person, over the phone or online via Skype or FaceTime.
For more expert advice check out the blog. Also sign up for our skin tip e-newsletter, follow Renée Rouleau on Twitter and Instagram and join the discussion on our Facebook page. You'll be your own skin care expert in no time. Get the #ReneeRouleauGlow!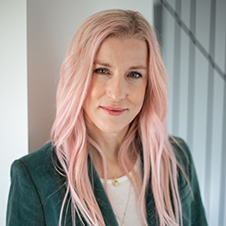 Celebrity Esthetician & Skincare Expert
As an esthetician trained in cosmetic chemistry, Renée Rouleau has spent 30 years researching skin, educating her audience, and building an award-winning line of products. Trusted by celebrities, editors, bloggers, and skincare obsessives around the globe, her vast real-world knowledge and constant research are why Marie Claire calls her "the most passionate skin practitioner we know."