Updated 1/16/18. There have been many amazing advancements in skincare the past thirty years since I got my start as an esthetician. One type of product that has been a mainstay and continues to grow in popularity are exfoliants. Between enzymes, acids, retinol, brushes (like Clarisonic) and facial scrubs, should you be using exfoliating products daily?
In this post, I'll share my expert tips on how to exfoliate safely to avoid harming your skin.
Is exfoliating my face on a daily basis okay?
No. Daily exfoliation is too much for any type of skin, even if you feel as though your skin can tolerate it. While every skin is unique and will respond differently to exfoliating products, it's important to understand that all skin types require protective cells on the surface to keep it functioning in a healthy way. Constantly stripping off layers of invisible skin cells is destructive to the integrity of the skin. It's one of the many reasons why I'm not a huge fan of the Clarisonic brush. (Read my thoughts on the Clarisonic here.) Also, liquid acid exfoliating toners are very popular right now and many people are using these twice a day every day. I believe this might be harming your skin. Read my review on liquid acid exfoliating toners.
What will happen if I exfoliate my skin daily?
You'll create inflammation (even if not visible) and risk moisture loss.
Daily exfoliation can cause:
a damaged moisture (lipid) barrier layer resulting in flaking, redness, and underlying inflammation
dryness and dehydration (moisture and water will seep out of the cells)
potential premature aging due to chronic and prolonged inflammation (even if your skin isn't showing signs of any problems)
destruction of healthy cells
stimulation of melanin activity possibly resulting in an increase of hyperpigmentation (brown spots and patches)
skincare products to react negatively by causing stinging and irritation (due to a stripped barrier function)
Your skin needs those protective layers (especially in winter or in dry climates where there is low humidity) to keep the skin in a healthy state and retain its natural moisture.
What is the right amount of exfoliation?
I recommend that most everyone should exfoliate five times a week. Based on my exfoliating product preferences (serums, peels and gentle scrubs), here is how I recommend how you might use exfoliating products in a given week.
Use an acid-based serum in the evening.
Monday night: Exfoliating serum, under moisturizer for your skin type
Tuesday night: Exfoliating serum, under moisturizer for your skin type
Wednesday night: Exfoliating serum, under moisturizer for your skin type
Thursday night: No exfoliation, but instead use a specialty serum for your skin type under moisturizer
Friday night: No exfoliation, but instead use a specialty serum for your skin type under moisturizer
Saturday night: No exfoliation, but instead use a specialty serum for your skin type under moisturizer
Sunday night: Start over with your night #1 of an exfoliating serum
Use an exfoliating serum this way.
On night #1 of using an exfoliating serum, the action is essentially like 'breaking through the concrete.' Meaning, your exfoliating serum is dissolving cells from the very top layer of the skin.
On nights #2 and #3, it works deeper within the skin's surface for a more thorough exfoliation.
Thursday-Saturday nights are when most people are out and about at parties, events and other special occasions (and, therefore, want their skin to look its best). The three nights of exfoliation prior will cause the skin will look exceptionally smooth over the weekend. Also, Thursday-Saturday is when alcohol consumption is more likely, so using hydrating serums is most beneficial to prevent moisture loss.
NOTE: Through all my 30 years of research and skincare experience, I can confidently say that exfoliating with an acid serum (formulated for your skin type) is the best way to encourage cell turnover. There are several reasons why I believe this to be true. First, serums are formulated with a small molecular structure so they have the capability of passing the membranes to get deep within the skin. Secondly, serums hug the skin with humectants so they can hydrate the new cells while exfoliating the old cells. Lastly, as opposed to facial scrubs, there is no manipulation of the skin. You simply apply it and it goes right to work for you. The result is incredible re-texturing and a smoothing of the skin.
Once a week (perhaps on Tuesday or Saturday morning)
Gently massage a facial scrub over the face and neck. I recommend doing this in the shower, since its easier to rise the scrub off completely. (Splashing it off at the sink sends the beads to the perimeter of the face. This can cause them to get caught in the hairline, which is annoying!)
Once a week (on Monday, Tuesday or Wednesday night)
Instead of using an exfoliating serum in the evening, I recommend substituting it with an at-home peel and mask. You can either use one with enzymes or one with acids, depending on your skin type.
In summary, don't exfoliate daily, despite what you may have heard or simply if you're falling into the mindset of "more must mean better." The use of exfoliating products can give incredible skin smoothing results, but moderation is key. Note: A cleanser with mild exfoliating acids since it's not left on the skin for very long and rinsed away.
What benefits do exfoliants offer?
There is virtually no skin problem that an exfoliant can't fix. I shared all the benefits of exfoliation when I appeared on the Dr. Oz show. See Renee on the Dr. Oz show.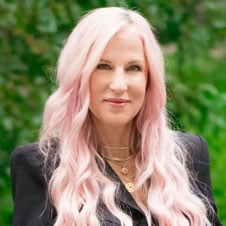 Celebrity Esthetician & Skincare Expert
As an esthetician trained in cosmetic chemistry, Renée Rouleau has spent 30 years researching skin, educating her audience, and building an award-winning line of products. Her hands-on experience as an esthetician and trusted skin care expert has created a real-world solution — products that are formulated for nine different types of skin so your face will get exactly what it needs to look and feel its best. Trusted by celebrities, editors, bloggers, and skincare obsessives around the globe, her vast real-world knowledge and constant research are why Marie Claire calls her "the most passionate skin practitioner we know."