A good night's sleep is so important, not only for regenerating the skin but also to rest the brain and body from being so overworked during the day. I'm someone who needs a full eight hours of sleep a night. When I wake, my morning shower ritual is essential to start my day off right.
Here are all of the products that clear my mind and get me looking and feeling my best to face the world:
Renée Rouleau Luxe Mint Cleansing Gel – Hands down, my favorite cleanser from my line of products. I'm a skin type #2, so this sulfate-free cleanser is perfect in the morning to deep-clean my combination skin without leaving it feeling tight or dry. Plus, the blend of peppermint, rosemary, and pearmint smell fabulous and really wake up both my skin and my mind. "Best face wash ever," says celebrity Emmy Rossum. Shop for Luxe Mint Cleansing Gel.
Rituals Hammam Delight Fresh Eucalyptus & Rosemary Foaming Shower Gel – I first learned of this while staying at a friend's house in Amsterdam. It has this wonderful mousse-like texture and the minty fresh scent is intoxicating and makes my shower smell like a Turkish hammam, hence the name. Rituals is a Dutch-based company and for many years was not available in the U.S. My friend would ship me 12 bottles at a time. Last year, it eventually came to the states so now I can order it online. Their collection of body products is extensive, but this is the only one I use.
Renée Rouleau Mint Buffing Beads – Exfoliation, the removal of surface dead cells, is important to keep the skin looking clear and even-toned, so Mint Buffing Beads is my go-to facial scrub to use in the shower. Twice a week, I massage a small amount over my face and neck in circular motions for about a minute and then rinse off. My skin looks smooth and bright and feels really refreshed from the mint botanicals. On the days I use this, I skip the Luxe Mint Cleansing Gel because most facial scrubs have cleansing agents in them so you're cleaning and exfoliating at the same time. Who doesn't love to save a little time in the morning? Shop for Mint Buffing Beads.
Whole Foods 365 Eucalyptus Essential Oil – To clear my head, I rub 3 drops of this oil into the palm of my hands and cup them over my face with my eyes closed and do five slow in-and-out inhalations. The eucalyptus oil smells so good and the deep breathing puts me in the right frame of mind as I begin my day. By now, my entire bathroom smells like a beautiful, luxurious spa.

Malin + Goetz Peppermint Body Scrub – Just like the face, the body requires exfoliation to keep it soft and smooth. This product has a good concentration of scrubbing beads suspended in a gel base with the added benefit of peppermint to wake up my skin. I step away from the shower head and massage a fairly large amount over my full body for two minutes then step back under the water to rinse it off. My skin feels incredibly smooth when I get out of the shower and then I massage Pro Remedy Oil over my body to retain moisture in the skin and make it feel silky and soft. In the winter, using an oil in place of a lotion is far more effective for providing a protective seal over the skin to prevent moisture evaporation from the dry heat in the house.
Traditional Medicinals Peppermint Tea – I don't drink coffee or any sort of caffeine, so this nice warm tea in the morning warms my soul and gets me feeling uplifted. Plus, did you know that all things mint help to encourage glowing skin? (I always include a pack of this tea in the Red Carpet Glow Kit that I give to my celebrity clients.)
As you can see, the theme of my morning skin and shower routine is plant-based ingredients that smell minty and uplifting. I'm now ready to start my day and I feel so refreshed and clear-headed and my skin looks bright with the #ReneeRouleauGLOW. And I've got my husband hooked on using all of these, too!
Need expert advice from a licensed esthetician? Schedule a virtual consultation to get customized advice in person, over the phone or online via Skype or FaceTime.For more expert advice check out the blog. Also sign up for our skin tip e-newsletter, follow Renée Rouleau on Twitter and Instagram and join the discussion on our Facebook page. You'll be your own skin care expert in no time. Get the #ReneeRouleauGlow!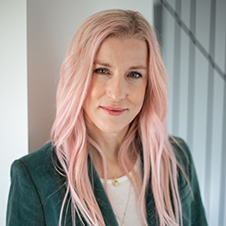 Celebrity Esthetician & Skincare Expert
As an esthetician trained in cosmetic chemistry, Renée Rouleau has spent 30 years researching skin, educating her audience, and building an award-winning line of products. Trusted by celebrities, editors, bloggers, and skincare obsessives around the globe, her vast real-world knowledge and constant research are why Marie Claire calls her "the most passionate skin practitioner we know."