Updated 3/11/17. For those who are in their 50s and beyond, you may find that age brings many positive things like wisdom and self-acceptance, but it also reveals wrinkles, brown spots and weight gain. The reason for wrinkles is due to the extreme decrease in estrogen causing the skin to lose its natural volume making wrinkles more pronounced. As for weight gain, much of it is attributed to changes in metabolism (specifically, metabolism slowing down) and a loss of muscle mass.
Regardless of the changes, one thing I know for sure is that the human body is truly incredible with its healing and repair mechanisms. Mother Nature is certainly on your side working really hard to have you look and feel your best. Since Mother Nature is a woman, I have to believe that she understands how women are so hard on themselves with their appearance, and I think she is actually helping us out through age related weight gain to make us appear younger. Here's my theory.
One of the easiest ways to reduce wrinkles and look younger is to carry around some extra pounds. French actress, Catherine Deneuve reportedly said, "After a certain age, you have to choose between your fanny or your face." Whether the fat gets there the old-fashioned way by indulging in your favorite foods or with the help of a dermatologist by getting dermal fillers injected into your face or a fat transfer, a fuller face with more volume is key to looking younger. There has been a lot of research with identical twins and when one is heavier than the other, their ages look quite different as you can see in the above photo. Look how much younger the fuller-faced sister looks!
I was recently scrolling through the Instagram account of 80s supermodel, Christie Brinkley and some recent photos of her showed her face to be fuller. My first reaction was that she had gained some weight, but after looking through more photos she seems as thin and toned as ever. Could it be that she's getting the best of both worlds with a thin body and volume in her face through dermal fillers? I have no clue as to what she is doing but she certainly looks amazing and to each her own. As for me, at age 47, I have yet to put fillers to plump up my face. I much prefer mint chocolate chip ice cream to painful needles.
So what do you say, beauties? How's this for a reason to embrace those curves that come with age???
P.S. Consider yourself lucky if you have these three genetic facial features that will guarantee you'll look younger longer.
Read: Here's What I Might Look Like In My 70s
Read: Five Guaranteed Ways To Look OLDER Than Your Age
Read: How Do Hormones Affect The Skin?
Which skin care products are best for you? See our nine skin types or take the Skin Type Quiz and get products recommended.
Need expert advice from a licensed esthetician? Schedule a virtual consultation to get customized advice in person, over the phone or online via Skype or FaceTime.
For more expert advice check out the blog. Also sign up for our skin tip e-newsletter, follow Renée Rouleau on Twitter and Instagram and join the discussion on our Facebook page. You'll be your own skin care expert in no time. Get the #ReneeRouleauGlow!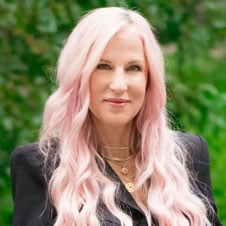 Celebrity Esthetician & Skincare Expert
As an esthetician trained in cosmetic chemistry, Renée Rouleau has spent 30 years researching skin, educating her audience, and building an award-winning line of products. Her hands-on experience as an esthetician and trusted skin care expert has created a real-world solution — products that are formulated for nine different types of skin so your face will get exactly what it needs to look and feel its best. Trusted by celebrities, editors, bloggers, and skincare obsessives around the globe, her vast real-world knowledge and constant research are why Marie Claire calls her "the most passionate skin practitioner we know."