Updated 8/2/17. As an esthetician working hands-on with clients, looking younger is the most common request I get, especially from clients over 40. To help address this concern, I provide professional facial treatments, expert problem-solving advice, and personalized home care routines—specifically designed for each of my clients' unique skin types. For at-home use, I recommend products with brightening vitamin C, smoothing retinol, protecting sunscreen and firming peptides. However, being in the "appearance" business, I can confidently say that many people overlook other important factors that contribute to aging. While good products and practices are excellent for making the skin look younger and healthier, these five things ensure you will look older.
1. Never changing your hairstyle, clothing style or makeup. Trends change and styles change, so it's never good to get into a rut. Wearing an outdated hairstyle and the same makeup and clothes, day in and day out will only make you look older. When you think about someone who looks great for her age, more than likely you think of someone who is fashionable and has a unique sense of style.
2. Going gray. It's a fact that gray hair is associated with getting older. After all, it most commonly shows up after age 40. It's only logical that letting your natural color show through will make you look older. I'm definitely not saying that gray hair is not attractive; I'm just saying that it's a sign of age. Consult with a trusted hair colorist if you're up for changing your look.
As for gray hair, Brenda Warner, wife of retired NFL player, Kurt Warner keeps her hair gray, but adds in a mohawk! At age 50, I admire her confidence in creating a unique look for herself. She says "Life is too short for boring hair." And I have to say, I agree. After all, my hair is pastel pink!
3. Being lazy about exfoliating your skin. You know how, after a facial, your skin looks smoother, fresher and brighter? Most often, this is due to various exfoliating treatments used during the facial that remove dull, dry, tired-looking skin cells. I always tell my clients to exfoliate regularly at home (particularly with an acid serum and acid peel) and moisturize well to achieve the post-facial smoothness that makes the skin look younger. It's easy to do and can make a dramatic improvement in the texture of your skin—FAST.
4. Smoking and not wearing sunscreen. I'm sure it's no surprise, but these two things will definitely make you look older. Both smoking and not wearing daily sunscreen is commonplace for so many women in Europe. A French esthetician once told me, "You Americans are into wearing sunscreen. That's not what we do in France." She also didn't put sunscreen on me post-facial when it was 11:00 in the morning and I had a whole day of sunlight exposure ahead of me. It's just not their thing like it is for Americans. As for smoking, it destroys collagen in the skin and depletes oxygen, along with a whole host of other things. (See this dramatic photo of what UV light can do to your skin. You might also enjoy learning my special layering sunscreen technique that I use when outdoors.)
5. Not whitening your teeth. Teeth naturally darken, stain and yellow with age, so not whitening them will definitely contribute to you looking older.
In summary, looking older than your age usually comes from not being proactive and letting Mother Nature do her thing. This is certainly your choice, and I'm not here to tell you that you have to defy aging at all. I'm simply sharing some food for thought. However, if you want to look younger, you must know that it's not just about how many wrinkles you have around your eyes. It's about the whole package. My friend Bethany, an image consultant, said it best: "There is nothing more aging for a women than never changing her look." Don't be afraid of change. Fear of change could be what is holding you back from being your best, most vibrant-looking, youthful self.
Read: 7 Surprising Ways You're Aging Your Skin
Which skin care products are best for you? See our nine skin types or take the Skin Type Quiz and get products recommended.
Need expert advice from a licensed esthetician? Schedule a virtual consultation to get customized advice in person, over the phone or online via Skype or FaceTime.
For more expert advice check out the blog. Also sign up for our skin tip e-newsletter, follow Renée Rouleau on Twitter and Instagram and join the discussion on our Facebook page. You'll be your own skin care expert in no time. Get the #ReneeRouleauGlow!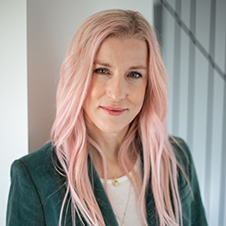 Celebrity Esthetician & Skincare Expert
As an esthetician trained in cosmetic chemistry, Renée Rouleau has spent 30 years researching skin, educating her audience, and building an award-winning line of products. Trusted by celebrities, editors, bloggers, and skincare obsessives around the globe, her vast real-world knowledge and constant research are why Marie Claire calls her "the most passionate skin practitioner we know."