What will your skin look like in the next 10, 20, 30 years and beyond? Are you going to age gracefully? Will you age like your mother or grandmother? Would you care for your skin differently now to prevent what the future might hold?
I wanted to find out for myself what I might look years down the road so I had a professional artist do age progression to my photo to see the future of my skin's appearance. I have to say it's certainly startling to see a picture of yourself 30+ years older, but I see I'm still alive, so that's always a good thing…
Read skin tips for those in their  40s, 50s and 60s
One thing that stood out about the photo was how one side of my face aged completely different than the other, and this will be normal for most all people because no two sides of the face are the same. If you look closely at my age 42 photo, you'll see how the left side is slightly different from my right. I've always had a fuller face on the left side and my father's face is exactly the same. (This explains when you hear someone wanting to be photographed on their "good side.")
Read: Are You Aging More Like Your Mother Or Your Father?
Also, in my aged photo you can see that I have more wrinkles on the thinner side of my face. This is because natural fat cells plump up wrinkles and a thinner face has less of these cells. I'm mostly a side sleeper too, so it's normal to have more creasing (wrinkling) on one side and this too will get more noticeable as I age. For preventing wrinkles and premature aging, Vitamin C&E Treatment along with sunscreen (Age Defense Moisturizer SPF 30) is a must!
So how will YOU age?
The simplest way I can say it, is that everything that you observe in your skin today, generally will only get more prominent. If you have bags (loose skin) under the eyes, they will become more noticeable. Saggy jowls will sag more, eye wrinkles will increase and deepen, etc. Not fun, I know. But this is simply how the aging process works. (Want to keep your skin glowing? Use Glow Enhancing Cream)
Read: Do You Have Bags Under Your Eyes? 
Genetics does play a small part in the aging process though and the good news is that it can work in your favor if you're lucky enough to have one of these features. Read: Three Facial Features That Will Guarantee You'll Look Younger Longer
However, genetics isn't everything. In fact, experts believe only 25% of how your skin will age is based on genetics and the other 75% is UP TO YOU. This means how you care for skin and your body, as well as your lifestyle has a huge part in aging. The choice to live a healthy lifestyle and practice good skin care habits will pay off greatly. We know this based on studies done on identical twins. I have studied the aging of identical twins while enrolled in cosmetic chemistry courses at UCLA. Twins look the same when they are younger, but when they are in their 50s and 60s, you can see that they age very differently. This has to do with the differences in their lifestyles.
Read: How Hormones Affect The Skin In Your Teens, 20s, 30s, 40s and 50s and 60s
Remember, it is never too late to start caring for your skin and in doing so, even as you age, you will have beautiful skin for a lifetime and beautiful skin starts with Renée Rouleau Skin Care.
Which skin care products are best for you? See our nine skin types or take the Skin Type Quiz and get products recommended.
Need expert advice from a licensed esthetician? Schedule a virtual consultation to get customized advice in person, over the phone or online via Skype or FaceTime.
For more expert advice check out the blog. Also sign up for our skin tip e-newsletter, follow Renée Rouleau on Twitter and Instagram and join the discussion on our Facebook page. You'll be your own skin care expert in no time. Get the #ReneeRouleauGlow!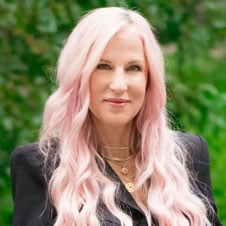 Celebrity Esthetician & Skincare Expert
As an esthetician trained in cosmetic chemistry, Renée Rouleau has spent 30 years researching skin, educating her audience, and building an award-winning line of products. Her hands-on experience as an esthetician and trusted skin care expert has created a real-world solution — products that are formulated for nine different types of skin so your face will get exactly what it needs to look and feel its best. Trusted by celebrities, editors, bloggers, and skincare obsessives around the globe, her vast real-world knowledge and constant research are why Marie Claire calls her "the most passionate skin practitioner we know."