Updated 3/20/19 .Intrinsic aging is determined by heredity, your genetic programming on a cellular level that controls the hormones responsible for aging. The skin will behave differently under the influences of these hormones, but how will you be affected from ages 60 and beyond?
The 60s are the post-menopausal years which is when dry skin really sets in and the skin's natural repair and wound healing processes slow down. Circulation is also very impaired leading to a dullish look for the skin. In this post, I'll go into detail about the hormonal shifts taking place and share my expert tips for things you can start doing now to counteract the visible effects.
How is the skin affected by hormones from age 60 and beyond?
Progesterone (regulates sleep, immunity and brain function)
Estrogen (supports collagen production which is responsible for keeping the skin plump and free of wrinkles)
Testosterone (regulates oil glands and hair growth)
DHEA (protects against oxidative stress which is an important function in preventative skin aging)
Human growth hormone (supports skin's elasticity and muscle)
The decrease or change in these hormones is a main factor in the intrinsic aging process and will all play a part in the visible aging of the skin.
As hormone levels are now returning to normal in your 60s (much less fluctuation than in your 50s), you'll notice that skin sensitivity is lessened. For those who have had rosacea, you might find this going away in your 60s since circulation has slowed down significantly. In fact, you might be missing that glow of pinkness that your skin once had and now feel as though your skin is looking dull and sluggish. Microcirculation, the passage of blood throughout the system of small vessels of the body, particularly the capillaries, is now less efficient. By the time you are 75 years old, you have about 50% fewer blood vessels in your face which mean less blood is flowing throughout the skin.
With the extreme lowering of estrogen levels that occurs in the 60s, the skin deflates and thins out due to the padding of the fat being diminished which causes lines and wrinkles to become more pronounced. In addition, the material that attaches the skin to the bone, called fascia, is deteriorating causing the skin to continue to lose tone.
The 60s can be a difficult time to reduce visible skin aging because hormones help to keep the metabolic function of the skin going and with the decrease of estrogen, this activity has slowed down dramatically compared to your 50s.
The post-menopausal years also trigger skin growths on the face and body like these. They begin as small, rough bumps and over time, they thicken and get larger. There are many names for these: seborrheic keratoses, actinic keratoses, skin tags, sebaceous hyperplasia, and they all can appear a bit different (some brown, some flesh color) but generally speaking, they are bumps, excess skin, enlarged oil glands and growths that protrude from the skin and become impossible to hide with makeup.
Expert tips for getting your skin to look moist, smoother and more supple in your 60s and beyond
Increase blood flow and circulation within the skin
Skin cells, like all cells that make up the tissues and organs of the body, depend on good circulation to get the required oxygen, water, hormones, nutrients, minerals and other trace elements that are vital for the life of the cells. The tissues rely on the circulatory system to remove wastes and toxins. Tired, sluggish skin occurs when the microcapillaries are not providing enough nutrition to the skin. The treatment for under-circulated skin is to try to gently stimulate circulation through gentle massage with a manual exfoliant / facial scrub and using stimulating ingredients such as ginseng, peppermint and rosemary. You'll also want to encourage the mitochondria of the cell to harness its energy with ingredients like niacinamide.
Get professional facials
They are extremely beneficial for stimulating circulation to get your skin glowing as well as providing intensive moisture to plump up dry skin cells. Plus, you deserve it! The 60s should be a time for you again.
Treat your skin to at-home masks (by sleeping in one!)
Since moisture loss is so prevalent in the 60s, giving additional care to your skin with a weekly facial will dramatically improve its appearance and glow.
Get an annual skin cancer screening by a dermatologist
Did you know that melanoma is the fastest growing and most deadly type of cancer and that one out of five Americans will eventually develop skin cancer? It's thought that 40-50% of Americans will develop skin cancer by the age of 65 so it's really important that you get your skin checked by a dermatologist. In Caucasians, most skin cancers present initially on the skin itself, usually in areas of sun exposure such as the face, scalp, back, nose, and arms. In Asian, African, or Hispanic people with darker complexions, melanomas often present in non-sun exposed – or less pigmented – areas such as the palms of the hand or on the nail beds.
Eat almonds, salmon, avocados and olive oil
These all contain healthy fats that keep your skin moist, supple and glowing from inside out. They are much needed in your 60s, since moisture levels drop significantly within the skin.
Go easy on exfoliation
Because the skin is thinner now, you'll want to cut back on the use of prescription retinoids and professional chemical peels as these can further thin out the skin's surface. Talk with your esthetician or skin care professional to create a plan for your skin that includes only gentle enzyme peels performed occasionally and regular skin tightening treatments like microcurrent.
Don't neglect your neck
This area is often overlooked and will most certainly be showing the effects of aging and sun damage in your 60s. Applying sunscreen generously to the front and sides of the neck is one of the best ways to prevent further visible aging, so be sure to get into this habit daily when performing your morning routine. Also, be sure to use a well-formulated neck creme. Here are more of my expert tips to repair the look of sun damage on the neck and chest.Repair your skin's moisture barrier
The skin has a moisture barrier made of natural lipids and when it is damaged (due to age, climate and hormone changes), tiny, invisible cracks in the skin are created, allowing moisture to escape and irritants to enter more easily. This causes the skin to get dry, rough and flaky and easily inflamed. Inflammation causes a chain of biochemical reactions that lead to collagen and elastin breakdown. If the skin's barrier function is intact and healthy, inflammation is much less likely to occur.
There are very specific emollient ingredients in certain moisturizers that can help repair the moisture barrier. Look for moisturizers or treatment oils containing like rose hip seed oil, borage oil, jojoba oil and sweet almond oil. Ingredients like shea butter, ceramides, squalane and phospholipids will also soothe the skin and help repair a damaged moisture barrier. (See the full list of best moisture repairing ingredients here.)
Read more tips on how to fix a damaged barrier.
Load up (inside and out) with antioxidant-rich foods and skincare products
It is widely recognized by almost every doctor, skin researcher and health professional on the planet that the key to aging in a healthier way is to protect your cells with antioxidants. This is known as the free radical theory of aging. This theory states that the main reason why we age is that unstable electrons in molecules known as free radicals attack healthy cells and change their composition. These free radicals are very potent toxins that ultimately damage the skin. First, they attach to proteins and other essential molecules, making the molecules unable to function normally, as healthy, younger cells do. This ultimately results in the premature death of the attacked cells. Sounds tragic, I know.
Free radicals can come from UVA and UVB rays from the sun, pollution, stress smoking, alcohol, fatty foods and even aerobic repetitive exercise. When exposed to these, the parts of the cell susceptible to damage are DNA, lipids, and proteins. This, then, slows down the production of collagen and elastin, which is essential in keeping the skin firm and preventing wrinkling. This entire process happens beneath our skin every minute of every day, making wrinkles, brown spots and sagging more visible over time.
The good news is that antioxidants found in products (such as stabilized vitamins A, C and E) are incredibly effective at slowing the process of visible aging. They're so effective because antioxidants essentially prevent free radicals from oxidizing molecules.
In addition to specially formulated products, eating vegetables and fruits will give your body antioxidants internally. When consumed frequently, they're a natural, inexpensive way to slow the signs of aging from inside out. The best ones are avocados, berries, sweet potatoes, broccoli, spinach, tomatoes, and carrots. A diet rich in color is going to benefit both your skin and body.
Keep up your exercise
The 60s may find you slowing down with your workout routine but this is not recommended. Moderate exercise is an important part of skin care. Exercise keeps your muscles strong and firm which in places such as your arms, will support the skin and give it a smoother look. Exercise is beneficial for increasing blood flow and carrying oxygen and nutrients to the skin as well as stimulating neurons which are good for brain health.
Use firming ingredients in your skin care products
An effective way to encourage the stimulation of collagen and elastin is by using products containing peptides. Peptides are protein fragments that can stimulate the production of dermal proteins (collagen and elastin) and can thicken the dermis (the mattress under the skin that keeps the skin plump) without any harsh side effects. I recommend a serum which contains Palmitoyl Tripeptide-38, one of the best peptides for supplying skin-rebuilding essentials necessary for improving facial contours.
For a deeper dive into your hormone-related concerns, consult with an endocrinologist
This is a special kind of physician who specializes in hormonal issues. Aside from changes in your skin, it's normal in your 60s to have other disruptions. An endocrinologist can run all sorts of tests to provide specialized help for those who have constant hormone fluctuations.
Read how hormones affect the skin in your teens, 20s, 30s, 40s and 50s.
Want to learn more? Here are 34 helpful tips.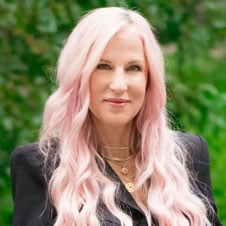 Celebrity Esthetician & Skincare Expert
As an esthetician trained in cosmetic chemistry, Renée Rouleau has spent 30 years researching skin, educating her audience, and building an award-winning line of products. Her hands-on experience as an esthetician and trusted skin care expert has created a real-world solution — products that are formulated for nine different types of skin so your face will get exactly what it needs to look and feel its best. Trusted by celebrities, editors, bloggers, and skincare obsessives around the globe, her vast real-world knowledge and constant research are why Marie Claire calls her "the most passionate skin practitioner we know."