Updated 1/11/17. For those of you who have dry skin, using a heavy, rich and thick moisturizer seems like the obvious choice to provide much needed moisture to your dry, flaky skin. But what if you are using what feels like a good moisturizer, yet your skin is still dry and flaky or even itchy? The reason for this may be using a poorly formulated moisturizer.
Finding the right moisturizer to hydrate dry skin lies in the ingredients used in the formula – ones that actually repair the lipid moisture barrier in the skin and prevent transepidermal water loss. There have been many breakthroughs in the science of moisture retention and it all comes down to choosing the right ingredients.
What is a damaged lipid barrier?…
Your skin has a moisture barrier made of natural lipids that keep moisture in the skin and irritants out. When this barrier is damaged, it creates tiny, invisible cracks in the skin that allow moisture to escape (causing dry, flaky skin) and irritants to enter more easily (making even sensitive skin products cause a stinging, irritating sensation).
To repair dry, flaky skin, look for the following emollient barrier-repair ingredients when choosing a moisturizer.
Borage Oil
Bois De Rose Oil
Carrot Oil
Evening Primrose Oil
Cranberry Oil
Ceramides
Linoleic/Linolenic Acids
Squalane
Linoleic Acid
Tocopheryl Linoleate
Phytosterols
Shea Butter
Sunflower Oil
Soybean Oil
Safflower Oil
Jojoba Oil
Sweet Almond Oil
Canola Oil
Sesame Seed Oil
These ingredients will correct both the lack of oil and lack of hydration deep within your skin and actually repair the skin's lipid moisture barrier to make your skin moist, supple, and smooth. It's a fact that hydrated skin is healthy skin, so start looking at your ingredient labels to find the perfect moisturizer for your dry, flaky skin.
There are also ingredients you avoid for dry skin. You can read about those here.
Note: There are many more barrier-repair ingredients, but the ones listed are some of the more common moisturizing agents and the ones I like to use in the Renée Rouleau product line. See my full collection of moisturizers. Glow Enhancing Cream and Phytolipid Comfort Cream are amazing for hydrating dry skin. Of course, for oily skins are Skin Recovery Lotion and Sheer Moisture are wonderful. If you prefer using a skin oil, then Pro Remedy Oil will definitely offer repair for your skin.
Surprisingly, a moisturizer for dry skin doesn't need to be greasy, oily or even thick. If you have used any of the Renée Rouleau moisturizers, you may notice that the ones for dry skin aren't really that heavy. For some clients, they think they need something with a greasier texture, but this is simply not the solution. However, it is important that it is loaded with a blend of barrier-repairing ingredients so that with continued use, the skin will retain its moisture and dry skin will no longer feel tight and flaky, but rather be moist, supple and perfectly hydrated.
Also, humectant ingredients like glycerin, hyaluronic acid, sodium hyaluronate, sorbitol, urea and sodium PCA all help to attract water from the dermis into the epidermis, but these alone will not solve dry skin.
When it comes to dry, flaky skin, exfoliation is very important and is a part of a skin care routine that shouldn't be overlooked. Read skin tips on how to exfoliate.
Lastly, be sure to avoid any product that leaves your skin feeling tight. Look at your cleansers and make sure to avoid the ingredients Sodium Laureth Sulfate or Ammonium Laureth Sulfate, as these only further damage the skin's barrier. If you're using the wrong cleanser, you're instantly stripping moisture out of the skin, which is the worst thing you can do for dry skin.
Read: Retinoids Vs. Retinol: What's The Best To Use For Your Skin Type?
Read: How I Got Demi Lovato's Skin Glowing For The VMAs
Read: How Dry Is The Air On An Airplane For Your Skin?
Which skin care products are best for you? See our nine skin types or take the Skin Type Quiz and get products recommended.
Need expert advice from a licensed esthetician? Schedule a virtual consultation to get customized advice in person, over the phone or online via Skype or FaceTime.For more expert advice check out the blog. Also sign up for our skin tip e-newsletter, follow Renée Rouleau on Twitter and Instagram and join the discussion on our Facebook page. You'll be your own skin care expert in no time. Get the #ReneeRouleauGlow!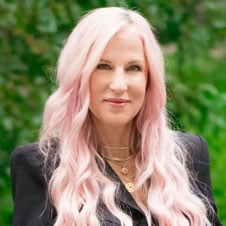 Celebrity Esthetician & Skincare Expert
As an esthetician trained in cosmetic chemistry, Renée Rouleau has spent 30 years researching skin, educating her audience, and building an award-winning line of products. Her hands-on experience as an esthetician and trusted skin care expert has created a real-world solution — products that are formulated for nine different types of skin so your face will get exactly what it needs to look and feel its best. Trusted by celebrities, editors, bloggers, and skincare obsessives around the globe, her vast real-world knowledge and constant research are why Marie Claire calls her "the most passionate skin practitioner we know."