Updated 12/12/14. As someone who has struggled with back acne during my teenage years, I am very familiar with this troubling condition. Here are my expert skin tips for reducing, controlling, and possibly curing back blemishes and breakouts.
Shower Often
The people that are most likely to get back breakouts are the ones that produce excessive oil. Generally, those who have oily skin on their face will also have excessive oil production on the back as well. Since oil is a breeding ground for bacteria, one of the ways to reduce back breakouts is to shower often – and that means twice a day. Keeping the skin clean can make a huge difference.
Use an Antibacterial Cleanser
Every time you shower, I suggest using a powerful antibacterial cleanser to deep clean the skin, remove oils, and reduce acne-causing bacteria. It is hard to find a body cleanser on the market that will do the trick, so using a face cleanser for acne-prone skin is recommended. Look for a cleanser that is sulfate-free (that does not contain Sodium Laureth Sulfate) and uses acne-fighting salicylic acid. AHA/BHA Cleansing Gel works very well to help fight breakouts without over-drying the skin.
Be Sure to Exfoliate
Since back breakouts can be made worse when the skin has an abundance of dead skin cells on the surface, it is crucial to gently remove the cellular buildup by exfoliating the back every time you shower. It can be hard to reach all the way on your back to do it yourself, so a simple solution to that is applying your antibacterial cleanser directly to a loofah.  By using an Exfoliating Body Cloth along with the acne-fighting ingredients, it allows the cleanser to work much better and deeper within the skin…
Apply a Acne Spot Treatment When Necessary
When you have larger and inflamed blemishes such as cysts, the type of blemishes that are sore, painful, and under the skin, rarely coming to the surface, Anti-Cyst Treatment works to penetrate deep within the skin to dissolve and digest the infection. In my experience, I have found that men are more likely than women to get cystic acne on their back. So applying this treatment as needed after showering can give excellent results.
For regular blemishes where the infection does come to the surface in the form of a whitehead, applying a drying spot treatment such as Night Time Spot Lotion can help heal those quickly. A lot of acne spot treatments on the market contain Benzoyl Peroxide. While this can be beneficial, you run the risk of bleaching out your clothing that comes in contact with it.
See the entire collection of problem skin spot treatments.
Perform Weekly Mask Treatments
If your back acne is really severe, once a day, after you shower, cleanse your back, and exfoliate with the Exfoliating Body Cloth and when you're finished bathing, apply a thin coat of a mask formulated for problem skin. Leave on and let dry for 15 minutes, shower, and finish with an antibacterial lotion like Skin Clarifying Gel. By applying a mask on freshly cleansed and exfoliated skin, it will allow the active ingredients from the mask to get into the skin and work their blemish-fighting magic. Look for a mask with ingredients like sulfur, camphor, salicylic acid, tea trees, and clay like Detoxifying Mask. To avoid drying out the skin, especially in winter, you can apply moisturizer as necessary, but make sure it is one that is formulated to fight breakouts, having similar ingredients as the mask.
Avoid Panthenol in Hair Conditioner
An ingredient that I have personally found that gave me problems with back acne during my teenager years is Panthenol. Because of the high percentages of this ingredient in many hair products, it can increase the likelihood of breakouts and acne along your hairline and on your back. It is important to remember that when used in skin care products, due to the low percentages present, Panthenol will not cause increased breakouts so no worries there.
Schedule a Back Facial
While all of the suggestions listed above are great things you can do for yourself at home, to get even better results schedule an appointment to get a back treatment with a skin care professional such as an esthetician. What is a back facial? A back facial is a treatment designed to clean out clogged pores, as well as give a powerful professional strength exfoliation to enhance the results of your home care. Plus, your esthetician may offer his or her expert advice based on what they observe with your condition. Visit the Renée Rouleau skin care spas in Dallas and Plano, Texas.
Read: How To Manually Extract Blackheads And Clogged Pores From Your Skin
Use Medication – If Necessary
If you have been diligent about caring for the acne on your back in the ways that have been described above, including getting back facials, and you're seeing no improvement, you may want to consult with a dermatologist about the possibility of temporarily getting on antibiotics. Some cases of back acne, particularly those with extreme cystic acne, may find that antibiotics is more powerful and may be needed to avoid long-term scarring.
Which skin care products are best for you? See our nine skin types or take the Skin Type Quiz and get products recommended.
Need expert advice from a licensed esthetician? Schedule a virtual consultation to get customized advice in person, over the phone or online via Skype or FaceTime.
For more expert advice check out the blog. Also sign up for our skin tip e-newsletter, follow Renée Rouleau on Twitter and Instagram and join the discussion on our Facebook page. You'll be your own skin care expert in no time. Get the #ReneeRouleauGlow!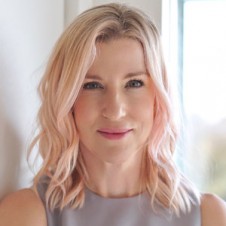 Celebrity Esthetician & Skincare Expert
As an esthetician trained in cosmetic chemistry, Renée Rouleau has spent 30 years researching skin, educating her audience, and building an award-winning line of products. Trusted by celebrities, editors, bloggers, and skincare obsessives around the globe, her vast real-world knowledge and constant research are why Marie Claire calls her "the most passionate skin practitioner we know."