Updated 06/22/22. There are many reasons breakouts happen. It can have to do with hormones, stress, fluctuating temperatures, and more (check out 11 common causes of blemishes). In my experience, one of the sneakiest causes of back and forehead breakouts specifically is hair conditioner. Yes, really! 
In this post, I'll explain why your conditioner might be the culprit. I'll also discuss ways to figure out if your conditioner is causing problems for you and how to fix it if it is. Let's go! 
My Personal Experience With Conditioner and Breakouts
In my teen years, I struggled with terrible back breakouts. At the time, I had started using a new line of hair care products. I had read about this new line and how it could strengthen hair and tackle dryness and damage, so I wanted to try it. I ordered all of the products, including the conditioner and hair masks.
It was a panthenol-based hair care line. In fact, there was so much panthenol in the products, that it was listed within the first five ingredients on the label. (Click here to learn about ingredient percentages and the "first five" rule.) As soon as I started using these products—specifically the thick conditioner and hair mask—I'd break out on my back and along my hairline. I realized that there was a connection. The breakouts were appearing right where residue from these products would reside. In other words, the conditioner and hair mask were the root cause of my breakouts. 
Since it was a panthenol-based line, and that was the one ingredient the brand really promoted, I thought that maybe that was the problem. Panthenol is vitamin B5. It's a popular ingredient in hair and skincare products. In hair products, it provides strength to the hair and works by attaching itself to the hair shaft to smooth the cuticle. 
With time, though, I realized it wasn't the panthenol itself, but how it was formulated in combination with other ingredients. You see, panthenol is often included in conditioners that contain heavy, oil-soluble ingredients. These ingredients work as occlusives. In fact, many of them are actually designed to coat and stick to the hair, so they may do the same to the skin as well. If they don't rinse off the skin, they could clog pores and encourage breakouts to form. 
My Solution 
Once I realized there was a link between my back breakouts and my conditioner, I stopped using it. Then, I had to do some good old trial and error until I found one that didn't cause my back to break out. Once I switched conditioners, my breakouts calmed down considerably.  
When I became an esthetician, I started suggesting this to my clients who were also experiencing back and hairline breakouts. Over time, I received tremendous feedback. They would tell me how switching conditioners made a drastic difference in the state of their skin. 
As for panthenol itself, it can actually be really beneficial for the skin, which explains why it's used in so many skincare products. It acts as a humectant, meaning it can help the skin retain and preserve moisture. It's also been found to potentially reduce the appearance of inflammation and even improve acne in combination with other breakout-fighting ingredients.
It all comes down to the specific combination of ingredients and how an ingredient is formulated in a product. Remember, you can't judge a product based on the ingredient label alone. Instead of focusing on the label, I recommend using products that have been formulated specifically for your skin type. (Don't know your skin type? Take the Skin Type Quiz to find out. At the end of it, you'll get personalized product recommendations.) 
What to Do if You Think Conditioner Is Causing Breakouts
As I said before, if you suspect your conditioner is causing your back and hairline breakouts, I suggest experimenting with different types of products. Try using a couple of different conditioners (maybe ones that are more lightweight) to see if that makes a difference. If it doesn't, you can assume that your conditioner isn't the culprit. If it does, stick with these conditioners to keep your skin clear. 
At the very least, you can rinse your skin with shower gel or soap after using conditioner to cut through any residue that might be left behind. If you have long hair, you can try putting it up in a clip after rinsing out your conditioner. Then, move on to washing your back. This will ensure that any residue that might be left in your hair won't transfer to your back and cause unnecessary trouble. 
For hairline breakouts, simply wash your face after you rinse out your conditioner. This should help remove any residue that could be hanging around in this area. 
I also recommend using a pore-cleaning body wash. I often recommend my clients use the AHA/BHA Blemish Control Cleanser on their backs. It contains salicylic acid to effectively reduce bumps, breakouts, and clogged pores. 
Regular exfoliation is also a good idea. It removes dead skin cell build-up to help keep pores clean and skin clear. I like using the Smoothing Body Serum. I formulated it with three exfoliating acids (glycolic, lactic, and mandelic) that help dissolve and digest dead skin cells.
Next, learn how to get rid of back and chest breakouts, once and for all!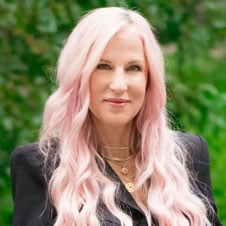 Celebrity Esthetician & Skincare Expert
As an esthetician trained in cosmetic chemistry, Renée Rouleau has spent 30 years researching skin, educating her audience, and building an award-winning line of products. Her hands-on experience as an esthetician and trusted skin care expert has created a real-world solution — products that are formulated for nine different types of skin so your face will get exactly what it needs to look and feel its best. Trusted by celebrities, editors, bloggers, and skincare obsessives around the globe, her vast real-world knowledge and constant research are why Marie Claire calls her "the most passionate skin practitioner we know."