Especially for those with sensitive skin and those prone to blemishes and breakouts, incorporating new skin care products into your routine can be a scary undertaking – simply because you just don't know how your skin will respond, even if you've chosen products for your skin type. Here are some things you need to know when trying out new skin care products.
Don't go it alone and self-diagnosis your skin.
It's really important that you use the resources available to help you understand your skin. You can take this Skin Type Quiz or consult with a trusted skin care professional. I can't tell you how many times clients have thought their skin was a certain skin type, when in fact it was something different.
Common mistakes people make when diagnosing their skin include:
Only focusing on one area of concern rather than looking at the big picture. For example, if you're an adult and you still get breakouts, you might be overdrying your skin with harsh acne products that could be compromising the health of your skin. This could impact how your skin ages. Sound familiar? No worries, skin types 2, 3 and 4 address that. Read how to prevent adult hormonal acne.
Not understanding the difference between dry and dehydrated skin. You really need to know this. Read here.
Focusing on what your skin did in the past. While the emotional scars (not to mention some physical ones) take a long time to go away, it's important to treat your skin for what it's doing RIGHT NOW. Not what it did in the past.
Thinking that all bumps are a form of a clogged pore. Many people mistake these types of bumps as a form of acne and will squeeze them to try to get them out. (Unsuccessfully, of course.)
Treating blemishes the same way. Whiteheads, blackheads, pustules, papules, cysts, and milia all require different protocols for getting them to improve. Read this post for more information.
Find a trusted professional with years of skin care experience and allow them to help you with your product selection. Be sure to communicate thoroughly what your concerns are. You can schedule a virtual consultation if you're needing expert advice on how to care for your skin. Our estheticians are here for you!
Perform a patch test.
If you have extremely sensitive and allergic skin, it's always recommended to do a patch test for compatibility prior to using any new products. When you're trying a new line, I know you're really excited to dive right in and use everything. However, if you have a negative reaction to something you'll never know what it was. You might make some of your own assumptions, but it's really hard for you to determine for sure.
Note: It's important to know that if your skin's moisture barrier is damaged, it will increase your chances of having a negative reaction to skin care products. It's imperative that you're not making your skin more reactive than it should be. Read this post to see all the ways that your barrier could be impaired.
How to test for possible allergic reactions:
The side of the neck is a good starting point for true compatibility because it's thinner and generally more reactive. The idea is that if it can be tolerated on your neck, then you can feel confident that it will be okay on the face. Also, should you encounter a negative reaction such as an itchy, red rash, you might want it to appear on the neck rather than on your face.
Note: The product category that allergic skins are most reactive to are products that you would leave on the skin (moisturizer, serum, toner, eye cream) as opposed to a cleanser that you apply and rinse right off. Also, if you are doing a patch test with a product that contains Glycolic Acid, Lactic Acid, Salicylic Acid or other AHA's, it is normal that the skin may be slightly pink but this should usually subside within 10-15 minutes, especially if moisturizer is applied on the skin over it.
What to do if you have an allergic reaction? If you ever use a product and break out in a rash, you can apply either Milk of Magnesia or cold plain yogurt to the affected area. Leave on 15 minutes, rinse and repeat every three hours.
What's the #1 ingredient most likely to cause an allergic reaction? A synthetic fragrance which will be listed as "fragrance", "parfum" or "perfume" on the back of the packaging. At Renée Rouleau, we don't use any artificial perfumes in any of our products.
How to test for possible blemishes or clogged pores: The cheek (close to the nose) or chin area is a good place to test if you're prone to breakouts. There are a higher amount of oil glands and pores in these areas so the product can penetrate deep into the pore lining. If a product is going to cause breakouts, it's most often not going to happen after just one use so you may want to consider testing a small area for 7-10 days if you really want to be cautious.
If all tests well, you can proceed to use your product on the entire face.
Introduce your products slowly.
When using new products, even if you have patch-tested and no negative reaction has occurred, I still believe that it is best to only introduce one new product every five days. This way, if a negative reaction should occur, you are able to pinpoint which product it may be, and then you will have this helpful knowledge for future skin care purchases.
Bottom line: for best results, when introducing new skin care products, it is best to take it slow.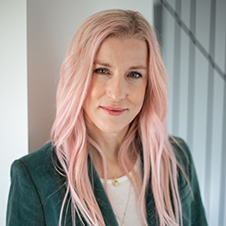 Celebrity Esthetician & Skincare Expert
As an esthetician trained in cosmetic chemistry, Renée Rouleau has spent 30 years researching skin, educating her audience, and building an award-winning line of products. Trusted by celebrities, editors, bloggers, and skincare obsessives around the globe, her vast real-world knowledge and constant research are why Marie Claire calls her "the most passionate skin practitioner we know."