As Demi Lovato's longtime esthetician and skin guru, she called on me to give her a facial the night before the VMAs to ensure her skin was looking its best. After all, not only was she appearing on the red carpet, but she was also performing her hit song "Cool For The Summer" on stage.
Here's the facial treatment I gave Demi. Step by step, with all the details.
Keep It Simple
The first rule of thumb for Demi (and with any of my other clients before a special event) is not to introduce anything new to her skin that I have not previously used on it before. The idea is that I don't want to risk any sort of adverse reaction. New products and treatments are best saved when Demi is not in picture-taking mode.
Just breathe.
Before Demi got into skin mode, I had her decompress. I started by asking her to take a deep breath and hold it for 15 seconds. Then I told her to let all of the air out slowly, as this removes carbon dioxide and cellular wastes from the body. Deep breathing is beneficial in lowering blood pressure and stress, and it also allows oxygenated blood to flood the system which helps encourage glowing skin. You can read more about this here.
Get glowing.
Demi's hectic day of running around for press interviews combined with being in an upright position made blood flow away from her face…leaving it the opposite of dewy and refreshed. In order to reverse that, I applied Rosemary Mint Cleanser (discontinued) which uses stimulating natural ingredients to cleanse her skin and get it warmed up. I massaged it in with a heavy hand to encourage circulation.
Exfoliate, twice.
I applied Triple Berry Smoothing Peel (one of Demi's favorites) for 10 minutes in order to dissolve dry skin cells. I then used a Sonopeel exfoliating spatula along with an antioxidant, water-based solution to break up and banish dead skin cells that sat on the surface of her skin. This ultrasonic spatula works to lift the dry cells and send them away, for good. The gentle water formula also added back hydration, leaving Demi's skin super moist.
Soften the pores.
After the two steps of exfoliation, I applied a Phyto Bubbles mask. This bubbly mousse solution is packed with marigold, rosemary, and lime tree extracts, which ups the oxygen and softens the pores.
Gentle extractions.
After the pores were softened up and ready, I performed gentle extractions so as not to cause irritation/redness. 27+ years of extracting experience, my special technique is really good and safe.
Antioxidant infusion.
I then coated Demi's skin with Vitamin C&E Treatment which provides an instant brightening effect. I applied a warm ultrasound machine which uses sound waves to allow the product to penetrate deeper. I sealed it in with a professional sheet mask loaded with hydrating hyaluronic acid, sodium pca along with soothing antioxidants.
Cool down mask.
After the warmth comes the cold to constrict capillaries. I massaged Demi's skin with a cooling ultrasound and then added a seaweed mask to calm her skin and add even more hydration.
Blemish prevention.
To prevent any potential breakouts that can come with pre-event anxiety, I used a high frequency current to disinfect her skin.
The final touch.
Since this was a bedtime facial for Demi, I applied a few drops of Pro Remedy Oil as a final protective barrier over the surface in order to seal in all of the facial's work.
Demi's skin had an incredible healthy, rosy glow and she was very happy. Now it was time for her to get her beauty sleep for the big day.
The red carpet glow kit.
Demi's pre-show skin homework was all packed into my Red Carpet Glow Kit. The kit included some of Demi's favorite products Anti-Cyst Treatment, Pro Remedy Oil and Vitamin C Eye Brightener. All for that last-minute luminosity. Oh, and don't forget the KIND bar, tissue and peppermint tea. My quick tip? Drink peppermint tea the morning of a major event to boost blood circulation while simultaneously clearing the mind. Also, drink tons of water, and stay away from salty food — it only creates eye puffiness and that's an obvious red carpet no-no for Demi or anyone.
I posted a picture of me and Demi on Instagram and an editor from Teen Vogue saw it and asked to interview me on what I did for Demi. While most of what I shared with them is listed in this post, you can read the details at Teen Vogue.
P.S. Her longtime makeup artist Jill Powell did an incredible job with her makeup!
Read: Five Ways To Hydrate Oily Skin Without Causing Breakouts
Read: The Worst Mistake You Might Be Making With Your Clarisonic Brush
Read: Here's Proof That Using A Vitamin C Serum Really Helps Your Skin
Which skin care products are best for you? See our nine skin types or take the Skin Type Quiz and get products recommended.
Need expert advice from a licensed esthetician? Schedule a virtual consultation to get customized advice in person, over the phone or online via Skype or FaceTime.
For more expert advice check out the blog. Also sign up for our skin tip e-newsletter, follow Renée Rouleau on Twitter and Instagram and join the discussion on our Facebook page. You'll be your own skin care expert in no time. Get the #ReneeRouleauGlow!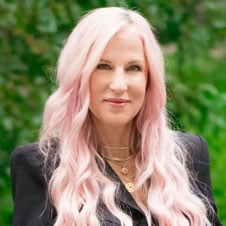 Celebrity Esthetician & Skincare Expert
As an esthetician trained in cosmetic chemistry, Renée Rouleau has spent 30 years researching skin, educating her audience, and building an award-winning line of products. Her hands-on experience as an esthetician and trusted skin care expert has created a real-world solution — products that are formulated for nine different types of skin so your face will get exactly what it needs to look and feel its best. Trusted by celebrities, editors, bloggers, and skincare obsessives around the globe, her vast real-world knowledge and constant research are why Marie Claire calls her "the most passionate skin practitioner we know."