With the thousands of skin care lines available, it's difficult to know which products are the best – especially the best for your skin and its unique needs.
(Elle Magazine says "Renée Rouleau products work wonders.")
Here are several points of differentiation compared to many of the skin care lines to help you decide if the Renée Rouleau products would be a good choice for you and your skin.
The Renée Rouleau line is based on nine skin types.
Hands down, this is the one area where my line is especially unique. In this day and age where everything is about ultra customization, it amazes me how many companies can still say their line is "suitable for all skin types" when all skins have different needs. How is it possible that the needs of a 60 year old woman with dry, flaky, rosacea-prone skin could possibly use the same products as a 25 year old who has oily, acne-prone skin? If you're truly looking for results, it's imperative that you use products exclusively formulated for the unique needs of your skin, and it all begins with my nine skin types…
When you read each of the nine skin types, you'll notice that each type has 6-8 characteristics listed that describe that skin type. This allows the consumer to be able to truly find the perfect match for their skin needs. Choose your skin type here.
When you use the recommended products, you get the synergistic effects, and therefore the best results for your skin to achieve healthy, glowing, beautiful skin. Makes sense, right? I sure think so.
The Renée Rouleau line has 65 skin care products…and growing.
Of course, having nine skin types must require each of the types to have a routine catered to the needs of that skin, and having an extensive line of products allows for this. But even my line of 65 skin care products is still not always enough, which is why I continue to come out with new formulas, as well as updating older formulas to take advantage of the latest technology. Our newer products include Post-Breakout Fading Gel, and our Mint Buffing Beads, Firming Eye Therapy, and Soothing Eye Makeup Remover were all recently launched and/or updated to new and improved formulas.
Read: What is a Serum and Do I Really Need One?
As your skin changes, the Renée Rouleau line can change with you.
Another benefit of having such an extensive array of products to choose from is that as your skin changes (which it always does) there's room to grow within the line. It's not uncommon that someone used to be a skin type #2 and now their skin is a type #6. The skin is always changing from season to season, moving to a different city, and with hormones that come from age, so our line is very flexible that way. And truthfully, even if you're bored and want to try something new, you can! Our clients stay with us for years and years because we're always able to give their skin what it needs at any time in their life.
Read: Is It Helpful to Change Up My Products Occasionally?
Read: My Six-Step Plan for Evaluating Your Current Skin Care Products
Every product is unique in its ingredients and benefits for the skin.
Many skin care lines have a theme or a story. For example, there is a company whose entire line is based on seaweed (algae) and the healing effects that it can bring to the skin. While I think seaweed can definitely be beneficial for certain types of skin conditions, what happens if you're allergic to seaweed? (As many people can be.) Or what if your skin has other needs than what seaweed can do? While I realize that other ingredients can be added along with the seaweed to allow the product to achieve other effects, I'm just personally not a believer that having a theme among all products can give the best results. In the Renée Rouleau line, every product is its own unique formula. Sure, you'll see some of the same ingredients carried over into a few products – but not all. So even if your skin doesn't agree with a certain product (perhaps because of an ingredient that your skin doesn't agree with), we have so many other products to choose from that your skin will agree with.
Read: How to Avoid a Negative Reaction to New Skin Care Products
So those are the main points where I feel Renée Rouleau is different from other lines. Choose your skin type now!
Here is more information about Renée Rouleau.
-We combine the best of nature and the best of science to give you healthy, glowing skin without being harsh and irritating.
-We avoid harsh and irritating ingredients like phthalates, sulfates, synthetic dyes and fragrances so your skin's health and balance won't be disrupted. See the list of ingredients we use and avoid.
-We know skin. We're not just sales people, but licensed estheticians who work with the skin every day in our Dallas skin care spas and truly understand its function.
-We never, ever test our products on animals – and never will.
-We're honest, smart, funny, hardworking people.
-We believe you are, too.
And lastly, we pride ourselves on giving amazing customer service! Many skin care companies return emails within 48 hours or longer on business days and we think that's way too long. Our estheticians are standing by to answer your skin care questions and offer our expert advice–promptly. See our customer service page.
BONUS: Free shipping on all orders over $100 and if you live outside of Texas, you'll never pay sales tax, so that's anywhere from a 5-9% savings every time you order!

Read: Is the Clarisonic Brush Harmful or Helpful to the Skin?
Read: How Can I Lessen the Amount of Chemicals I Use On My Sensitive Skin?
Which products are right for your skin? See our nine skin types and get products recommended.
Need expert advice from a licensed esthetician? Schedule My Skin Prescription to get personalized advice in person, over the phone or via Skype or Facetime.
For more expert skin advice, check out Skin Source–the A-Z guide on all things skin. Also sign up for our skin tip e-newsletter, follow Renée Rouleau on Twitter and join the discussion on our Facebook page. You'll be your own skin care expert in no time.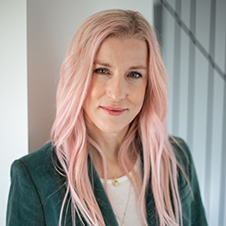 Celebrity Esthetician & Skincare Expert
As an esthetician trained in cosmetic chemistry, Renée Rouleau has spent 30 years researching skin, educating her audience, and building an award-winning line of products. Trusted by celebrities, editors, bloggers, and skincare obsessives around the globe, her vast real-world knowledge and constant research are why Marie Claire calls her "the most passionate skin practitioner we know."