Updated 12/13/14. Do you get breakouts on your back? Or does the skin simply look rough and dry? Here are my five expert tips for ensuring clear, smooth, healthy-looking skin on the back.
1. Wash off all hair conditioner residue.
As someone who used to get tremendous amount of back breakouts, I know that residue leftover from hair conditioner can cause problems. After rinsing out your hair conditioner in the shower, put your hair up in a clip (if it's long), and use your shower gel on an Exfoliating Body Cloth to wash the back to cut any oil residue that rinsing won't find. This will ensure that hair conditioners won't cause any unnecessary trouble. (Read: Can Hair Conditioner Cause Back Breakouts?)
2. Exfoliate twice a week
Just like the face, the body needs exfoliation too. I love using this Exfoliating Body Cloth with a sulfate-free cleansing gel like AHA/BHA Cleansing Gel to gently remove surface dried skin cells to discourage clogged pores and breakouts, as well as keep the skin smooth. I don't suggest using body scrubs on the back, as they may contain oils that could contribute to breakouts, especially if you're already acne prone.
3. Schedule a back facial
My favorite thing to do before summer is to get a professional back facial, where the esthetician can exfoliate, extract any clogged pores or blackheads, and prepare the skin for the big reveal. Schedule a Back Facial at Renée Rouleau Skin Care Spas.
4. Practice sun safety.
If you're prone to freckles or have post-breakout acne scars on the back, sun exposure can make both of these more prominent since the sun increases melanin activity. If you don't have either of these, it is still important to keep the skin from sunburns, which can damage the skin and increase your risk of skin cancer. Instead, look for oil free sunless tan products to get your golden glow–the safe way.
5. Spot treat blemishes as needed.
Even when well into your adult years, it's not uncommon to still get the occasional blemish. Your best approach to treat these is to use blemish spot treatments like our Night Time Spot Lotion to help heal them and make them go away quickly. If you're prone to acne cysts (the hard, sore underground blemishes that are also commonly found on men's backs too) use our Anti Cyst Treatment for a speedy recovery.
As temperatures rise and summer sets in, it is important to not neglect your back when it comes to your skin care routine. By following my five tips, you can make sure that when the time comes, your back is ready.
Read: How To Prevent Ingrown Hairs On Your Bikini Line
Which skin care products are best for you? See our nine skin types or take the Skin Type Quiz and get products recommended.
Need expert advice from a licensed esthetician? Schedule a virtual consultation to get customized advice in person, over the phone or online via Skype or FaceTime.
For more expert advice check out the blog. Also sign up for our skin tip e-newsletter, follow Renée Rouleau on Twitter and Instagram and join the discussion on our Facebook page. You'll be your own skin care expert in no time. Get the #ReneeRouleauGlow!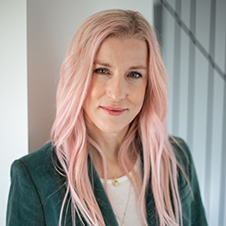 Celebrity Esthetician & Skincare Expert
As an esthetician trained in cosmetic chemistry, Renée Rouleau has spent 30 years researching skin, educating her audience, and building an award-winning line of products. Trusted by celebrities, editors, bloggers, and skincare obsessives around the globe, her vast real-world knowledge and constant research are why Marie Claire calls her "the most passionate skin practitioner we know."