Updated 12/13/14. Through my own trial and error during my teen years struggling with terrible back acne, I believe that hair conditioners containing an ingredient called panthenol were a cause for my acne and blemishes along the hairline and the back area where conditioner residue resides. Panthenol is a popular ingredient to provide strength to the hair, but in order for it to attach to the hair follicle and smooth the cuticle, it needs to be processed and combined with heavy oil-soluble ingredients, since hair is somewhat water-repellent. 
Through my own research of not getting any breakouts when panthenol was not included as an ingredient in my hair conditioner, I came to the conclusion that this ingredient was the culprit for me. When I became an esthetician, I suggested this to my clients who were experiencing back acne problems and over the course of the past 25 years, I have had tremendous feedback about how panthenol-free hair products have made drastic improvements to their skin. I believe that it's a combination of panthenol when paired with other ingredients that may cause the pores to get clogged.
So if you get blemishes along your hairline and your back, I encourage you to experiment with different types of hair conditioners to see if you can find one that isn't causing your skin to break out.
At the very least, after rinsing out your hair conditioner in the shower, put your hair up in a clip (if it's long), and use your shower gel to wash your back to cut any oil residue that rinsing alone cannot accomplish. This will ensure that hair conditioners won't cause any unnecessary trouble.
Read: How To Get Rid Of Back Acne
What about breakouts around the hairline? As for preventing breakouts around the hairline, be sure to wash your face AFTER you have rinsed out your hair conditioner to remove the residue.
Note: Not all panthenol ingredients are equal and there are many different forms. In the case of panthenol being used in skin care products on the face to improve hydration, I have found it to not cause problems for acne-prone skin. This is because in skin care products, it needs to be bioavailable and bind right to the receptor, whereas in hair care, it needs to get into the hair cuticles that are pretty much dead, so the intended function in hair products is more conditioning and coating (which is where the problem may be), versus skin care activity.
Read: Dermatologist Vs. Esthetician: Who Has The Best Approach For Treating Acne?
Which skin care products are best for you? See our nine skin types or take the Skin Type Quiz and get products recommended.
Need expert advice from a licensed esthetician? Schedule a virtual consultation to get customized advice in person, over the phone or online via Skype or FaceTime.
For more expert advice check out the blog. Also sign up for our skin tip e-newsletter, follow Renée Rouleau on Twitter and Instagram and join the discussion on our Facebook page. You'll be your own skin care expert in no time. Get the #ReneeRouleauGlow!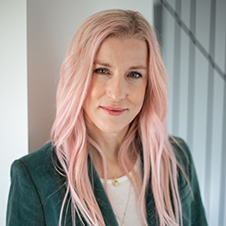 Celebrity Esthetician & Skincare Expert
As an esthetician trained in cosmetic chemistry, Renée Rouleau has spent 30 years researching skin, educating her audience, and building an award-winning line of products. Trusted by celebrities, editors, bloggers, and skincare obsessives around the globe, her vast real-world knowledge and constant research are why Marie Claire calls her "the most passionate skin practitioner we know."