Skin Care Tip: What is cystic acne? These are hard, sore, underground bumps under the skin (most often occurring in the chin and jaw line area) that linger for weeks. Learn about cystic acne and what you can do to help this troubling skin condition.
What NOT to do: Don't pick!! They hurt. And you know that something is under there and if you pick at it long enough, you'll get that infection out, right? Wrong! What you need to understand is that true cystic blemishes will never come up to the surface. They develop deep in the dermis layer of the skin, and they heal in the dermis layer. If left alone, the infection is not meant to come out of the skin. So if you pick at it, and pick at it, yes, you might eventually get a little something out, but by that time, you have torn up the skin so severely that you're guaranteed to have a discolored mark for months. And let's face it, what's worse? Covering up a sore bump with makeup, or covering up a scabby scar for months? Your best bet is to leave it alone. Since the infection is not on the surface, traditional spot treatment drying lotions will not do anything other than to just dry out the skin, and leave you peeling…
What WILL help: The moment you get this type of blemish, don't pick at it and apply a small amount of Renée Rouleau Anti-Cyst Treatment. This incredible best-selling product doesn't dry out the surface of the skin but rather, penetrates deep down into the dermis layer of the skin where the cyst is, and works to dissolve and disperse the infection to make it go away fast! It is the only product out on the market to effectively treat cystic acne, and it really works! Plus, you can dab a small amount in areas you're prone to getting them, to prevent future ones. Another option is getting a cortisone injection from the dermatologist, but who wants to deal with that? If they are primarily on the chin and jaw line area, you might be getting too much dairy in your diet. Try cutting out dairy and see if that gives improvement.
Read: What's The Best Spot Treatment For Blemishes?
Read: Is A Cortisone Shot The Only Option For Treating Acne Cysts?
Read: Skin Care Ingredients To Use and Avoid For Problem, Acne-Prone Skin
Which skin care products are best for you? See our nine skin types or take the Skin Type Quiz and get products recommended.
Need expert advice from a licensed esthetician? Schedule a virtual consultation to get customized advice in person, over the phone or online via Skype or Face Time.
For more expert advice check out the blog. Also sign up for our skin tip e-newsletter, follow Renée Rouleau on Twitter and Instagram and join the discussion on our Facebook page. You'll be your own skin care expert in no time. Get the #ReneeRouleauGlow!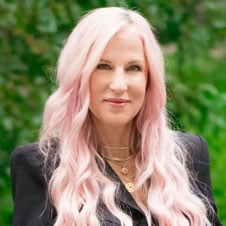 Celebrity Esthetician & Skincare Expert
As an esthetician trained in cosmetic chemistry, Renée Rouleau has spent 30 years researching skin, educating her audience, and building an award-winning line of products. Her hands-on experience as an esthetician and trusted skin care expert has created a real-world solution — products that are formulated for nine different types of skin so your face will get exactly what it needs to look and feel its best. Trusted by celebrities, editors, bloggers, and skincare obsessives around the globe, her vast real-world knowledge and constant research are why Marie Claire calls her "the most passionate skin practitioner we know."