Updated 10/10/22. If you've ever wondered whether you can use a facial cleanser to remove eye makeup, you're not alone. In fact, I've been asked this question many times before, and my answer is always the same. Keep reading to find out what it is!
Can You Use Cleanser to Remove Eye Makeup?
I'm all for multitasking and getting more than one use out of a skincare product, but you'd ideally use eye makeup remover to take off mascara, eyeliner, and eyeshadow. While you technically can use your regular facial cleanser, I'd caution you to be extremely careful. That's because some cleansers contain ingredients that are appropriate for the face, but not for the delicate skin around the eyes. In fact, certain ingredients commonly found in cleansers could cause irritation to your eyes.
Using a well-formulated eye makeup remover is your best bet. Not only will it protect your eyes from irritation, but it will also do the best job of dissolving stubborn eye makeup. Personally, I use and recommend the Soothing Eye Makeup Remover. It contains gentle cleansing agents that whisk away mascara, eyeliner, and eyeshadow. It's also formulated to have the same pH as your tears to minimize any risk of irritation! Just as importantly, it's formulated without any heavy or greasy oils. That means it never leaves a residue, interferes with eye cream application, or blurs your vision.
When Should You Avoid Using Cleanser to Remove Eye Makeup?
You should definitely avoid using cleanser to remove eye makeup if your cleanser contains these ingredients:
Exfoliating Beads: Particles like jojoba beads, walnut shells, or apricot kernels should not be used near or on your eyes for obvious reasons. Not only are they too harsh for the thin skin around the eyes, but getting them in your eyes is a recipe for irritation (not good!).
Exfoliating Acids: The low pH of ingredients like glycolic, lactic, and salicylic acids work well to dissolve expired cells, but getting them in your eyes will definitely cause stinging, redness, and tearing.
Menthol, Peppermint, or Spearmint: Don't use these ingredients on your eyes, as they will also cause stinging, redness, and tearing. This can lead to unnecessary puffiness, and no one wants that.
Concentrated Oils: Using concentrated oils such as jojoba, coconut, olive, safflower, or mineral can lead to unnecessary puffiness and even temporary blurred vision. That's because they can easily seep into your eyes as you're removing your makeup. Also, if they're not washed off really well afterward, any eye product that's applied on top may not be able to penetrate as deeply (that's because oils have a large molecule size, so anything with a smaller molecule size, such as eye cream, will have a hard time penetrating through them). This basically renders your eye cream ineffective.
The Bottom Line
The eyes are the most sensitive area of the face. They have the thinnest skin and are the first place to show signs of aging, so please treat them delicately! Invest in a product formulated exclusively for the eyes. Choose one that's oil-free and pH-balanced.
Finally, watch the video below to learn how to remove eye makeup without causing wrinkles!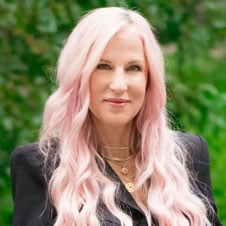 Celebrity Esthetician & Skincare Expert
As an esthetician trained in cosmetic chemistry, Renée Rouleau has spent 30 years researching skin, educating her audience, and building an award-winning line of products. Her hands-on experience as an esthetician and trusted skin care expert has created a real-world solution — products that are formulated for nine different types of skin so your face will get exactly what it needs to look and feel its best. Trusted by celebrities, editors, bloggers, and skincare obsessives around the globe, her vast real-world knowledge and constant research are why Marie Claire calls her "the most passionate skin practitioner we know."