One of the very best ways to achieve results with your skin is to incorporate the use of a skin serum into your routine. Especially for those over 40 who are starting to notice changes in the skin (and usually not ones for the better), using a skin serum (like Intensive Firming Serum or Skin Drink) can help to sophisticate your routine beyond the basic cleanser, toner, moisturizer regimen.
(Read: What is a Serum and Do I Really Need One?)
I often hear people say "I use my serum as a moisturizer because it's so nice and lightweight on the skin." I'm here to tell you that even though serums may have a lotion-like feel, they won't be as effective for your skin when used alone.
When using a serum, it's important to use a moisturizer over the serum to seal it into the skin. While most serums are meant to hydrate the skin, their main goal is to deliver active ingredients deeper within the skin and they don't provide a protective shield between your skin and the environment like moisturizers will do.
Bottom line: Always seal a serum into the skin with a good moisturizer. Use a sunscreen moisturizer during the day (try Daily Protection SPF 30) and a non-SPF moisturizer at night (see our moisturizers) formulated for your skin type. (Choose your skin type.)…
See the full collection of Renée Rouleau serums.
Read: The Future of Skin Care
Read: If You Breakout From Sunscreen, Use One With Zinc Oxide
Sign up here to receive our monthly skin tip e-newsletter via email!
Watch our skin care tip videos!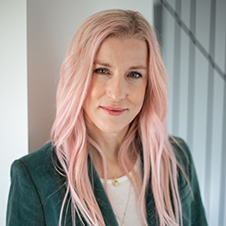 Celebrity Esthetician & Skincare Expert
As an esthetician trained in cosmetic chemistry, Renée Rouleau has spent 30 years researching skin, educating her audience, and building an award-winning line of products. Trusted by celebrities, editors, bloggers, and skincare obsessives around the globe, her vast real-world knowledge and constant research are why Marie Claire calls her "the most passionate skin practitioner we know."