The skin care industry is ever-changing–and this is what I love most about being an esthetician. As a skin care expert and celebrity esthetician with 25 years of hands-on experience, I have a lot of thoughts about the past, present and future of skin care.

How have facials changed through the years?
Early on, a facial was a jar of cream and mask, a steam machine and the hands—that's it. The relaxing benefits of a facial were apparent (many people fall asleep), but there weren't as many visible effects in the early years.  They were still beneficial to health of the skin.
Today, the advancements in facials are significant and a facial can really produce impressive results. We now have access to technology such as Bio Visage (for toning), IPL light (for collagen growth), oxygen (for healthier cell growth) ultrasound (for exfoliation and product penetration) and more. It's not just about the hands working the magic anymore…
As a society, we're more stressed and getting more and more away from human touch with each other as we communicate electronically. The role of care providers like estheticians are critical for our future, since a facial offers not only skin benefits in a stress-free and relaxing environment, but also a physical connection and the healing powers of touch. As long as there is stress combined with men and women concerned about their skins appearance, facials will always be a mainstay.

What have we learned about skin care products/ingredients/technology that we didn't know 20 years ago?
In the last twenty years, we've learned more about the skin and ingredient technologies than we learned since the age of Cleopatra. Here are a few highlights:
Skin care has become more science-oriented. There have been many more clinical studies to prove efficacy of a product. For example, stabilized vitamins in skin care products now have been proven to be very effective anti-aging antioxidants. (Read about stabilized Vitamin C)
With products, we can now greatly enhance skin penetration, control delivery and target key sites within the skin. We also know a lot about how to stabilize ingredient systems to provide longer activity and shelf life without compromising the effectiveness of the ingredients.
Remember when a tan was a sign of good health? UV damage and its aging affects on the skin have been confirmed. We now have stronger broad-spectrum sunscreens that offer better protection and are more user-friendly (less greasy and less likely to clog pores than formulas from ten years ago). Paba, an ingredient used in sunscreen for years that caused a lot of allergic reactions for many people, is rarely used now as it has been taken over by chemical-free sunscreens like micronized Zinc Oxide and Titanium Dioxide. (Read why Zinc Oxide is suggested for sensitive, acne-prone skin.)
What has been the most significant breakthrough?
The free radical theory of aging that shows that inflammation is the bottom line of aging. From overuse of harsh skin care products, wear and tear on the body from smoking, stress and exercise, overexposure to environmental factors like the sun and more creates inflammation that sets off a response to create free radicals in the body which is the underlying cause of aging. (Damaged cells = aging of the skin and body). So with the introduction of antioxidants in skin care products, it triggers the skin's own defense against oxidative stress.
Biotechnology is having and will continue to have a strong impact on skin care. We have seen this initially with the introduction of peptides for aging. (See our Intensive Firming Serum)
DNA repair, mitochondrial protection and energy expression have also gotten a lot of attention.
Looking forward, where are we headed in advancements in skin care?
For skin care products, we will soon be able to target cells by type, giving us more control over how products affect the skin. Currently, the ingredients we send into the skin have the option of affecting any cell in their path, inducing a positive and/or negative effect. In the next five years, we will most likely be able to identify and target specific cells rather than just cell types. So the end result is ultra customization that gives more specific results.
Consumers are demanding personalization and since no two skins are alike, you can't put everyone in generic skin types. In order to get the best results you need to treat each skin as an individual, and that's why my nine type skin philosophy has attracted so many people. I still don't understand how companies can say their products are suited for all skin types when all skins have different needs! (See my nine skin types.)
We will continue to see anti aging advancements, but also we'll be seeing more products that address aggravated, stressed and irritated skin (like Rosacea) that, ironically, are being caused because people will overuse some of the aggressive anti-aging products that cause them this irritation in the first place. Read: Is the Clarisonic brush helpful or harmful? Read: Are laser treatments and chemical peels damaging your skin?
Do you see products staying "medical" or are we returning back to "nature"?
There are benefits to both so companies will continue to embrace both. I believe it's important to combine the best that science and nature have to offer. Nature offers us a slow and steady course that works gently with the skin (with proven results), while science offers the more advanced (and sometimes stronger ingredients) that are required as we age. Advances in medicine will continue to expand in the field of skin care, so it's a very exciting time. As for the natural side of skin care, you must be wary of scare tactics from the organic skin care companies. The whole Paraben debate has proven to be false simply because parabens do not act as estrogen disrupters. Once they are applied to the skin, they become a metabolite which is non-estrogenic. The National Cancer Institute and the American Cancer Society have now both come forward publicly to state there is no proof of a linkage between Parabens and cancer. But many organic companies continue to push information out there to use it to their advantage to sell their products. As a skin care expert, I have access to the behind the scenes information, and it's shocking what some companies (whether promoting natural products or not) will do or say just to get your money. Companies have to sell truths and that's what I've always done and will continue to do.

Will there ever be a "fountain of youth" or a "face lift in a jar?"
No, because aging is caused by many different things and is different for everyone. Aging is basically a genetic response to our environment. Since everyone's genetic inheritance is different, how we age is also unique to the individual. I believe that instead of seeking ways to reverse the signs of aging or deliver a fountain of youth, we will find ways to accept our age and the changes it brings. We will continue to see a strong trend towards "healthy aging" and preventative anti-aging. Wearing sunscreen faithfully, using antioxidants in your skin care products, avoiding products and peels that are too harsh (having your skin constantly peeling, being red and irritated will age your skin more), regular gentle exfoliation with weak acids and smart enzymes, using nutrition-based skin builders like peptides in your products, focus on stress reduction in your life, getting enough sleep, a healthy diet and moderate exercise. This will make a world of difference. Beware of the "no pain, no gain" philosophy that many skin care practitioners are offering. Your skin does need boosts of aggressive ingredients from time to time, but it needs to be balanced out with good nourishing ingredients, too. Read which skin care ingredients to use on your skin during the day and night.
 
Any other thoughts on where the industry has been, or where it's headed?
The baby boomers look in the mirror and they don't like what they see. They are so vibrant and full of life on the inside, but the mirror shows them something different.  There is a lot of competition right now with people offering the fountain of youth. Consumers really need to know what they are getting into when they visit any kind of facility for their skin care needs. Many people will tell you whatever you want to hear, just to get your business. There is no magic wand for erasing every wrinkle. Ask a lot of questions because some people aren't always up front and honest.

Where are your future plans?
Right now, I'm focusing on increasing our on-line presence. My E-commerce website www.reneerouleau.com began in 1998 and has grown very organically. The opportunities are endless on the web and it's such a great way to expand my brand. Also, I have a lot of great new skin care products coming out that tap into the best technology in skin care.
My future is looking bright, but I've learned long ago that in this ever-changing industry if you close your eyes for even a minute, you'll be behind. My continuous quest and hunger for up-to-date skin care education (I recently returned from an advanced cosmetic chemistry course at UCLA) will allow my brand to stay in the forefront of the industry. I absolutely love what I do. From running all of the aspects of a business for 20 years, to giving my high-tech facial treatments for 25 years, to developing products and services and writing skin care articles for my blog, it is all very exciting. And aftetwenty five years, I truly feel like I'm just getting warmed up.
Read: Renée Rouleau shares the pros and cons of being an esthetician
Which products are right for your skin? See our nine skin types and get products recommended.
For more expert skin advice, check out Skin Source–the A-Z guide on all things skin. Also sign up for our skin tip e-newsletter, follow Renée Rouleau on Twitter and join the discussion on our Facebook page. You'll be your own skin care expert in no time!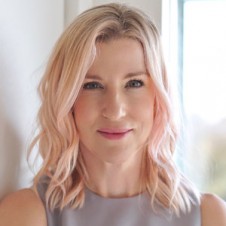 Celebrity Esthetician & Skincare Expert
As an esthetician trained in cosmetic chemistry, Renée Rouleau has spent 30 years researching skin, educating her audience, and building an award-winning line of products. Trusted by celebrities, editors, bloggers, and skincare obsessives around the globe, her vast real-world knowledge and constant research are why Marie Claire calls her "the most passionate skin practitioner we know."