When it comes to skin care products like cleansers, toners, serums, moisturizers and eye creams, it's not only important that you use them in the right order, but also how you rub them on to the face. Here's an example of what can happen to the skin when you don't apply it the right way. 
One of my long-time clients (we'll call her Katherine), is in her early 50's and always had great skin with no major problems other than wanting to keep it smooth and younger-looking. Last year, I started noticing that she was getting red areas on her cheeks as well as a small area on her forehead. If it was just on her cheeks, one might think that it was the early signs of rosacea since this is a common area for this type of condition. However, what was confusing me is that Katherine's type of skin (her heritage and family history) is not one that would normally get rosacea, and this red area on the forehead was not a-typical of the condition.
I had her cut back on her AHA Smoothing Serum 17% (an alcohol-free exfoliating acid serum that she uses a few nights a week) and Triple Berry Smoothing Peel (an at-home skin peel) thinking that maybe the low pH of these products were irritating her skin, but over the next month this did not improve the redness. I then had her reduce how often she was using the Advanced Resurfacing Serum (with the ingredient, retinol) to see if that helped but it didn't either.
I was determined to figure out what was going on. So after a lengthy conversation during one of her monthly visits, we determined the cause. When she applies her serums and moisturizers, she dots the product on three areas of her face, one on her right cheek, one on her left cheek and one on her forehead and then rubs it into her skin. What was happening is the potent serums she is using in her nighttime routine (retinol and acid) were getting a concentrated dose of the active ingredients in those specific areas before she would rub it onto the rest of the face. These areas were the starting point in her application and as such, were causing irritation and redness.
So of course, I now have her apply a few drops of her serum to her fingertips first (not directly to the face), rub her fingers together and then apply to the face changing up which area she starts with first to ensure she's getting an even application. This took care of it and the redness is gone.
Let me tell you the course of action that would have occurred if Katherine was not my client and we hadn't figured this out. She probably would have ended up at the dermatologist's office where they would have taken a quick look at her and determined that she had rosacea. She would most likely have been told to discontinue all of her anti-aging skin care products and would have been given a topical cream formulated to treat rosacea. She may have also been given an oral medication, as well. I'm a big believer in medication being the last option for anyone, but without a thorough investigation of her daily habits, Katherine would have been on medication unnecessarily. Not good, right?
This is why I encourage you as a consumer and estheticians from around the globe who read my blog to use this knowledge in their own skin care practices, the importance of a good consultation with your skin care professional. They must take the time to ask you a lot of questions about your skin, as well as you asking good questions, too. The challenge with many doctors, estheticians and other skin care professionals is they simply don't take the time to get to know the person's lifestyle, habits, concerns, desires and the history of their skin. I can guarantee you that at Renée Rouleau Skin Care, whether you have a virtual consultation with us via Skype or FaceTime, see us in our Dallas skin care spas or see me personally in Los Angeles, New York, or other cities that I'm making appearances in, we will truly get to know your skin by asking the right questions.
At the very least, read my blog for hundreds of skin tips and my expert advice so you can really get the right answers to your skin care questions in order to understand how your skin behaves and be sure to apply your skin care products correctly. The result is healthy, beautiful skin for a lifetime.
As for how to apply your skin care products correctly? When it comes to serums and moisturizers, don't apply in dots but rather apply to your fingertips, rub together with the opposite fingertips and then apply an even amount to face and neck.
Read: How to Apply Eye Cream the Right Way
Read: More How To's…
Which skin care products are best for you? See our nine skin types or take our Skin Type Quiz and get products recommended.
Not in Dallas and need expert advice from a licensed esthetician? Schedule a virtual consultation to get customized advice in person, over the phone or online via Skype or Facetime.
For more expert advice check out the blog. Also sign up for our skin tip e-newsletter, follow Renée Rouleau on Twitter and Instagram and join the discussion on our Facebook page. You'll be your own skin care expert in no time. Get the #ReneeRouleauGlow!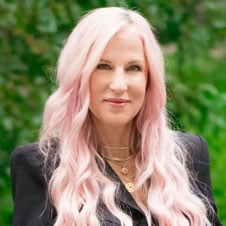 Celebrity Esthetician & Skincare Expert
As an esthetician trained in cosmetic chemistry, Renée Rouleau has spent 30 years researching skin, educating her audience, and building an award-winning line of products. Her hands-on experience as an esthetician and trusted skin care expert has created a real-world solution — products that are formulated for nine different types of skin so your face will get exactly what it needs to look and feel its best. Trusted by celebrities, editors, bloggers, and skincare obsessives around the globe, her vast real-world knowledge and constant research are why Marie Claire calls her "the most passionate skin practitioner we know."