Updated 9/12/15. Summer has come to an end and many of you may be seeing an increase in brown spots, as well as dryness, and an overall dull look to the skin. The heat, sun, and chlorinated pools combined with the lazy days of summer (with a less-than-attentive skin routine) require a serious skin pick-me-up. As a celebrity esthetician with 25+ years of hands-on experience, my expert tips are sure to turn your skin around fast and bring it back to a healthy, smoother, and clearer condition.
1. Increase your exfoliation. Because skin is prone to increased sensitivity in summertime, exfoliation should be minimal, but come fall, exfoliation is imperative when it comes to repairing and brightening the complexion. Exfoliation with a gentle facial scrub, an alcohol-free glycolic or lactic acid serum, or an at-home peel will remove surface sun damaged cells to encourage brighter, smoother, more even-toned skin. For most skin types, a facial scrub should be used 2-3 times a week, an acid-based serum should be used for three nights on, three nights off under moisturizer, and an at-home skin peel should be used 1-2 times a month. Be sure to follow the instructions for product usage or consult with your skin care professional to determine the best type of exfoliants for your skin type. Note: If you're using a sonic cleansing brush daily to wash your skin, the physical action of the brush on the skin is similar to that of a facial scrub, so use one or the other, but only 2-3 times a week to avoid unnecessary skin irritation.
2. Banish fall breakouts gently. Did you know that fall is the most common time of the year for breakouts? Summer's increased oil production can lead to more breakouts because this oil flow, combined with the cooler air from fall, can create layers of dead skin cell buildup. This traps oil and acne-causing bacteria under the skin, resulting in clogged pores and blemishes. So, should you switch your skin routine to using harsh and drying acne products? Absolutely not. The best way to manage post-summer breakouts is to incorporate a cleanser, mask, or serum into your current skin care regimen that uses the ingredient salicylic acid. This miracle ingredient is a beta hydroxyl acid (BHA) that gently penetrates oil-filled pores and exfoliates any dead cells that have built up inside to lessen blemishes. It is also ideal for red, sensitive, and easily-irritated skin types. (Try Renée Rouleau BHA Clarifying Serum or AHA/BHA Deep Pore Cleanser which both contain salicylic acid.)
3. Wear SPF moisturizer daily–even in the fall. Just because the weather is cooler doesn't mean that the sun isn't as damaging to the skin. The UVA rays (the ones that cause premature wrinkles) are equally as strong in the fall and winter as in the summer. These rays also penetrate through windows at home, work, and even in the car. Find a moisturizer with a broad-spectrum UVA/UVB sunscreen built-in (ones formulated with zinc oxide are best for sensitive skin) and use it every day year round on the face, neck, and exposed skin on the chest. Since the #1 cause of premature skin aging is UV light, this is truly the best and easiest way to prevent future wrinkles. Trust me on this one. I recommend Age Defense Moisturizer SPF 30 for normal and dry skin types and Daily Protection SPF 30 for oily, acne-prone skin types. "Sun protection is so important. I love using Renée Rouleau Daily Protection SPF 30" -Actress, Sofia Vergara
4. Re-assess your skin care routine. Chances are you have a mix and match of various skin care lines along with an abundance of skin care products that you may or may not be using–or even know how to use. Pull out all of your skin products and analyze each one. Toss what is over two years old, smells bad or has changed consistency. With the remainder of the products, keep only what you like using, are realistically going to use, and what feels like a good fit for your skin type and delivers results. Your skin will always tell you when something is a fit (or not) if you simply pay attention. When in doubt, an esthetician can offer professional advice to make sure your routine is appropriate for the needs of your skin. Products that are in good condition (and ideally ones in pumps or bottles where your fingers have not come in contact with the product), yet you no longer will be using, make great donations to friends or to a local women's shelter, who are always in need of beauty products. Find out your true skin type.
5. Boost hydration by using an alcohol-free toner and leaving it damp on the skin. Toners are often an over-looked step in a skin care regimen and are commonly misunderstood. "I rarely use a toner because they dry out my skin."Sound familiar? The problem is that many toners in the marketplace contain denatured alcohol or SD alcohol 40, both of which are very drying and irritating to the skin when used daily. Toners that are alcohol-free are a perfect way to give your skin the water and hydration it so desperately needs in the fall when the temperatures are cooler. Your skin cells are like fish. They need water to live, and without water, they die prematurely resulting in unhealthy skin–not to mention dry skin cells. Wipe an alcohol-free toner over the skin after cleansing, but make sure to leave it damp before applying your serum or moisturizer to seal in the hydration and active ingredients. Choose your skin type to get a toner recommended.
6. Schedule a professional facial or chemical peel. As much as skin care products can work wonders to improve the health of your skin, they can only do so much. Particularly when it comes to post-summer sun spots and acne conditions, most people would see faster and increased results from professional-strength treatments and facial products administered by experienced estheticians. Getting the pores manually cleaned out (with a Master Pore Blaster Facial) will drastically improve clogged pores, bumps, and blackheads, and a series of mild chemical peels will encourage the fading of stubborn hyperpigmentation. Your skin will thank you for the extra attention and will look better for it. Consider Bio Brasion for clearer, brighter and smoother skin. See an incredible before and after photo showing what it can do for your skin. Note: If a peel or facial isn't in the budget, give your skin a peel at home with Triple Berry Smoothing Peel.
If you live in the Dallas area, schedule online at Renée Rouleau Skin Care Spas.
7. Commit to cleansing your skin every night. Now that the lazy days of summer are over, it's time to make healthy skin a priority by washing your face each and every night. When you don't do this, you're letting your skin marinate in makeup while you sleep, not to mention a day's worth of oil and bacteria buildup, which leads to clogged pores and blemishes. Too tired to wash your face at night? Your skin doesn't need to be washed five minutes before your head hits the pillow so do it earlier, rather than never. See this collection of gentle, non-drying, sulfate-free cleansers.
8. Get your beauty sleep. While you may have gotten plenty of rest and relaxation during summer vacation, it's easy to get less of this once the busy fall season starts. There is no doubt that getting enough sleep every night can offer many skin benefits. Sleep can reduce dark under eye circles, because a lack of sleep compromises your body's circulatory system and you get stagnant blood in the vessels under the eyes, because it hasn't properly drained. Sleep can also make your skin glow; a lack of sleep causes the skin to look pale and tired because the circulation has been impaired. Sleep deprivation also causes stress, which can aggravate all skin conditions, including acne, eczema and psoriasis. When you are tired, you look tired, so do your best to get 7-8 hours of sleep a night.
Read: Considering Getting A Chemical Peel? Important Information You Need To Know
Which skin care products are best for you? See our nine skin types or take the Skin Type Quiz and get products recommended.
Need expert advice from a licensed esthetician? Schedule a virtual consultation to get customized advice in person, over the phone or online via Skype or FaceTime.
For more expert advice check out the blog. Also sign up for our skin tip e-newsletter, follow Renée Rouleau on Twitter and Instagram and join the discussion on our Facebook page. You'll be your own skin care expert in no time. Get the #ReneeRouleauGlow!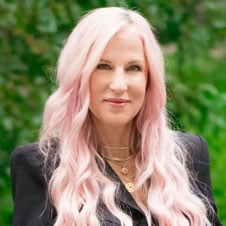 Celebrity Esthetician & Skincare Expert
As an esthetician trained in cosmetic chemistry, Renée Rouleau has spent 30 years researching skin, educating her audience, and building an award-winning line of products. Her hands-on experience as an esthetician and trusted skin care expert has created a real-world solution — products that are formulated for nine different types of skin so your face will get exactly what it needs to look and feel its best. Trusted by celebrities, editors, bloggers, and skincare obsessives around the globe, her vast real-world knowledge and constant research are why Marie Claire calls her "the most passionate skin practitioner we know."