Update 12/19/20 Do you feel like your eye cream isn't working, yet you've tried so many different ones? A common frustration I hear from my clients is the lack of results they get from using an eye cream. Here's why this could be happening.
Your eye cream isn't working because it doesn't contain the right active ingredients
The goal of any eye cream is to provide moisture to plump up thirsty cells so fine lines can appear less noticeable. If you have additional concerns such as dark circles, deep wrinkles, puffiness, and loss of elasticity that leads to sagging, your skin requires more.
Depending on your concern, eye cream is the one product where you may want to look at more science-based skincare ingredients versus organic. This is because nature doesn't always give that extra boost that is needed when things like loss of elasticity start to happen.
Active ingredients to look for in an eye cream:
For firming activity use peptides, retinol, and DMAE
For reducing the look of dark circles use chrysin, caffeine, and stable vitamin C
For easing puffiness use oat kernel extract, licorice extract, and aloe barbadensis leaf extract
For dryness look for ceramides, glycolic acid, and hyaluronic acid filling spheres
Your eye makeup remover is too greasy, which interferes with eye cream absorption
Let's say that you first remove your eye makeup with an oil-based product, such as petroleum jelly, or any hard-working remover designed to easily take off waterproof mascara. In the process of the removal, an oily film is being left behind on the skin. Next, you wash your face with a cleanser that can't cut through the oil, such as a cleansing balm or other oil-based cleanser. What you're left with is a coating over the skin cells that makes it impossible for the active ingredients from your eye cream to do their job efficiently, because they will have a hard time absorbing. I talk about this whole theory in my double cleansing review post.
If you feel like your eye cream isn't working, I highly recommend skipping an oil-based remover and choosing a water-based, no-sting formula like the Renée Rouleau Soothing Eye Makeup Remover instead. Your eye cream should perform better.
Pro tip: Apply eye makeup remover to a lint-free, fuzz-free Toning Cloth or cotton pad and gently press down on the eye, holding for 20 seconds before wiping away. This gives your eye makeup a chance to dissolve to avoid unnecessary rubbing and tugging, which can weaken skin elasticity around the eyes.
If you feel like your eye cream isn't working, you might not be using it often enough
Just like anything, the more effort you put into caring for your eyes, the better the result will be. When it comes to using an eye cream, it's an extra step above and beyond cleansing, toning, and moisturizing. Because of this, it can often get neglected. Since eye creams don't necessarily give immediate results, you have to use them regularly. I recommend at least once a day (if not twice) and preferably at night. However, if you wake up with puffiness, you'll want to use an eye cream or gel in your morning routine instead. Here's what a morning skincare routine and an evening skincare routine should look like—in a perfect world.
You're not exfoliating around your eyes
If your concern is dryness and crepey-ness, all the moisture in the world won't do much good when you have dry, dead cells that desperately need to be removed from the skin's surface first. Once these cells are lifted away, a moisturizing eye cream and its active ingredients will be able to perform their best since they are working with fresh, new cells. The concept of exfoliating under the eyes will surely be new to some, but it's necessary if you want to see results and get smoother-looking skin around the eyes. Be sure to apply an eye cream over an exfoliator.
Perhaps your expectations for your eye cream are too high
I wish this was not the case but an eye cream, just like any skincare product, can only go so far. Skin aging is a fact of life and depending on your lifestyle and genetics, it can show up even faster for some. When it comes to concerns like dark under-eye circles, this can be really stubborn to treat. As for the loss of elasticity that leads to bags, this can't bounce back easily once it's set in, so looking at a cosmetic procedure will give you the best result. Make no mistake, I do believe that eye creams are super helpful as I discuss in my Do Eye Creams Really Work? post, so I highly encourage you to use one as I do.
I hope this post was helpful for those of you who feel like your eye cream isn't working, and that it allows you to be a smarter, more informed skincare consumer! Knowledge is power!
Read 10 skincare rules that I swear by.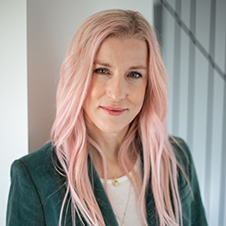 Celebrity Esthetician & Skincare Expert
As an esthetician trained in cosmetic chemistry, Renée Rouleau has spent 30 years researching skin, educating her audience, and building an award-winning line of products. Trusted by celebrities, editors, bloggers, and skincare obsessives around the globe, her vast real-world knowledge and constant research are why Marie Claire calls her "the most passionate skin practitioner we know."