I began my esthetics career in 1987, just a few months after graduating from High School. I was lucky in that I always knew what I wanted to do. My grandmother was a hairdresser and owned her own beauty salon, so I truly believe the career of helping people look and feel beautiful was in my genes.  (Read why my grandmother was my beauty role model.)
After more than 20 years of working with skin hands-on, I still love being an esthetician.  Here's why:
It's a very emotionally rewarding profession. Making people look good also makes them feel good; which in turn, makes me feel good. It's happiness for all!
I'm never bored. Every client has different concerns with their skin, so it's definitely not "same old, same old". I love treating all aspects from acne to rosacea, and brown spots to wrinkles. No two skins are alike, and that makes it very exciting. I've always wondered how skin care companies can say their line is "suitable for all skin types" when all skins have different needs. Check out my nine skin types…
With all of the advancements in skin care, there is much to be learned. I have an intense passion for learning. Between industry magazines, books, trade shows, webinars, blogs, classes and websites, the opportunities to learn are endless. I am truly a believer that in all professions, you must stay up to date with what's going on in the industry to be at the top of your game. The skin care industry is fast moving with advances, so continuing education is a must.
Increased awareness of esthetics brings respect to this profession. When I started my career in 1987, nobody knew what an esthetician was. "You're a what? Isn't that when you put people to sleep before surgery?" No, that's an anesthesiologist! Back then, doctors absolutely frowned upon facials and estheticians. But now, they are FINALLY embracing the seriousness of skincare, and many estheticians work from doctor's offices.  Plus, the increasing demand for people wanting younger-looking skin has turned esthetics into a well-respected profession. Although this is a new twist in US history, in France, it has been that way for many, many decades. (Read my French Skin Care Investigation.)
The power of touch is transforming. Since the start of my career in esthetics, I have volunteered my time and skills at women's shelters to give facials to those who have been affected by domestic violence. (I myself was in a bad relationship early on, so I vowed from that day forward that I would help in any way I could.) When these women are abused, they learn that 'touch' means anger and violence. Giving them a facial shows that touch can come from a loving and caring place, and they need to learn to trust touch again. The result of the facial is they are looking better.  When they look better, they feel better.  When they feel better, self esteem increases, and that is the key for women to be empowered to stay out of violent situations. I could go on and on about the amazing experiences I have had with these women (I cry just thinking about them) but one thing I know for sure—a facial gives far more benefit than just to the skin.
I love what I do, and it shows. I am so lucky that I have found a career that I love so much.  I really am doing my part to create positive change in the world—one face at a time. From sharing daily skin care tips and expert advice on my blog, Twitter, Facebook and monthly emails (sign up to receive emails here), I love to share my knowledge and help others. Being an esthetician isn't only about giving facial treatments and selling skin care products, it's about helping create change and therefore lives.
With all of the reasons to love this profession, it's no wonder I did a Google search one day on jobs and 'esthetician' came up as having one of the highest job satisfaction rates!
I have truly enjoyed every minute of my career as an esthetician, and I feel like I'm just getting warmed up.
Read: The pros and cons of being an esthetician.
Read more about skin care expert, Renée Rouleau.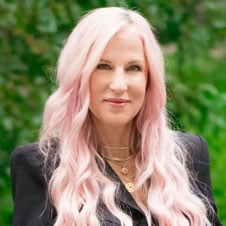 Celebrity Esthetician & Skincare Expert
As an esthetician trained in cosmetic chemistry, Renée Rouleau has spent 30 years researching skin, educating her audience, and building an award-winning line of products. Her hands-on experience as an esthetician and trusted skin care expert has created a real-world solution — products that are formulated for nine different types of skin so your face will get exactly what it needs to look and feel its best. Trusted by celebrities, editors, bloggers, and skincare obsessives around the globe, her vast real-world knowledge and constant research are why Marie Claire calls her "the most passionate skin practitioner we know."