Updated 3/29/17. After a long winter with many cold, dreary, overcast days, the skin can look and feel dull, tired and lackluster. The best way to start brightening it back up, while keeping it protected from increasingly more daylight, is to use vitamin C on the skin, in the form of a serum underneath your sunscreen moisturizer. However, while it's such a tried-and-true ingredient and long been endorsed by dermatologists and skincare experts, there is still much discussion about which type of topical vitamin C is the most effective for reducing inflammation and free radical activity while brightening discoloration and preventing the visible signs of aging. Here's what you need to know when choosing a vitamin C formula to use on your own skin.
There are two general categories of vitamin C serums.
Stable forms of topical vitamin C: This means it doesn't discolor and won't break down and lose its effectiveness over time. It's good to the last drop.
These ingredients are known as:
Magnesium Ascorbyl Phosphate (also a proven skin lightener to fade brown spots and discoloration from age, sun, breakouts, and hormones)
Tetrahexyldecyl Ascorbate
Ascorbyl Methylsilanol Pectinate
Ascorbyl Palmitate
Sodium Ascorbyl Phosphate
Unstable forms of topical vitamin C: This means it will turn dark yellow or golden brown over time as the air oxidizes the formula, resulting in less benefit to the skin. This unstable type, due to its acidic nature, can cause stinging when applied to the skin resulting in irritation, especially for sensitive skin types and retinol, prescription retinoid users and those who exfoliate their skin regularly.
These ingredients are known as:
Ascorbic Acid
L-Ascorbic Acid
To further understand the oxidation process and unstable vitamin C, think about If you take a bite of an apple and set it down on a table. What will happen? it will start to discolor and turn brown within 20 minutes. This happens because the air is oxidizing the apple. (Check out this cool experiment I did with an apple and a vitamin C serum.) When you're using an unstable form of vitamin C on your face, it runs the risk of oxidizing quickly on the face and may not give you all the amazing benefits as it's starting to lose its potency.
When it comes to choosing a vitamin C antioxidant formula, do so carefully. You want to get the best results for your skin and get your money's worth. I highly recommend using a stable, no-sting formula. When used daily, your skin will look brighter, fresher, and brown discoloration from sun, hormones, aging, and blemishes will fade. The one that I recommend to all of my clients is Vitamin C&E Treatment since it uses three forms of stable vitamin C (ascorbyl palmitate, magnesium ascorbyl phospate and ascorbyl methylsilanol pectinate) along with vitamin E. Upon application, it converts to ascorbyl acid once inside the skin; it stays stable and is time-released so it works for up to 8 hours. Additionally, it acts as a natural skin lightener to fade stubborn brown spots and post-breakout marks to reveal a brighter, fresher-looking complexion. Vitamin C&E Treatment can be safely used for all skin types—especially sensitive, easily-irritated skin. Bonus! Durham, N.C.-based Duke University Medical Center researchers have determined that using a lotion or serum with vitamins C and E under sunscreen actually provides four times the protection of sunscreen alone so with spring and summer, this is especially effective. 
Get your daily dose of skin-brightening vitamin C this Spring and the best results from it, by using the right kind.
Which skin care products are best for you? See our nine skin types or take the Skin Type Quiz and get products recommended.
Need expert advice from a licensed esthetician? Schedule a virtual consultation to get customized advice in person, over the phone or online via Skype or FaceTime.
For more expert advice check out the blog. Also sign up for our skin tip e-newsletter, follow Renée Rouleau on Twitter and Instagram and join the discussion on our Facebook page. You'll be your own skin care expert in no time. Get the #ReneeRouleauGlow!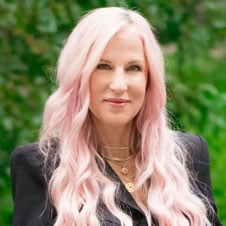 Celebrity Esthetician & Skincare Expert
As an esthetician trained in cosmetic chemistry, Renée Rouleau has spent 30 years researching skin, educating her audience, and building an award-winning line of products. Her hands-on experience as an esthetician and trusted skin care expert has created a real-world solution — products that are formulated for nine different types of skin so your face will get exactly what it needs to look and feel its best. Trusted by celebrities, editors, bloggers, and skincare obsessives around the globe, her vast real-world knowledge and constant research are why Marie Claire calls her "the most passionate skin practitioner we know."